Twitter announced on Thursday it had permanently suspended the accounts of conspiracy theorist Alex Jones and his show, Infowars. The ban was also applied to the video streaming site Periscope as well.
The move to suspend Jones and his related accounts came after the social media site received reports of tweets and videos that were posted on Wednesday that violate the company's abusive behavior policy. Given that this wasn't the first time the accounts violated the policy, Twitter decided to permanently suspend them both. The content platform didn't elaborate on the specific material that was deemed abusive.
According to Twitter, abusive behavior is considered "an attempt to harass, intimidate or silence someone else's voice." Targeted harassment or the incitement of targeted harassment is prohibited on the site. Abusive behavior is broken down into four types:
Wishing or hoping serious harm on a person or group of people
Unwanted sexual advances
Using aggressive insults with the purpose of harassing or intimidating others
Encouraging or calling for others to harass an individual or group of people
When Twitter receives a report about abusive behavior, it reviews the content to determine if it is still deemed abusive when viewed in the context of a larger conversation. At times, Twitter may contact the person being targeted to make sure it has the necessary information before deciding on a punishment. The severity of the violation and any previous reports of violating the abusive behavior policy are also taken into consideration.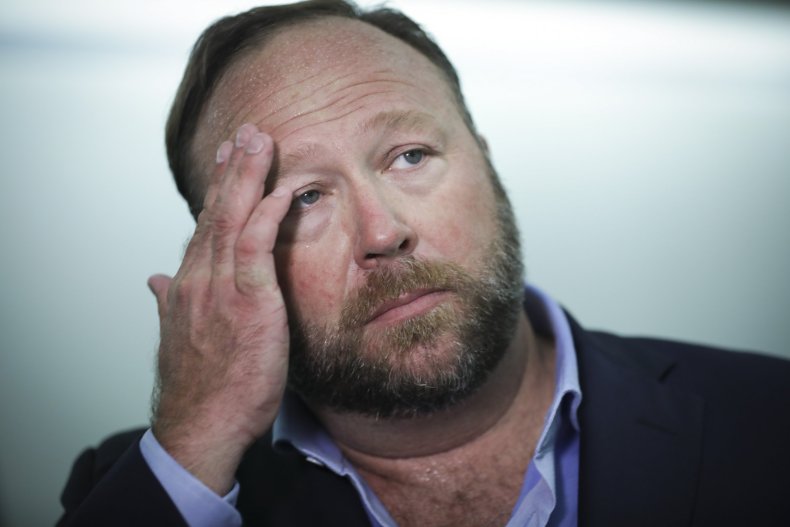 Consequences for violating the policy on abusive behavior include asking the Twitter user to delete the content and be confined to only being able to read tweets for a period of time, known as being put on "read-only." Punishments become more severe for repeat offenders and can include longer read-only periods and permanent suspension.
On Wednesday, Jones was on Capitol Hill for a Senate hearing about the role various technology companies, including Twitter, played in aiding possible foreign influence on elections in the United States. While there, he approached Florida Senator Marco Rubio and after interrupting his interview with other reporters multiple times, the two got into an argument in which Rubio told Jones not to touch him. The altercation was live streamed and Jones said into the camera, "It's OK that Rubio's gay and he has to act tough."
Jones also got into it with the CEO of Twitter, Jack Dorsey, and a video shows the social media CEO getting into his car while Jones shouted at him, accusing former President Barack Obama of setting a CIA office to shut down independent press.
Jones also live streamed a video of him accosting CNN reporter Oliver Darcy on the Twitter-owned website Periscope. Jones told Darcy that he was "evil looking" and compared him to a rat.
Some of Jones's last tweets, according to snapshots saved on the website Way Back Machine, were a link to a video Jones posted on his website about Democrats planning to remove President Donald Trump by using the 25th Amendment and an article about special counsel Robert Mueller planning to overthrow Trump.
Twitter also has a policy concerning hateful conduct and the social media site has been criticized in the past for being vague with what it considers abusive behavior and which accounts are penalized. Jones has already been banned from YouTube, Facebook, Apple and Spotify.