Why Did U.S Freeze White Helmets Funding? Syrian Search and Rescue Group Faces Cash Flow Crisis
Updated | The U.S. State Department has reportedly frozen funding to the Syrian White Helmets search and rescue group, whose fighters have received international acclaim for risking their lives to save civilians in the midst of the country's raging civil war.
Raed Saleh, leader of the White Helmets (officially known as the Syrian Civil Defense), told CBS News he had no idea why it stopped receiving American contributions.
About a third of the White Helmets' funding comes from the U.S., but the State Department has now placed its support "under active review." Saleh said meetings with department officials in March were "very positive. There were even remarks from senior officials about long-term commitments even into 2020. There were no suggestions whatsoever about stopping support."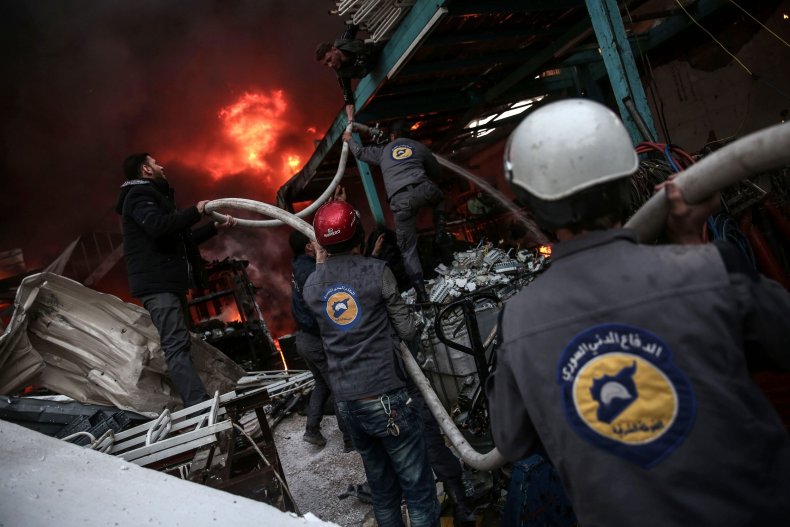 The White Helmets has about 3,000 members, all volunteers, who have worked to rescue people caught in bombings, airstrikes and other attacks since the Syrian Civil War began, in 2011. The group claims to have saved more than 114,000 lives at the cost of 204 volunteers. The White Helmets were the subject of a 2016 British documentary which won the Academy Award for best documentary (short subject) in 2017.
Syria's official emergency services do not operate in rebel-held areas, which left civilians helpless in the early stages of the war. The White Helmets stepped in to fill the gap as bombs, rockets and shells fell on cities across the country. The volunteers face constant danger, and not only when responding to emergencies. In August last year, seven medics were shot dead in their sleep by unknown gunmen in Idlib province.
State Department spokesperson Heather Nauert has praised the "selfless men" of the White Helmets, but the sudden pause in funding suggests that Nauert's admiration for the group may not be shared by other officials.
Though the White Helmets have an emergency backup plan for such a loss of funding, Saleh told CBS News he was worried about the long-term prospects of the absence of cash flow. With no official notification from the U.S. government, the White Helmets are in limbo.
"If this is a long-term or permanent halt, it would have a serious impact on our ability to provide the same intensity and quality of services that we currently provide to civilians," Saleh explained.
A State Department official told Newsweek it is "actively reviewing our current Syria assistance programs at the President's request, including U.S. support for the White Helmets." The official said the department expects the White Helmets to continue operations "as a result of additional multilateral donations," adding, "The President has been clear that partners and allies should assume a larger role in stabilizing Syria."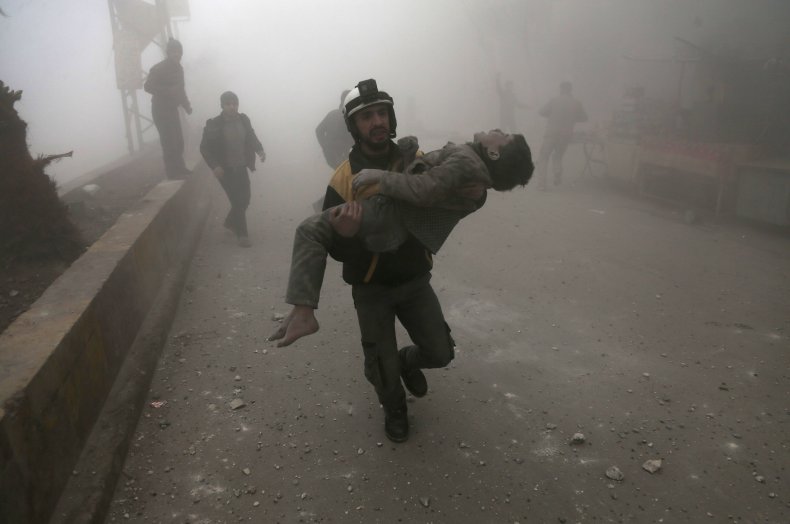 The White Helmets only operate in rebel-held areas and have faced accusations of collaborating with ISIS and Al-Qaeda or serving as NATO-directed actors who visit attack sites solely for photo opportunities. The organization is a favorite target for Kremlin-backed Russian media, which even accused it of staging chemical weapons attacks to slander Syrian President Bashar al-Assad and his Russian backers.
CBS cited an internal State Department document that said its Near East bureau required White House approval for continued funding for the White Helmets by April 15. It also required notification by April 6 as to whether it could continue other programs to clear explosives such as landmines; restore essential services like electricity and water; and provide food aid for civilians and some fighters.
All those recovery programs are at risk because of President Donald Trump's $200 million cuts to U.S. spending in Syria. Trump has been skeptical of American involvement in the country and has repeatedly expressed a desire to withdraw U.S. personnel and money from Syria entirely.
The White House wants other countries to step in and fill the funding gap, which, the United Nations warns, stands at $9 billion. A recent donor conference in Brussels secured $4 billion more, but a significant gulf remains. There are fears that without major and sustained investment to rebuild the shattered country, extremist groups like ISIS will be able to recruit new fighters and continue the war.
This article has been updated to include comments from the State Department.