The 'Resistance' Is Making Everyone Richer—Except for National Democrats Taking on Trump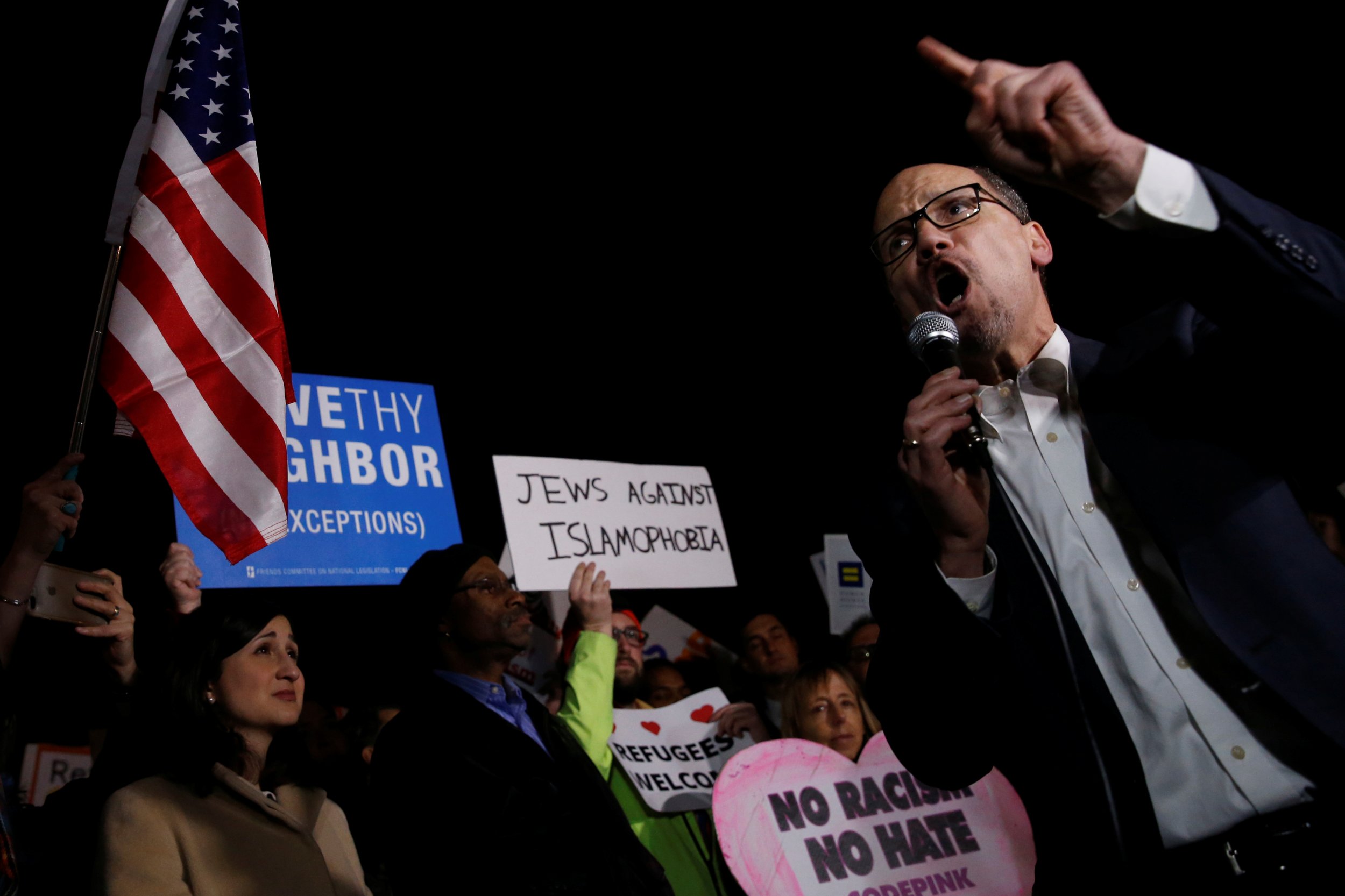 Despite President Donald Trump's low approval ratings and record donations for some liberal interest groups, the Republican National Committee (RNC) continues to dominate the Democratic National Committee (DNC) in fundraising.
The RNC raised $13.5 million in June and has $44.7 million on hand, compared to just $5.5 million for the DNC, which has $7.5 million on hand. The DNC also added $200,000 in debt in June to its now-$3.3 million total debt.
While the DNC has struggled to fundraise during the Trump administration, other liberal groups, such as the American Civil Liberties Union, Planned Parenthood, Sierra Club and the Council on American-Islamic Relations have seen donations skyrocket.
"I think Democratic donors now more than ever are in a mind of pragmatism: They're pretty smart, they want to see bang for their buck, they want to donate to organizations doing actionable work," Teddy Goff, the chief digital strategist on Hillary Clinton's 2016 campaign and Obama 2012 re-election, told Newsweek.
The ACLU has raised $80 million in online donations since the election, and 16 times as much in 2017 as they did in 2016. This includes raising $24 million in three days following the implementation of Trump's travel ban targeting seven Muslim-majority countries. Planned Parenthood has seen more than 700,000 new supporters and "unprecedented outpouring of support" since the election, according to the organization.
Democratic candidates are also overperforming in fundraising. Senate Democrats in competitive races outpaced GOP incumbents in similarly competitive races in the 2016 cycle, Politico reported. ActBlue, an online fundraising hub for Democratic candidates, raised $137.4 million in the second quarter, more than they had raised in the second quarter of 2016, an election year.
But the DNC continues to have a hard time winning over donors. "At the DNC, we are still building up our team, including hiring fundraising staff and making sure every aspect of our organization is moving in lockstep. We're confident that our team will raise the resources needed as we head into 2018 and beyond," Michael Tyler, the DNC national press secretary, told Newsweek in a statement this week.
GOP strategist Evan Siegfried said the RNC's clear message and strategy—supporting Trump and the Republican-majority Congress—sets it apart from the DNC.
"The RNC has not had a tumultuous leadership fight and is not still trying to find its identity," he said. "Additionally, as the 2016 election showed, just being opposed to Trump isn't a winning message, and that seems to be all that Democrats are these days."
The Democrats clearly have a messaging problem, with 52 respondents in a recent Washington Post–ABC News poll saying the party just stands against Trump compared with 37 percent saying they believe the party stands for something. The Democrats have also won just one of five congressional special elections in 2017. On Monday, Democratic senators announced a new slogan: "A Better Deal: Better Jobs, Better Wages, Better Future."
Some Democrats are hopeful the DNC can turn it around, including Democratic digital strategist Greg Berlin. He said the current political climate provides the DNC a "great opportunity."
"We're only a few months past the leadership changes, and it takes some time to do things right, it takes a long time to build out the infrastructure," he said. "I don't think there's really a comparison between a lot of interest groups and the DNC, which has had transitional leadership cycle-to-cycle."
Former Labor Secretary Tom Perez narrowly defeated Minnesota Congressman Keith Ellison in February in the closely contested race for DNC chair, which some saw as a continued proxy of the heated 2016 primary between Clinton and Vermont Senator Bernie Sanders.
The RNC and members of the Trump administration celebrated the news this week of the fundraising totals. "Our unparalleled fundraising success is due to our loyal network of grassroots donors all across America who support President Trump and our Republican agenda," RNC Chairwoman Ronna Romney McDaniel said in a statement. "Because of the generous contributions, the RNC will continue to promote conservative values while bolstering our efforts to support, defend and elect more Republicans."
After winning the presidential election, the RNC had a built-in advantage in fundraising for the start of 2017, Berlin said. The Trump campaign's smaller apparatus leaned on the RNC during the campaign, and the RNC has widely continued doing what it was during the campaign, Berlin said. The Democrats have had to adjust after their leadership change.
"I think their goals are all correct: to grow, to do it right and not just rush to try to raise every dollar immediately without figuring out how to grow the program," he said, "I don't think there's any reason to believe the DNC is doing anything wrong."
From a technical standpoint, Goff said the RNC is utilizing a strategy of using "sky-is-falling" emails the Democratic donors have tired of.
"They are now where we were a couple years ago, getting some real mileage out of that strategy," he said. "Their donors are not yet tired of that approach."
He added Democratic donors feel burned by the party's losses in 2010, 2012 and 2014, and are instead eyeing progressive organizations that have "actual actions they can point to and some wins coming from those actions."
"They want to invest, but they want to invest in institutions where they see where their money is going, organizations that have a real fact-based story to tell about the good work they are doing," he said.
For example, the ACLU has filed a number of high-profile lawsuits against the Trump administration, including fighting his Muslim ban. CAIR, a leading Muslim civil-rights organization, is expanding and increasingly collaborating with other civil rights organizations after experiencing an increase in donations since the election, Nihad Awad, CAIR's executive director, said.
The Sierra Club, a leading environmentalist organization, has three times as many monthly donors as it had before the election. Mary Nemerov, the organization's chief advancement officer, said the club's biggest fundraising day was the day Trump pulled out of the Paris climate agreement. She said she thinks specific policy decisions inspire donors to support organizations fighting against them.
"There's a very logical thing for our members and donors to say, 'This is what's happening today, I know an organization that has a good, strong history on this issue, and I'm going to support them right now.'" she said.