Why Do Adults Dress Up Like MLB Players?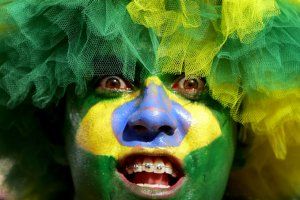 I'm a grown man approaching 50 years on this planet, old enough to know that prostate and prostrate are two different words, and to be more than a little concerned about the former. I've got two kids, a job, and a stack of bills to pay, yet what ruined my October—and probably some of my winter too—was 25 baseball players in a city hundreds of miles away whom I've never met, will almost certainly never meet, and who are half my age. (Except for Arthur Rhodes, who may have pitched with Walter Johnson.) I am speaking of my beloved Cincinnati Reds, who seriously harshed my autumnal buzz with their completely humiliating fold in the 2010 NLDS playoffs. They were swept in three games by the Philadelphia Phillies, the best team money can buy not named the New York Yankees. God, how I hate those other random groups of 25 baseball players that I don't know and will never meet who are from other cities where I don't live.
Reds fans waited 15 years with no playoff appearances for this? As a boy reared on the exploits of the Big Red Machine of the 1970s, the greatest baseball team of all time, I am both blessed and cursed by nostalgia. I'm also a firm believer in baseball superstitions. In fact, I've convinced myself I'm at least partly responsible for the Reds' collapse this playoff season. That's because I stupidly returned to the Bottom Line bar here in D.C.—along with other expat Reds fans from Kentucky, West Virginia, and Ohio—to watch game two. I did this after having watched the first game—a Roy Halladay no-hitter—in the same place.
What kind of self-respecting superstitious baseball fan makes that kind of rookie mistake? It's like the manager talking to the pitcher during a no-hitter, which I wish I could have somehow orchestrated with Halladay. Granted, I sat in a different bar seat for game two—one to the left—and I even tried to pull a reverse jinx by not changing my underwear on the off-day just to mix things up, but apparently that wasn't enough. I even decided that I wouldn't move from the bar stool or go to the bathroom for the entirety of the second game, but sadly my heroic efforts—the game lasted nearly four hours and I was drinking beer—weren't enough. The Reds blew a 4–0 lead, made four errors, hit three batters, and looked like the Washington Generals of baseball.
I learned more from game two than just how to control my bladder like a turnpike toll-booth operator, though. I also decided in my clearly insane and delusional world that the Reds could still manage to win the final three games against "H20"—Cole Hamels, Halladay, and Roy Oswalt—but that they couldn't do it without more of my help. So I didn't return to the Bottom Line again. Oh, no. Take that, Phillies! Instead, I would try to watch the game in one of the many bars in Old Town Alexandria where I live. This didn't go exactly as planned. At the first establishment, all of the TV screens were on football, save for a tiny set in the corner with no sound. This indifference to baseball was repeated across the country that night, because the Sunday-evening Eagles-49ers football game pulled a huge 11.7 rating compared with the Reds-Phillies' sad little 3.9.
One Irish bar I entered even had some taped British soccer game on its big screen instead of live playoff baseball. Instead of following my heart and causing a scene by maybe turning over some tables, I followed my head and wisely moved on to the next neighborhood saloon, trying my best to live up to my own version of Philly's "brotherly love" motto. That's where I saw something sitting at the end of the bar even more disturbing than televised soccer: a Philadelphia fan straight out of central casting. And he was neither brotherly, nor loving.
I knew he was a Phillies fan because his mouth moved when he read the bar menu, but also because he was wearing a jersey and hat. And when he saw my reaction to a couple of plays, he asked me if I liked the Reds, and then started laughing when I said yes. He was getting all chesty with me like he had done something great—like he was the one up on the mound and not Cole Hamels, who was mowing down the Redlegs in real life. All this guy had really done was drink half a dozen Bud Light Limes, eat some greasy Nachos, and start his life in a dreary Jersey suburb. I also saw him leave his bar stool to go to the bathroom at least twice. Some fan he is.
Also, other than putting lime flavoring in beer, is there anything dumber than dressing up like another man half your age—with his name and not yours written across your back—and then sitting around with a bunch of other guys cheering in a bar or stadium? At what point did Evolving Man—and I include myself in this number—reach this low point? I'm guessing it was somewhere between Homo erectus and Homo habilis.
Anyway, I quickly tired of being the schadenfreude entertainment for the slack-jawed troglodyte, and to escape I walked 10 blocks to a quiet, little, dark bar I knew at the end of town. I watched the rest of game three there, and by the time the inevitable—to everyone but me—three-game sweep had mercifully ended, I was alone with the bartender and my thoughts. I paid my tab and walked out into the street sad and bereft of hope, and made the long, wait-til-next-year walk home.
As I dodged the giant acorns falling and popping on the cobblestone streets, I went to my happy place and recalled some of my great Reds-related moments, like that miracle day when my parents came in and told me and my little brother, Chris, we could go anywhere in the country on vacation—well, east of the Mississippi anyway, and we got to choose. "Cincinnati!" we both immediately shouted. I still remember the look of horror on my mom's face. She was hoping for Florida, or at least Niagara Falls. Later would come the day I met my hero, Johnny Bench, and another weekend when my grandfather—who met Babe Ruth as a boy—made the long drive with us. I took that captive–Paw Paw opportunity to show him my entire collection of baseball cards one by one and repeated, "Is he good?" over and over until he finally said, "Please, we have to stop." I was devastated because we were only in the P's.
There was also the road trip I made from D.C. to watch the Reds give the Oakland A's a beatdown in the 1990 World Series. Not to mention the '75 and '76 World Series, and the thousands of hours spent listening to the crystal-clear signal of 700-WLW, which reached all the way to the little town where I lived along the West Virginia border. My dad even let us name his two rabbit-hunting beagles Pete and Rose. I could go on, but if you're still reading this you're either from Cincinnati or you're my mom.
But I listed all of these memories to show that this particular brand of intense fandom is at least partly inherited. I'm not really the type who goes in for all of that hokey Ken Burnsy, Field of Dreams, lump-in-the-throat stuff, but I understand it. In fact, by the end of my walk I didn't feel quite as foolish for getting so wrapped up in the playoff games. Baseball serves as a convenient way to lay down markers as the years click by. I'd even convinced myself by walk's end that this year's team could be the beginnings of the Big Red Machine, Part Deux. That's how deep the delusion goes, and thank God for it, because sometimes it's about the only thing that gets me through the winter. I even found a silver lining in the almost preordained fact that the gold-plated Yanks and Phils are going to make it to the World Series this year. That means one of them has to lose. Which puts me as close as I'll ever get to being a Yankees fan.