Why Do People Want This Robert Moses Statue Torn Down?
As protesters across the country fight to tear down monuments honoring Confederate leaders and former presidents, such as Theodore Roosevelt, another statue has become a point of contention. One of Robert Moses in Babylon, New York, has many Long Island residents upset, fighting for it to be removed and replaced.
Moses was lauded as a visionary city planner and master builder for New York City and its surrounding areas. He was also criticized for supporting segregating communities, along with leveling Black and Hispanic neighborhoods. His problematic history makes his statue a target for demolition amid the global conversations about systemic racism.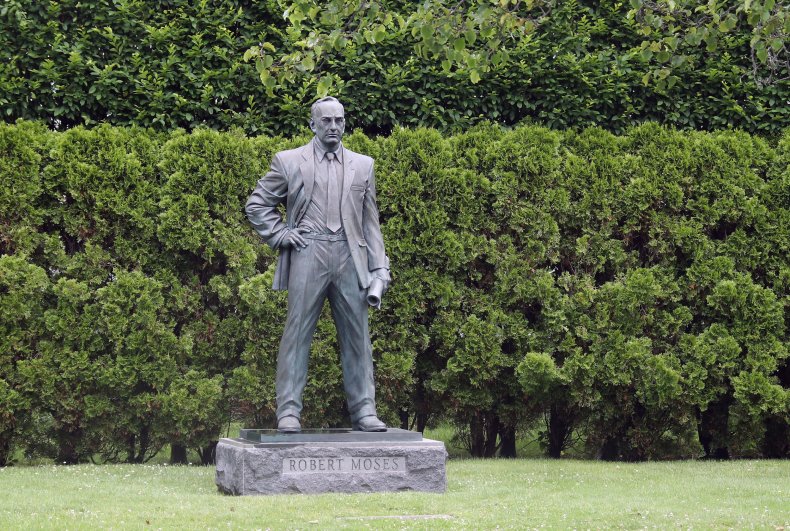 Newsday reported that on Saturday, June 20, roughly 100 people marched and protested at Babylon Village Hall demanding the removal of the statue. The bronze seven-foot tall statue of the Long Island native in a suit and tie was erected in 2003.
According to the New York Daily News, Moses built 416 miles of highways, 13 bridges, 658 playgrounds and housing for 150,000 people. He also constructed parkways, tunnels, beaches, zoos, parks, Shea Stadium, the New York Coliseum, the United Nations, Lincoln Center and much more.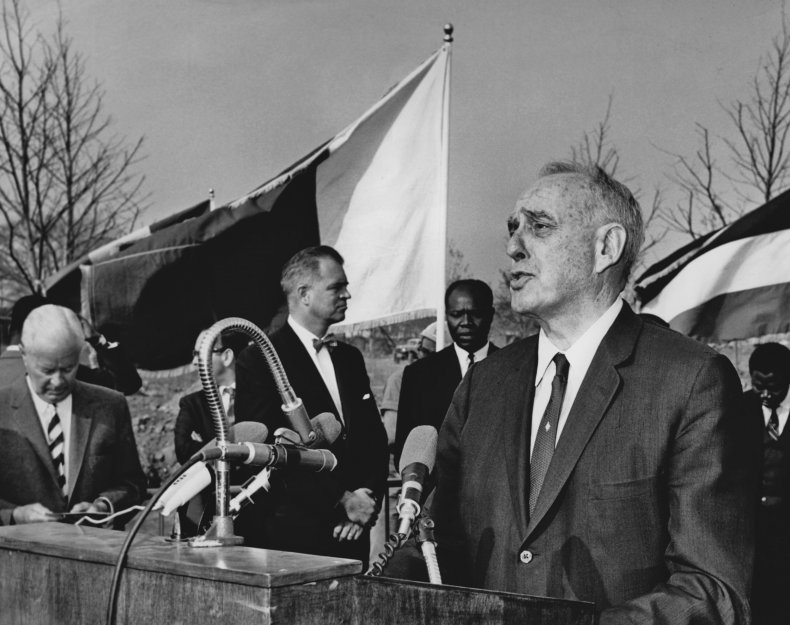 As of June 22, over 13,000 people have signed a Change.org petition for the removal of Moses' statue. "Robert Moses has left behind a long legacy of prejudice and gentrification, specifically targeting the Black and Jewish communities. Through his role in building infrastructure throughout Long Island, he supported tactics leading to housing segregation so Long Island neighborhoods were predominantly inhabited by White Christian folks," the statement read.
"The true 'future' that Moses envisioned was divided and prejudiced," the petition added. "The statue represents a long history of systemic racism and anti-semitism."
According to Gothamist, when Moses constructed Jones Beach in Long Island, he kept the bridges and roadways leading to the beach too low for busses. This design cut off public transportation carrying Black and Hispanic residents from traveling there from the city.
He also forced thousands of Black and Hispanic New Yorkers out of their homes in order to build Lincoln Center. Additionally, the construction of the Cross-Bronx Expressway gutted neighborhoods in the Bronx.
New York Daily News reported that when Moses built 11 large pools in the city, he purposefully set temperatures to those in Harlem lower. He believed, for some reason, that Black people didn't like to swim in cold water.
Robert Caro's biography of Moses, The Power Broker, asserts that he took steps to discourage Black communities from using Long Island parks. These placements of roads and buildings has impacted these communities and prevented them from accessing resources.
Newsweek did not receive comment from the Village of Babylon at the time of publication.