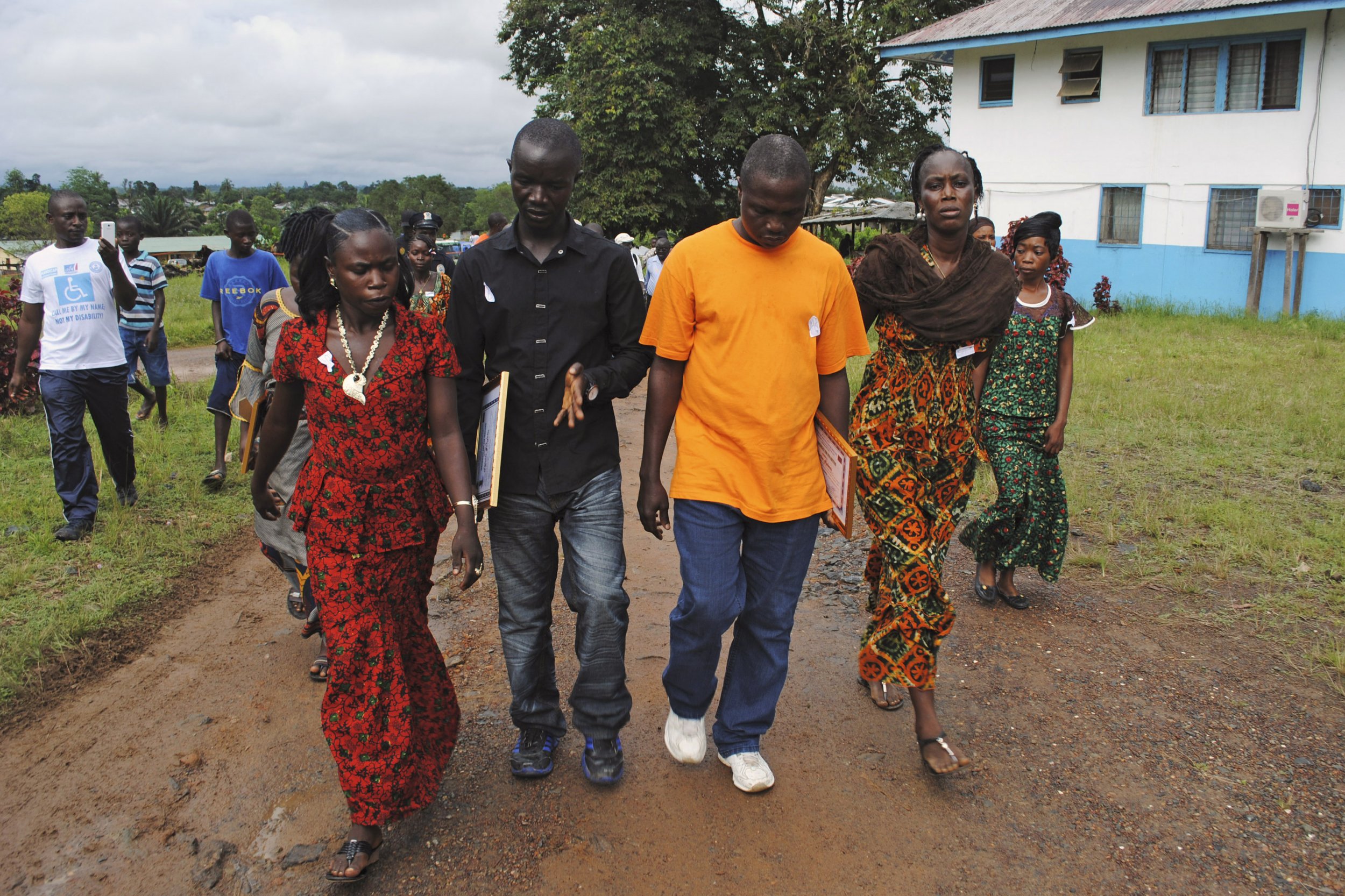 Nearly 5,000 people have died from Ebola since the current outbreak of the virus began sweeping through Sierra Leone, Guinea and Liberia. But thousands of others have survived infection. The wide range of outcomes is still not entirely understood, but new research published Thursday in Science suggests that genetic factors have something to do with it.
Most lab mice are nearly identical genetically. That's usually desirable, because it helps to control experiments performed in a laboratory setting. But to test why Ebola kills some while others are spared, systems biologists and virologists Angela Rasmussen and Michael Katze, from the University of Washington's Department of Microbiology, used a special type of mouse bred to reflect genetic diversity. The researches infected these mice—called "Collaborative Cross" mice—with a mouse-adapted strain of the Ebola virus, in an effort to test the impact an individual's genetic makeup has on the development and ultimate outcome of the disease.
Whereas regular lab mice that had previously been infected with Ebola died without showing symptoms, the results observed in CC mice, as they are called, look much like the outcomes in West Africa, where some people resist the disease entirely, others become ill but recover, and still others "succumb to bleeding, organ failure and shock," according to a press release on the research.
"Classic lab mice are like a deck [of cards] with jacks, kings, queens and no number cards," Rasmussen tells Newsweek. They only "cover about 10 percent of potential genetic diversity of the mouse population." But CC mice are more like a complete, well-shuffled deck, she says.
The study demonstrates the use of "a model which mimics the human disease process," Katze tells Newsweek. "We're hoping to use this platform as a beginning to look at genes in mice [related to] resistance and susceptibility."
In the Science study, all of the mice infected with a mouse-adapted strain of Ebola Zaire—not identical to but of the same species as the strain plaguing West Africa—lost weight. Roughly 20 percent were completely resistant to the often lethal disease and had gained the weight back within two weeks of being infected, showing no other "gross pathological evidence" of the virus.
About 40 percent of the mice died without showing signs of hemorrhagic disease, similar to what had previously been shown with classical laboratory mice, Rasmussen tells Newsweek. But the remaining 40 percent died with symptoms of what could be considered Ebola hemorrhagic fever, such as a prolonged period where blood won't clot, internal and external hemorrhaging, and bleeding on the surface of the liver.
"We saw that this was happening in roughly similar proportions to what has been observed in human Ebola outbreaks," Rasmussen says. "So we took this to mean that the Collaborative Cross is really a more robust system for modeling the types of disease that Ebola virus infection is going to produce in a diverse population of individuals."
Previously, in addition to using classic lab mice, researchers had used guinea pig and hamster models, but very little is known about their genomes, Katze tells Newsweek.
"We hope that medical researchers will be able to rapidly apply these findings to candidate therapeutics and vaccines," Katze said in the press release. He tells Newsweek that identifying genetic factors opens up the possibility of therapeutic options that target those genes instead of or in addition to the virus, which can mutate and become resistant to drugs.
Meanwhile, he and Rasmussen are diving deeper into the genetic links.
"We're in the process of doing much more robust analysis of actually linking regions of the genome to outcomes," says Rasmussen, who hopes other researchers will adopt the model to make contributions in their own specific areas of expertise.
"A better small animal model is great," says Robert Garry, a virology researcher at Tulane University's Department of Microbiology and Immunology who was not involved in the Science study. The mouse model can be used to screen drugs and possible therapies more quickly and cheaply than using nonhuman primates,
Garry's own research group published a paper Wednesday in The New England Journal of Medicine that examined Ebola, and the wide range of responses to the disease, in 106 patients in Sierra Leone who were diagnosed with the virus in May and June of this year.
"We were trying to look at what symptoms and signs predict whether [a patient] would live or die," Garry tells Newsweek. They found that factors like viral load, age, fever, weakness, dizziness and diarrhea upon initial presentation were all predictors of a fatal outcome.
Because Ebola fluids are highly infectious, the research for the Science study was conducted at a "biocontainment safety level 4 laboratory" at the National Institutes of Health's Rocky Mountain Laboratories in Hamilton, Montana.
"Ebola is one of the most poorly studied viruses," Katze says. "It's so difficult to do the experiments in high containment labs, necessary but just slow." The work published Thursday in Science began about three years ago.
"Sadly," he adds, because of the slow pace of research, he's afraid "it won't help with the current epidemic."