Why Do Steve Bannon And David Duke Like Democrat Tulsi Gabbard So Much? Stephen Colbert Poses Direct Question to Candidate
Stephen Colbert has questioned Democrat presidential candidate Tulsi Gabbard over her appeal to traditional conservative figures, asking the Hawaii congresswoman why she has received support from Steve Bannon and David Duke.
Interviewing Gabbard on the Late Show Monday, Colbert directly asked the candidate why she had been praised by Banon, President Donald Trump's former chief strategist, and Duke, a white nationalist and former Ku Klux Klan leader.
"What do you make of how much they like you?" Colbert inquired, also asking why Gabbard had received support from conservative congressman Matt Gaetz. The Democratic presidential hopeful did not offer an answer and condemned the far-right figures.
"You should ask them," she said. "Look, I have denounced strongly, time and again, the white nationalist views of David Duke and racist and bigoted views of people who are fomenting hatred and even violence. This is something that is unacceptable and something we should all stand up and condemn," Gabbard added.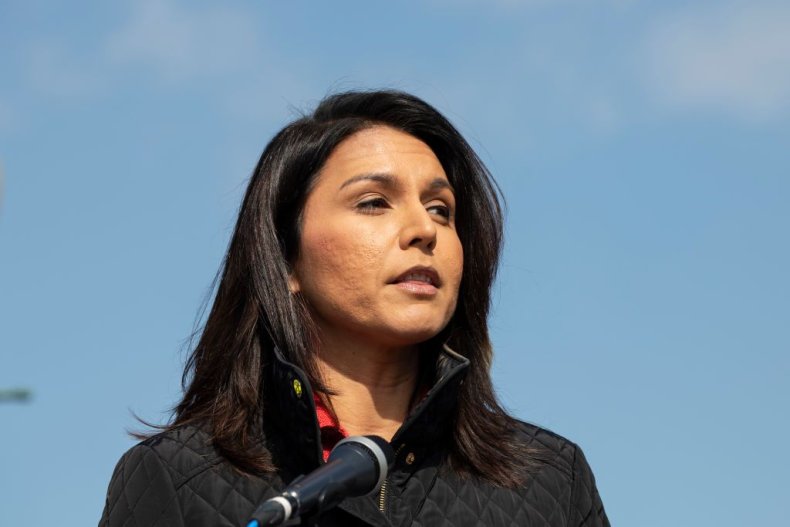 However, the Iraq War veteran has received consistent support from right-wing politicians, who are usually hostile to pro-environment, pro-gun control Democrats like Gabbard, because of her unorthodox foreign policy stance. Her isolationist position, criticism of former President Barack Obama's foreign policy agenda and support for Trump's rapprochement with North Korea have won her friends in unlikely places.
The Daily Beast reported Gabbard was briefly considered for a cabinet position in the current administration. In January Fox News' Tucker Carlson has said the Hawaii congresswoman has been unfairly attacked for criticizing intervention in Syria and for overtures made to Syrian ruler Bashar al-Assad. Gabbard told CNN in January, following her announcement that she would run for the 2020 Democratic nomination, she did not regret meeting the Syrian leader. She met with Assad in 2017, six years into the country's civil war that has claimed 400,000 lives, according to the United Nations.
Colbert addressed Gabbard's stance with regard to the Syrian leader. "The United States should not be intervening to overthrow these dictators and regimes that we don't like, like Assad, like Saddam Hussein, like [Muammar] Gaddafi or like Kim Jong Un," the congresswoman said.
"You got heat for meeting with Bashar al-Assad. Do you not consider him a war criminal? Why did you meet with that man?" Colbert asked.
"If we are not willing to meet with adversaries, potential adversaries in the pursuit of peace and security, the only alternative is more war," Gabbard explained.