Why Do We Celebrate Columbus Day? Some Opt for National Indigenous Peoples' Day Instead
Nationally, Monday marks Columbus Day. But after backlash over what the day honors, some places opted to dedicate the start of the week to National Indigenous Peoples' Day, instead.
Columbus Day officially became a national holiday in 1937, although various areas of the country held unofficial celebrations more than a century earlier. The holiday is meant to commemorate Columbus' landing in the Americas in 1492.
Previously celebrated on October 12 each year, the holiday was moved to the second Monday of October when the Uniform Holiday Act was enacted in 1968. For some people, Columbus day isn't just about celebrating his arrival in America. It's also about honoring Italian-American heritage as a whole.
In the eighty-some years since Columbus Day became an official holiday, the day has generated a fair amount of backlash. Critics of the holiday argue that it ignores the fact that Columbus was not the first to discover America, as well as the atrocities settlers committed against indigenous people.
Although Columbus Day remains a national holiday, given the criticism surrounding the day, some states and cities have opted to celebrate Indigenous Peoples' Day instead. The holiday celebrates Native American people, their histories and cultures.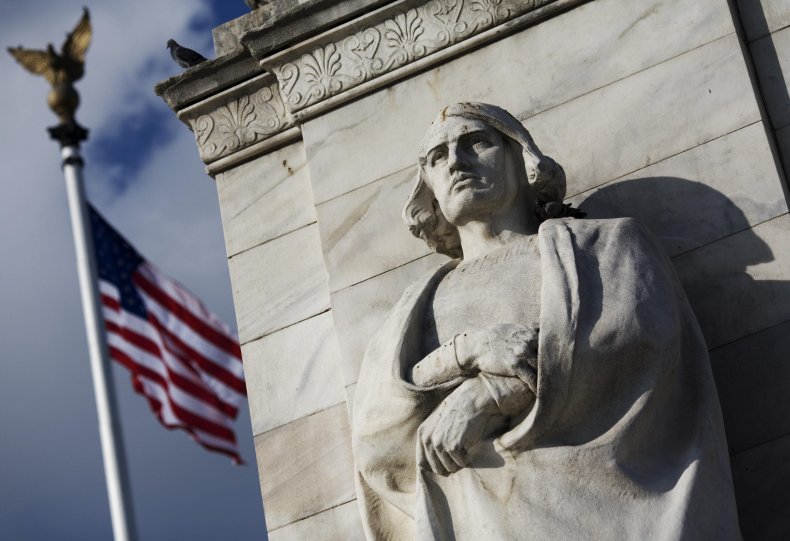 With its origins dating back to 1989 in South Dakota, Indigenous Peoples' Day is now celebrated in 13 states and the District of Columbia, identified by Smithsonian Magazine as:
Alabama
Alaska
Hawai'i
Idaho
Maine
Minnesota
North Carolina
Oklahoma
Oregon
South Dakota
Vermont
Wisconsin
In April, New Mexico Governor Michelle Lujan Grisham signed legislation approving swapping Columbus Day out for Indigenous Peoples' Day. Navajo Nation President Jonathan Nez praised Grisham and all of New Mexico for making the change. Nez criticized the federal government for making Columbus Day a holiday without asking for input from Native Americans and said the holiday celebrates "colonialism, oppression, and injustice inflicted on Indigenous peoples."
Through the observation of Indigenous Peoples' Day, citizens have the opportunity to recognize the rich heritage of Indigenous People.
A number of cities also hold official celebrations commemorating Indigenous Peoples' Day. Berkeley, California, was the first city to make the change in 1992 and in 2019, more than 50 cities, including Anchorage, Alaska, Phoenix, Cambridge, Massachusetts, and Lincoln, Nebraska, acknowledge the holiday.
On Tuesday, the Washington, D.C. City Council passed an emergency piece of legislation that brought the swap to the nation's capital. Councilmember David Grosso proposed the legislation and Mayor Muriel Bowser signed it, making it effective for Monday. However, a permanent change would require congressional approval within 225 days.
The graphic below, provided by Statista, illustrates the percentage of indigenous peoples in the population in countries of the Americas.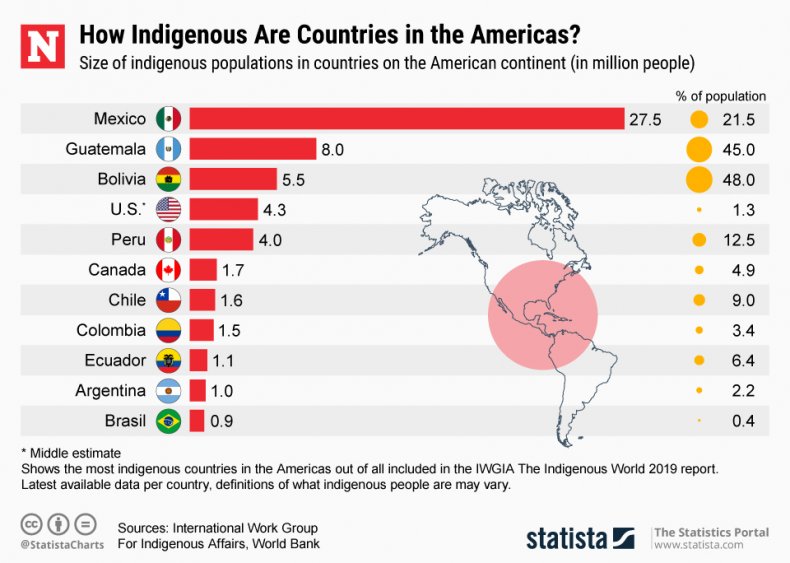 This article was updated to include an infographic.