Why Does Trump Have Grass in His Pocket? Twitter Puzzled By Meeting With Irish Prime Minister
Some Americans were left scratching their heads over a meeting at the White House between President Donald Trump and Ireland's Taoiseach Leo Varadkar. Why did both men have what looked like grass in their suit jacket pockets?
The answer is simple: It's a tradition. And it dates back to President Harry S. Truman, who was in office between 1945 and 1953. Ahead of St Patrick's Day, the Irish government presents the U.S. president with a bowl of shamrock, a green clover plant that is a symbol of Ireland.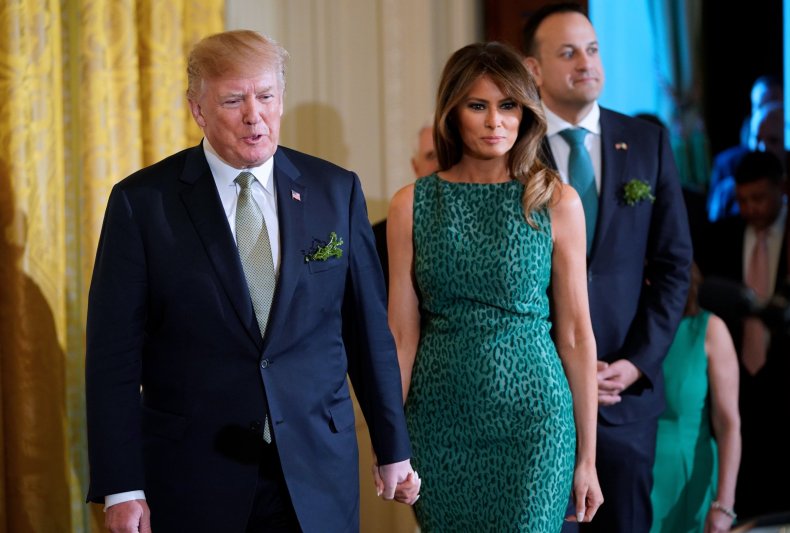 These days, it's used as a photo opportunity. The Irish leader visits the U.S. to present the bowl of shamrock themselves at a ceremony (and, of course, for the usual political talks). Both will sometimes put a clump of shamrock in their pockets for the occasion, too.
Presidents Bill Clinton and Barack Obama both did it, though photos of George W. Bush taking part in the ceremony only show the Irish leader of the time, Bertie Ahern, with shamrock in his pocket.
According to Encyclopedia Britannica: "Shamrock, any of several similar-appearing trifoliate plants—i.e., plants each of whose leaves is divided into three leaflets.
"Plants called shamrock include the wood sorrel (Oxalis acetosella) of the family Oxalidaceae, or any of various plants of the pea family (Fabaceae), including white clover (Trifolium repens), suckling clover (T. dubium), and black medic (Medicago lupulina).
"According to Irish legend, St. Patrick, patron saint of Ireland, first chose the shamrock as a symbol of the Trinity of the Christian church because of its three leaflets bound by a common stalk. Wood sorrel is shipped from Ireland to other countries in great quantity for St. Patrick's Day."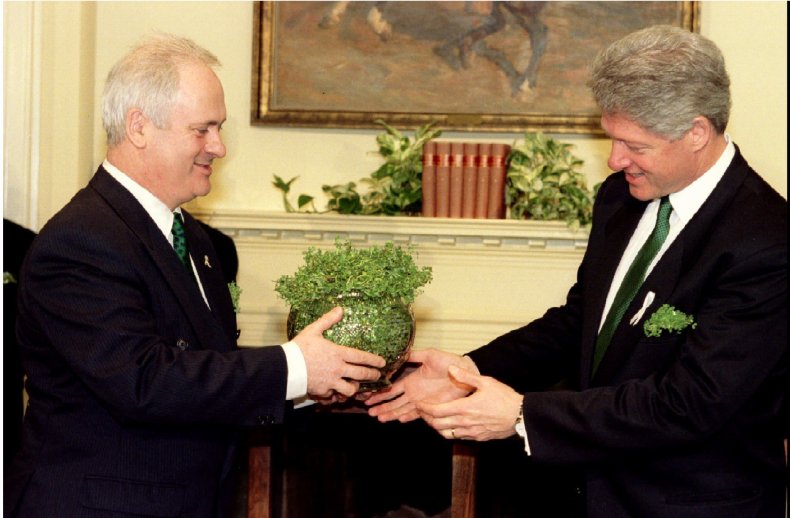 St. Patrick's Day 2018 is on Saturday March 17.
At the "Friends of Ireland Luncheon" in the White House, laid on for the visiting Taoiseach, Trump praised the historic ties between the two countries.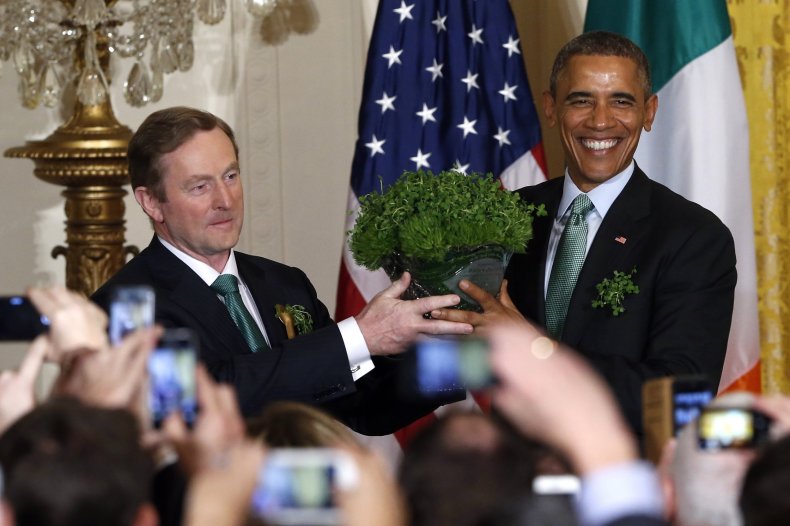 "St. Patrick's Day is a time for us to honor and build upon the lasting bonds of our friendship between the United States and Ireland, bonds forged through a very common heritage, shared values, and a united vision for a peaceful and prosperous future," Trump said.
"More than 30 million Americans today claim Irish heritage. That's why you have such power in the halls of Congress and everywhere else.
"So on this St. Patrick's Day, we celebrate our long friendship and close ties with the people of Ireland. Special, incredible, wonderful people. And we look forward to an exciting future that we will all share together."
Why Does Trump Have Grass in His Pocket? Twitter Puzzled By Meeting With Irish Prime Minister | U.S.