Why Doesn't Jimmy Butler Want to Play with LeBron James?
Jimmy Butler wants out of Minnesota but he apparently does not want to play with LeBron James.
For the overwhelming majority of NBA players, the prospect of sharing the court with the best player of this generation while playing for one of the most decorated franchises in league history would be too alluring to resist, but Butler clearly sees it differently.
On Wednesday, citing league sources, Shams Charania of The Athletic tweeted, "Butler has given Minnesota a list of one-to-three teams with whom he's open to signing extension, in anticipation of trade."
According to ESPN's Adrian Wojnarowski, the 29-year-old has listed the New York Knicks, the Brooklyn Nets and the Los Angeles Clippers as his preferred landing spots.
While the Lakers once were close to the top of the list Butler imagined playing for, LeBron's arrival in California has obviously changed the landscape.
To an extent, Butler's stance is understandable. He wouldn't be the first player in his prime who opts to be a star in his own team instead of being LeBron's lieutenant. Kyrie Irving left Cleveland for Boston for exactly the same reason, as he knew perfectly well he would never dethrone LeBron as the Cavs' main man.
Butler has developed into one of the best players in the league, averaging over 20 points and over five rebounds per game over the last four seasons. At 29, he clearly feels he is into his prime and wants to join a franchise that would build around him and entrust him with the role of spearheading a title challenge.
Conversely, by declining to play alongside the three-time NBA champion, Butler could also diminish his chances of success, doing the opposite of what Kevin Durant did when he left Oklahoma for Golden State.
Durant's "if you can't beat them, join them" attitude has attracted criticism since he moved to the Bay Area but it has also seen him win the last two NBA titles while being named NBA Finals MVP in both occasions.
The Lakers are nowhere near the finished article and not even LeBron can carry the current roster to a title but they have a better shot than the Clippers.
The Knicks and the Nets, meanwhile, haven't made the playoffs in five and three seasons respectively.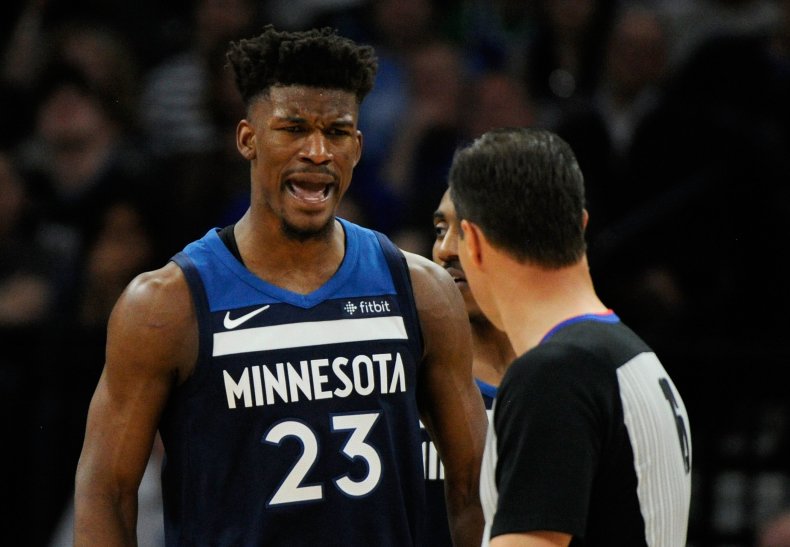 As far as the Lakers are concerned, Butler's position leads to some intriguing questions. The 16-time NBA champions began the summer with hopes of landing LeBron and at least another All-Star, preferably in the shape of Kawhi Leonard or Paul George.
While LeBron has arrived, for different reasons neither Leonard nor George will be playing in the City of Angels next season and rumors suggest Leonard would prefer playing in Clippers white rather than in Lakers gold if he was to move back to his hometown.
At the same time, Butler might find joining one of his preferred destinations might not be as straightforward as he hopes. While the former Marquette student has asked to be traded, all the three franchises he wishes to join have enough salary cap room to sign him as a free agent in July 2019 and might therefore be reluctant to set up a trade now.
Butler's value as a one-year rental could, however, play into the Timberwolves' hands, as it could make the former Chicago Bull an appealing prospect in the eyes of a number teams that don't feature on his preferred list.
San Antonio and Toronto, for example, could toy with the idea of parting way with some of their assets to sign Butler on a one-year rental, hoping to then convince him to sign a long-term deal. The Raptors are doing the same with Leonard and the Thunder showed with George last season that it is possible to convince a one-year rental to put down roots.