Why Doesn't Trump Want to Meet Putin? White House Rejects Meeting, Kremlin Says It Will Happen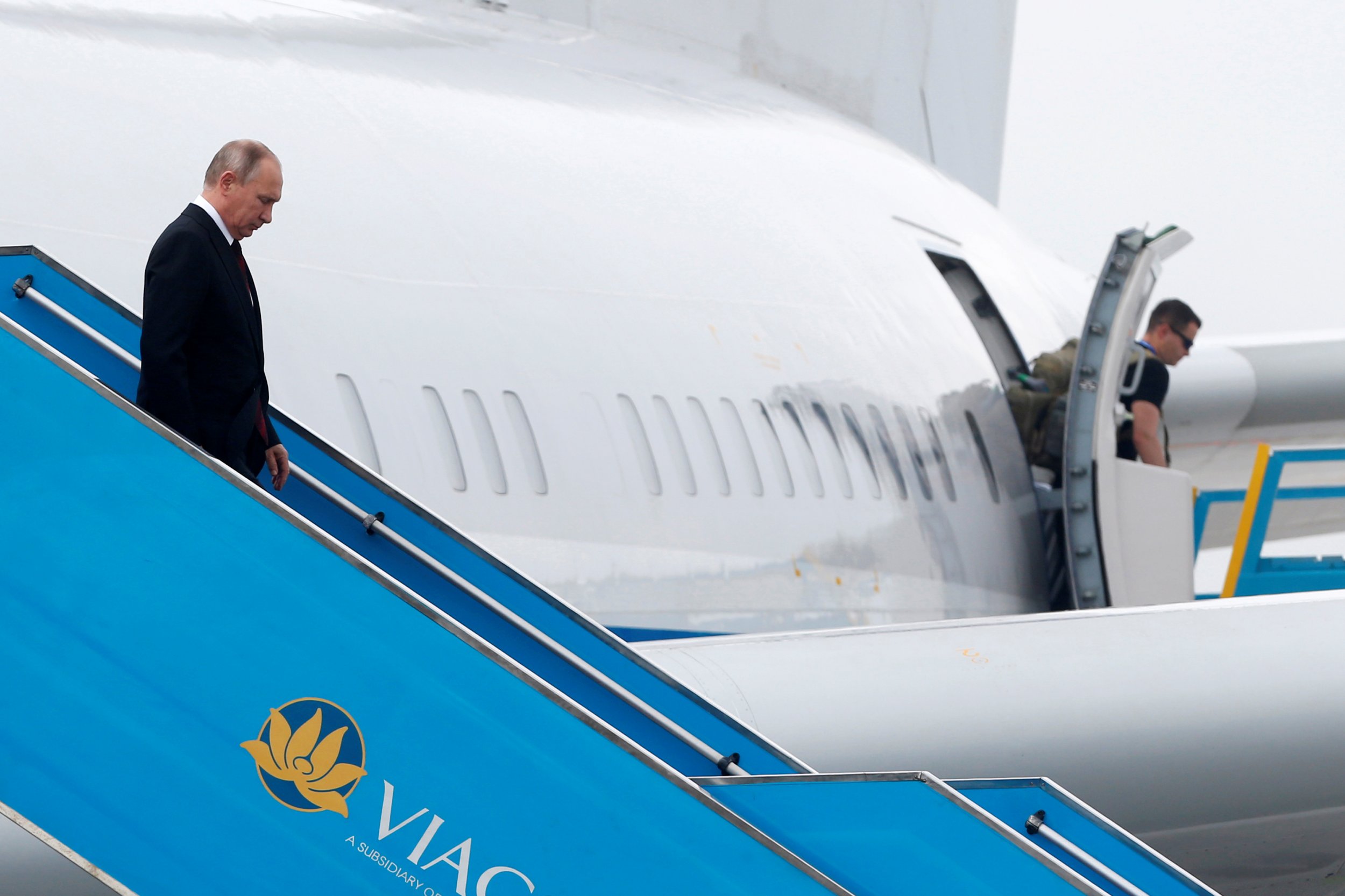 Wrapped in obfuscations and contradictions, President Donald Trump's second meeting with Russian counterpart Vladimir Putin is becoming the Schrödinger's cat of political parlays. It is both definitely happening, and dead in its tracks.
Three senior Russian officials and Putin's spokesman have given assurances that Putin's agenda for the talk is ready this week and the meeting has gone from "very likely" to confirmed for Friday.
On Friday, Trump's spokeswoman Sarah Huckabee Sanders said a formal meeting when both leaders attend the Asia-Pacific Economic Cooperation (APEC) summit in Vietnam, is not happening. "Regarding a Putin meeting, there was never a meeting confirmed, and there will not be one that takes place due to scheduling conflicts on both sides," Sanders said Friday, ABC reported.
An informal conversation—a pull-aside—will be the most likely exchange between the two leaders, according to Sanders.
"Are they going to bump into each other and say hello? Certainly possible and likely. But in terms of a scheduled, formal meeting, there's not one on the calendar and we don't anticipate that there will be one," Sanders added.
Despite the Kremlin's very public build-up to the prospective meeting, U.S. top diplomat Rex Tillerson also poured cold water on the odds of it happening, suggesting that Washington doubted that anything new would come out of a long conversation with Putin.
Read more: Will Donald Trump snub Vladimir Putin in Vietnam?
"It wouldn't be at all unusual if they ended up with some kind of a pull-aside. The question is whether we've got sufficient substance," Tillerson said Thursday. "You know, if we're going to have a meeting, let's make sure it's a meaningful meeting."
So far only Trump himself has suggested a meeting with Putin was ever on the cards, saying at the start of his Asia tour on Monday: "We want Putin's help on North Korea, and we'll be meeting with a lot of different leaders."
Hearing the latest rebuffs, Putin's spokesman Dmitry Peskov doubled down on Friday, insisting "Our American colleagues are coming forward with contradictory information. Either way a meeting on the sidelines will take place," he told state news agency Itar-Tass, but did not specify if he meant anything other than an informal encounter will occur. Work on scheduling a talk was ongoing, Peskov reiterated.
"We do not comprehend everything yet but we continue to patiently work in order to achieve some understanding," Peskov added later in the morning, sounding less categorical that the leaders would have much of an interaction. "Both presidents are in town. Either way they will cross paths," he told Itar-Tass.
So heading into the APEC summit, a second Trump-Putin meeting is both off the table and borderline guaranteed. The clashing lines on what could end up being little more than a courteous handshake or a brief check-in at dinner, are telling of who stands to benefit from the publicity around a meeting, experts argue.
"Trump can avoid Putin if he wants—the last thing the Russian [president] wants is an appearance that he is a desperate suitor being spurned," says Mark Galeotti, Russian policy expert at the Institute of International Relations Prague. "But by the same token the Russians are quite keen for a meeting, not because they expect to get anything practical, I think, but because the optics would help further their case that Russia is a global power and Putin an indispensable figure on the world stage."
Trump and Putin's first meeting did not result in any real shifts in policy, despite going well into overtime and producing a whole album of photographs with the two leaders exchanging amicable looks. Putin arguably won the publicity war after the meeting, forcing the prime minister of U.S.-ally Japan Shinzo Abe to wait for him and underlining how good Trump was at listening during the meeting.
Trump, meanwhile, was lambasted at home for holding another undisclosed run-in with the Russian president at dinner and not pressing Putin hard on allegations of election hacking. Although the Russian press praised the meeting as a likely coming together of minds, the U.S. and Russia remain as divided as ever on Ukraine and Syria, and the Trump administration, if not Trump himself, has continued to criticize Russia for election interference. A repeat of that process would not benefit Trump.
"President Putin would gain simply by having face time with President Trump," Stephen Pifer, former U.S. Ambassador to Ukraine and former Russia, Ukraine and Eurasia expert at the National Security Council, told Newsweek. "It would help bolster his image as a key international 'player.' A substance-free meeting, on the other hand, would do nothing for Mr. Trump, given questions at home about contacts between his campaign and Russian officials," Pifer said.
The publicity around potentially snubbing Putin with a very short run-in or no meeting at all, could go further and become the precursor for a change of tone on Russia by Trump, Galeotti says.
"Trump could—in theory—make this a turning point by even the least reference to Russian interference in the U.S. elections, or at minimum making a criticism of Moscow's policy in Syria or elsewhere," he says. "Frankly, any open criticism would help his people to make the case that he is not somehow in thrall to Putin. But I'm not convinced that's likely."