Why Doesn't the WNBA Have an Official Fantasy League?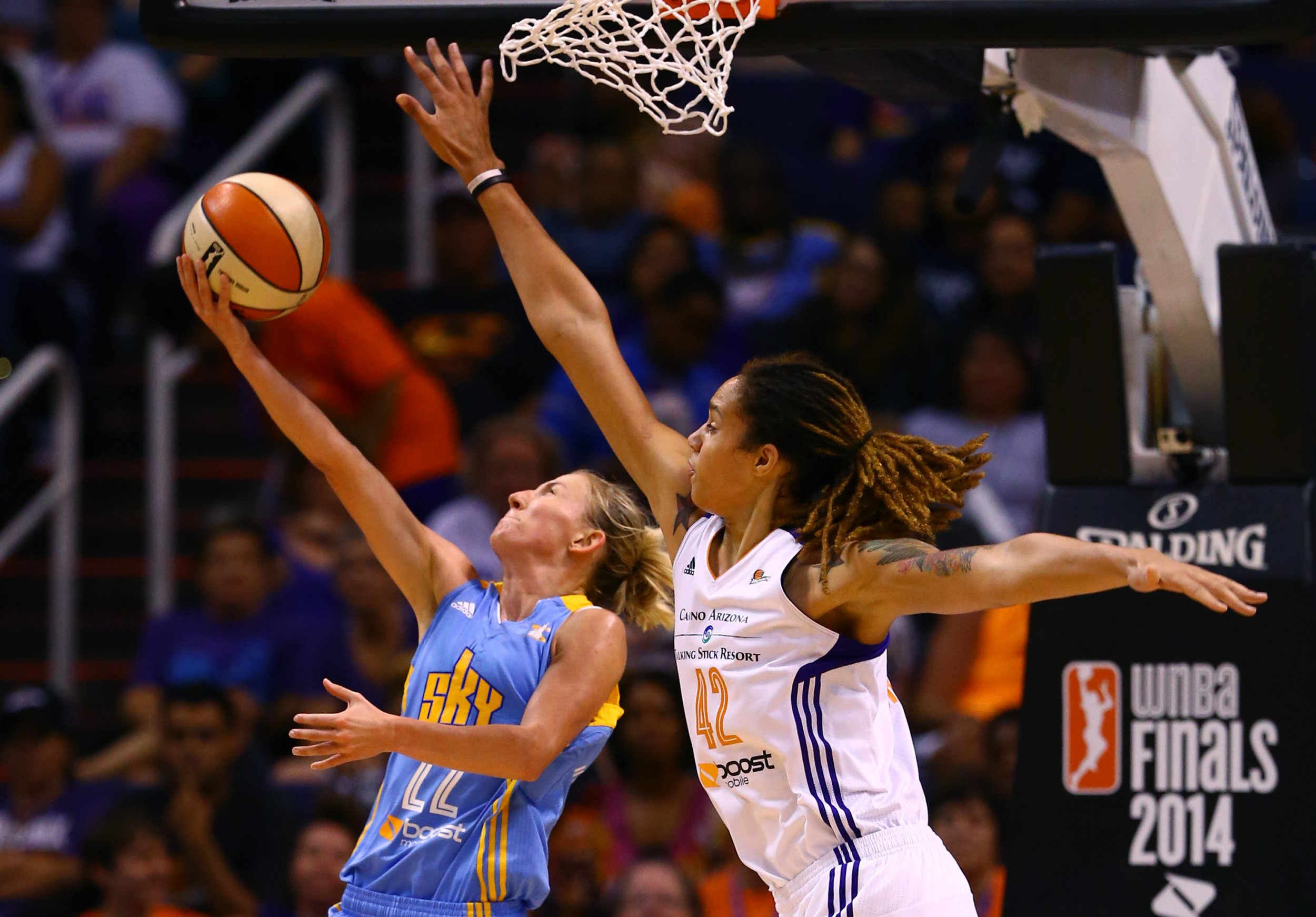 On July 5, I found myself reflecting on the unexpected nature of my afternoon. While Sunday sports viewing was nothing new for me (or most of America for that matter), in this case my attention shifted between a replay of Friday's WNBA matchup between the Los Angeles Sparks and Tulsa Shock and the U.S. Women's National Team's eventual triumph over Japan in their World Cup Final. If you had told me a year ago that I would be recovering from the Fourth of July by watching two different women's professional sports and feeling heavily invested in both, it would have caused some cognitive dissonance.
A longtime NBA junkie, my interest in sports outside of basketball tends to vary from season to season, even moment to moment. Like many Americans, my life as a sports fan has been pushed along by TV networks—which have actually regressed in their coverage of women's sports in the past quarter century—and through socializing with my friends and family, few of whom have ever followed any female leagues or athletes. Watching women's sports requires an individual choice and effort, whereas men's sports are so pervasive that it often takes more effort not to be aware of them.
But in late May, with the fantasy season concluded and the real-life NBA playoffs drawing to a close, basketball withdrawal symptoms began to hit me, and I knew I would need a fix. Another league member had casually mentioned the idea of starting a WNBA fantasy league several months earlier, and when he sent me a text—"WNBA fantasy league. You in?"— I knew he was feeling the withdrawal too. With my recent fantasy championship still fresh in mind and thinking about how long it was until the new NBA season in the fall, I decided to join.
Admittedly, I had never followed women's basketball and had only heard of a few current players, so I had sincere doubts about whether this DIY, lo-fi version of fantasy sports would inspire enough interest to even be worth our time. But the women's season runs from June through mid-September, filling the annual gap in pro-basketball viewing. So we rounded up a couple more players, drafted our initial squads and began the inaugural season of the Sheryl Swoopes WNBA Fantasy League.
The idea of WNBA fantasy league seemed novel, but I figured we couldn't possibly be the first. After all, fantasy leagues are a multimillion-dollar industry, and sports fans seriously can't be so biased toward the NBA that they miss out on an entire league of fantasy play—can they?
And yet, through much Internet searching, I discovered only two other WNBA fantasy sites, and both of them, like ours, were very basic pages operated and visited by few people. Even free fantasy host sites like Yahoo have detailed and stylized layouts and self-contained software designed to make researching players and compiling statistics as easy as possible for users. The sites for these WNBA leagues had rosters uploaded as Word files, stat grids created on Excel and blocky chunks of texts explaining the rules, as if these leagues were created and stuck in the mid-'90s. One was hosted by Tumblr, another by Blogger, while our commissioner created our league's site with WordPress.
The unpopularity of the women's game is a stale joke among many basketball fans. In a sport famous for physical freaks like my fantasy MVP Anthony Davis (6 feet, 10 inches and with a wingspan well over 7 feet), the discrepancies between women and men in height and strength have often been cited as hindering the WNBA's chances with casual fans. Brittney Griner, the most dominant center in the WNBA and, at 6-foot-8, the third-tallest woman to ever play in the league, is roughly the size of an average NBA player. The height discrepancies and assumed skill gap often puts the idea of the WNBA's relative mediocrity in the minds of viewers even before tip-off. The lack of interest has been reflected in attendance for years, with average WNBA attendance hovering under 8,000 per game (consistently less than half that of NBA games). The world of women's basketball is so alien to most sports fans that as recently as 2013, Vice's "I Went to a WNBA Basketball Game" was an account of just attending a game, treating the entire enterprise like an anthropological curiosity.
As a basketball fan, none of this was new information when I started following the WNBA. But a complete lack of a fantasy league? Men's basketball has become fundamentally tied to fantasy sports. FanDuel and DraftKings are the two most popular online outlets for daily fantasy sports, charging entry fees and paying out cash prizes to thousands of users each week. Both of these companies have direct partnerships with NBA teams that are worth millions of dollars.
DraftKings in particular exemplifies the irony of the WNBA's situation. The fantasy giant made a deal with the Madison Square Garden Company, which owns both the NBA's Knicks and the WNBA's Liberty. The partnership includes DraftKings actually placing its logo on the jerseys of the New York Liberty and opening a "DraftKings Fantasy Lounge" at their home arena of Madison Square Garden. I imagine a naïve young fan going to a Liberty game at the Garden, then sitting postgame in the Fantasy Lounge wondering if he or she should draft star forward Tina Charles, only to discover that not only Charles but her entire league is unavailable on any legitimate fantasy roster across the vast expanses of the Internet—including DraftKings.
The frequent discussion of whether the popularity of women's sports suffers more because of differences in the level of play or due to gender-biased media hype would not seem to apply to fantasy, where numbers and match-ups provide the thrill. If my winning a statistical category in a fantasy league is dependent upon one of my players, who averages 18 points per game, going up against a player from a rival team, who averages 20 points per game, the performances of those players should create tension and intrigue regardless of their height, weight or gender.
I've found numbers and match-ups in abundance in the WNBA, because neither seems to discriminate based on chromosomes. In an act of extreme practicality, the WNBA offers a one-time pay service that, for a mere $15, provides users with viewing access to every game in the entire season, stats and highlight compilations. These tools ensure that fantasy players would have easy access to any research they could possibly need.
Entering the season, I was uncertain how many games I'd end up tuning in to, but I quickly found myself substituting the WNBA for other sports I might be watching, and enjoying it just as much, if not more. The players (few of whom I had heard of until recently) are a pleasure to watch, both in terms of their keeping my team solidly in first place and in the purest sense of enjoying good basketball. Of course, while the play is entertaining regardless of my bias, any fantasy basketball player knows the sweet satisfaction of seeing players kill it on the court when they're on your roster. Whether it's Angel's smooth game winner, Kristi raining threes or Brittney being Brittney, my team continues to make me cheer. Now, knowing the ease of access to the women's game as well as the talent of the league's players, it seems to me that it's not skill level, it's not stakes—it's just plain gender bias that's played a big role in the lack of women's fantasy basketball to this point.
Of course, this is far from the most prominent issue involved in sports' current gender paradigm shift. The U.S. Women's National Team's World Cup victory in July brought much-needed attention to the inequity in pay in women's sports. The Women's World Cup Final drew more viewers than Game 6 of this year's NBA Finals, but the U.S. women earned only $2 million for it—significantly less than even the $8 million made by their U.S. male counterparts in the 2014 World Cup, and those guys were eliminated in the Round of 16. To attempt a comparison between the women's pay to the $35 million made by the German winners of the Men's '14 Cup is to begin to understand the gross absurdity of wage discrepancy between men and women in professional athletics. The popularity of USWNT, demonstrated both in TV ratings and in the historic ticker tape parade celebrating the women's victory, shows that the cliché of women's sports being inherently less interesting or exciting than men's is outmoded.
Could fantasy sports be the next step in women's athletics escaping the misogyny that has so often been associated with them? The major fantasy companies continue to explode financially and the competition between them continues to heat up, with each amassing millions of dollars in venture capital and revenue. Until the bubble bursts, these companies will continue to look for any edge or innovation to separate themselves, and greater diversity seems to be a natural extension of the fantasy game. Jason Robins, the CEO of DraftKings, has stated that it's only a matter of time until women's fantasy goes mainstream: https://twitter.com/JasonDRobins/status/572065062157860864.
Adam Silver, commissioner of the NBA, has been championing the legalization of sports gambling, which would blur the line between fantasy and reality even further. Savvy gamblers have long understood the moneymaking potential of a more obscure league like the WNBA, where fewer than 250,000 viewers tune in to a nationally televised game, and the ignorance of the masses can net a profit for the attentive few. Legalized sports betting would increase the number of casual bets on the WNBA, which would increase the utility for knowledge about the WNBA.
The original fantasy baseball league was composed of friends who met at a New York restaurant in the '80s, dumped Yoo-Hoo on each other to celebrate a championship and preceded a billion-dollar industry. Our WNBA fantasy league will not lead to any big money, but it's exciting to be a part of it at a time when the future for women in sports seems brighter than in times past. Personally, I'm still psyched I was able to pull off a trade for Brittney Griner. A league title seems within my grasp, thanks to some savvy team management and the excellent play of some true ballers.