Why DSK Would Have Been An Ideal Opponent For Sarkozy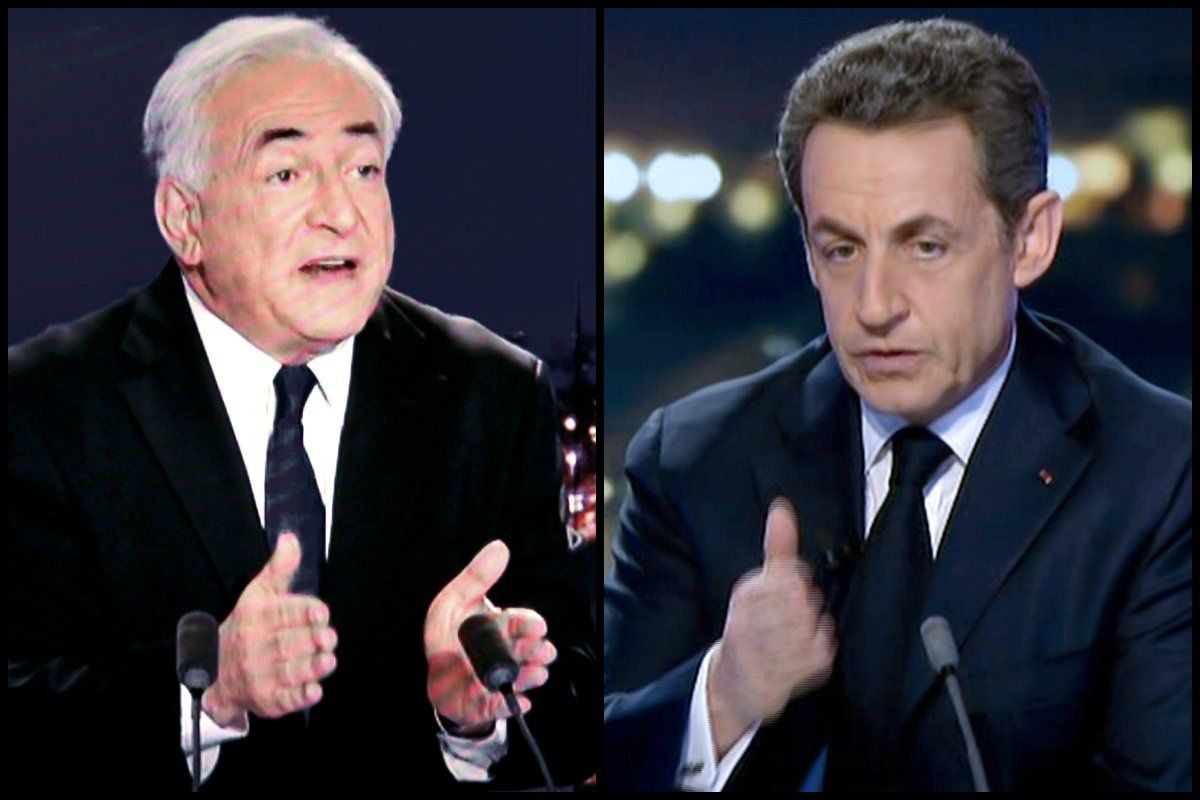 Early on the Sunday morning in May last year when the news broke that Dominique Strauss-Kahn had been arrested on allegations of sexual assault and attempted rape, I called a close friend of French President Nicolas Sarkozy. "Did you guys do this?" I asked him. It seemed to me that, from a Sarkozian point of view, the whole thing was too good to be true. Strauss-Kahn, the managing director of the International Monetary Fund, had emerged as the unofficial but seemingly unstoppable contender to take France's top job in the 2012 elections. But now the presidential hopeful was doing a perp walk in Manhattan. "This has got to be a set-up," I said.
"Non," answered my acquaintance. "Too early," he explained. If, hypothetically, Sarkozy were going to exploit Strauss-Kahn's out-of-control sexual appetite, the time to make that move would be after DSK had won his party's nomination in the fall of 2011. But the point was moot. Even though the criminal charges were dropped a few weeks later, DSK was, as one of his close friends lamented that morning, "toast."
Now, at the height of the French campaign season, with the first round of presidential elections on April 22, Sarkozy may be wishing Strauss-Kahn had been able to stay in the game. DSK had so many personal weaknesses to exploit that, according to another one of Sarkozy's friends and confidants, Sarko actually saw Strauss-Kahn as "fragile." But when DSK was forced out of the running, former Socialist Party leader François Hollande won the nomination. And Sarkozy has found the relatively colorless Hollande a target that's hard to hit. Indeed, most polls show Sarkozy losing badly in the second and final round of voting on May 6.
Hollande's strongest electoral attribute is not his left-wing rhetoric or his promises to soak the rich; it's that he's not Sarkozy. The president's approval ratings have been abysmal for most of his five-year term. And while Hollande may not have inspired the French voters, neither has he imploded as Strauss-Kahn might well have done.
The latest, formal charge of "aggravated pimping" leveled by the courts against Strauss-Kahn last month is "just one more file on the pile," says the same Sarkozy associate who thought the Sofitel scandal came "too early," and who declined to talk on the record because of his confidential relationship with the present French administration. "I think it's a done story," he said. But the undercurrents of entitlement, the evident disdain for accountability, and the pervasive odor of corruption that surround the Strauss-Kahn revelations have tainted the whole political establishment.
The scandal is "a disaster from every point of view," Sarkozy told the daily Le Parisien less than two weeks before the elections. He gave his "word of honor" that he "wasn't aware" of the alleged pimping case as it developed.
Strauss-Kahn's lawyers deny that he committed any crimes, but they have been forced to acknowledge that he was a "libertine." His rich and influential wife Anne Sinclair has stood by him, but the allegations of debauchery are taking a huge personal toll on the couple, according to a close family friend. "He's depressed. He's doing very, very badly," while Sinclair is "desperate." She was certainly aware of some of the womanizing, according to this friend and others, but now "it's the details that are so hard for Anne to take."
The salacious minutiae of the courts' DSK files, reported ad nauseam in the French press, would be hard for any spouse to endure. But the leaks have not done much credit to Sarkozy, and contribute to public suspicion of his meanness. In fact, despite his low popularity, Sarko's record isn't all that bad. He's shepherded the country through a disastrous global financial crisis and proven an energetic leader on the world stage. Yet since the early days of his administration he has been trying to live down the public perception that he's a little tough guy with a coarse tongue—more Joe Pesci than Monsieur le Président.
Today, when Sarkozy's aides try to quash suspicions that they somehow plotted DSK's demise, the temptation to slime Strauss-Kahn can seem bigger than them, or than their president.
Four months ago, for instance, Interior Minister Claude Guéant confirmed that DSK was stopped by police one December night in 2006 in the Bois de Boulogne, a large park notorious as a place to pick up prostitutes, including transvestites and transsexuals. Files from that incident, which involved no legal charges, were leaked years ago to at least one major French publication—but, as often happens with such matters in France, they became part of the rumor mill rather than the public record. Then Guéant made it semi-official. Strauss-Kahn "didn't fall into a police ambush," he said. "He wasn't followed. It's not the fault of the police, anyway, that he was out there that night!"
Innuendo emanating from the Sarkozy camp about Strauss-Kahn's reckless sex life goes back years, the tawdriness matched only by what later proved to be the reality. When DSK became IMF managing director in Washington in November 2007, Sarkozy reportedly warned him that he had better be careful about skirt-chasing in the prudish American culture. Then just three months later, Strauss-Kahn had a brief affair with one of the IMF's analysts, which he was later forced to admit. The IMF commissioned an independent investigation that cleared him of conflict of interest and sexual harassment, but the woman, Piroska Nagy, wrote a letter to the investigators saying she feared that "this man" has a problem that could disqualify him from working with women in the future. (For the record, another woman at the IMF who was hired by Strauss-Kahn told me recently in Washington that "people loved him.")
A key Sarkozy aide reportedly told journalists back in 2006 that if Strauss-Kahn were the Socialist nominee, "he wouldn't last a week." The aide supposedly claimed there were incriminating photographs. "They can be circulated," he said. "They won't please the French." When that line was published in a French book in 2009, the aide denied he'd said any such thing. But then, as recounted in another recent political history, Strauss-Kahn caught up with Sarkozy at the G20 summit in Pittsburgh. "I'm beginning to be fed up with the rumors about me from your guys," the then-IMF managing director told Sarkozy.
"OK," said the French president, according to an account published in DSK-Sarkozy: Le Duel, a comparative biography. "Let's talk about it, but I've got to take a piss." There among the urinals, Sarkozy said he knew nothing about the aide's remarks: "You know me, I'm not like that." "In any case," Strauss-Kahn shot back, "I'm warning you that I'll attack in the courts from now on all those who spread these rumors, and we'll see they have nothing."
Strauss-Kahn's chutzpah looks stunning in light of later revelations. Or perhaps, as he told investigators, he really was "naive." As one of his close friends describes him, he had compartmentalized his love life, at least in his own mind. There was his wife, Anne Sinclair, and their life as a preeminent power couple. Then there were lovers and mistresses, whose identities he was anxious to keep out of public view.
One woman close to DSK for many years recalls that he played out a well-worn drama with these girlfriends, first paying obsessive attention to them, "and then at some point, when the girl would feel attached to him, he would make her feel guilty for something. He would write less, be absent for a while—hot and cold—and this would work every time." It's those relationships, according to another Strauss-Kahn friend, that he thought might trip him up in a presidential campaign.
And then there were the working girls. DSK seemed to think of them as harmless entertainment. His text messages with men who allegedly helped arrange orgies talk about the women as "equipment." Strauss-Kahn's lawyers have said he never paid out of his own pocket for women and never bothered to inquire whether they were prostitutes. Proud of his reputation as a great seducer who would never buy sex, Strauss-Kahn in his early 60s may have lowered his standards for conquest without admitting it to himself.
By the time of that reported encounter with Sarkozy in the Pittsburgh men's room, DSK was involved with some businessmen and a cop from northern France allegedly currying his favor by making prostitutes available for group sex. DSK is alleged to have helped organize some of the bacchanals himself—the source of the "pimping" charges against him.
The case—the sleaze of which is relentless—is known as the Carlton Affair because some of the men involved were connected to the four-star Carlton Hotel in the city of Lille. But that's not where the women spent their time. According to court records, several worked in men's "clubs" just across the border in Belgium for a fat, balding, cigar-chomping Frenchman named Dominique Alderweireld or "Dodo la Saumure"—saumure being the brine used for canned "cod" (whores, in French slang) and "mackerel" (pimps). His place used to be called Smoke Havanas but recently changed its name to The Low Cost.
Dodo is not alleged to have had any direct relationship with DSK, but women who worked for him have told the cops that they sometimes got too close for comfort to the IMF chief. At one "libertine" Parisian luncheon in a restaurant near the Arc de Triomphe in early 2009, Strauss-Kahn is alleged to have tried to force himself on a woman named Béa in the downstairs bathroom. (She pushed him off, she later told police and the press.)
Much of the action, according to at least one of the women involved, took place in a duplex suite with a swimming pool at the Murano spa-hotel in Paris—just a short walk from DSK's apartment on the elegant Place des Vosges. But "nobody who is anybody goes to the Murano," says one of his good friends. "Look at the list of places where he went with prostitutes. They were all places where Anne wouldn't go." Several of the orgies allegedly happened around lunchtime, and those in the evenings at the Murano appear to have wrapped up before midnight, so DSK could head home. Others allegedly were arranged when Strauss-Kahn was on the road. In Washington, D.C., his favorite venue appears to have been the W Hotel, just a block from the White House.
By February of last year, months before the Sofitel incident in New York, some of the prostitutes and businessmen tied to DSK were under investigation by French authorities. By May, several of the players, including the redoubtable Dodo, had already had their phones tapped by authorities. The morning after Strauss-Kahn's arrest, according to a partial transcript published by the weekly L'Express, one of the men who'd allegedly taken women to Paris for Strauss-Kahn told Dodo, "It's not surprising ... You remember when he wanted to f--k Béa in the toilet? ... He's a fat pig."
The libertine days at the W ended on May 13 last year. Strauss-Kahn allegedly had sex with a prostitute from the Lille group around noon, then headed up to the Sofitel in New York City. There he tried to pick up a receptionist and failed, but spent much of the night in the company of a petite blonde who left in the small hours of the morning. The next day at about noon, chambermaid Nafissatou Diallo walked into Strauss-Kahn's Sofitel suite just as he was coming out of the shower. She claimed in an exclusive interview with Newsweek last summer that he attacked her violently, that she feared for her job if she fought back so hard as to hurt him, and that to end the ordeal she finally submitted, giving him oral sex. Through his lawyers, Strauss Kahn maintained the whole thing was consensual. In any case it was over in the space of about five minutes. Conceivably, given the rakish pace he'd been setting, he thought she was just more "equipment" on offer from some well-wishing friends.
Given that atmosphere of decadence and conspiracy, no wonder that François Hollande became the consistent frontrunner in these elections by promising voters he'd be a "normal" president.
With Tracy McNicoll in Paris