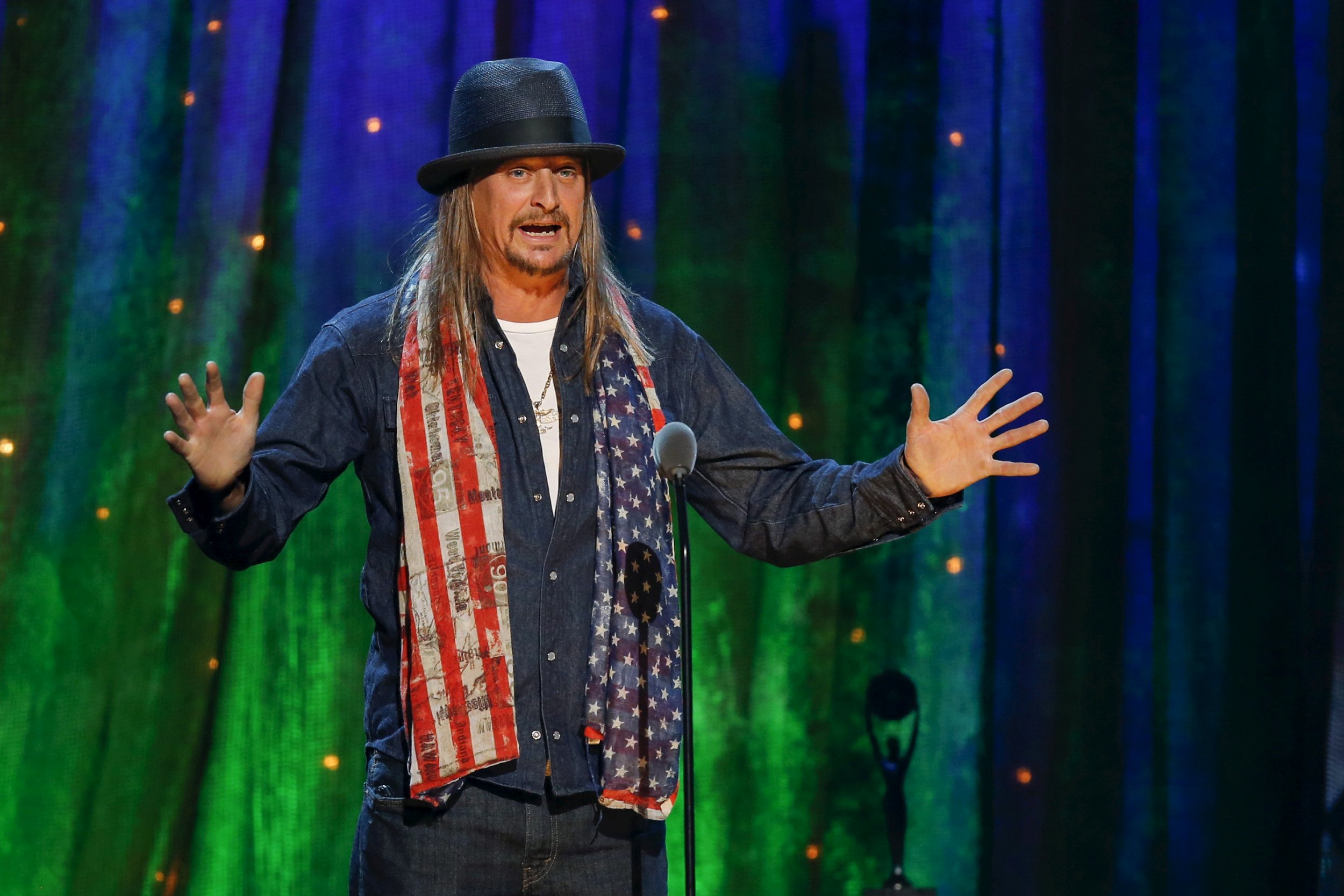 Massachusetts Senator Elizabeth Warren, who is considered a potential 2020 presidential candidate, is warning Democrats that they shouldn't take musician Kid Rock's possible Senate bid too lightly.
"I know a lot of people are thinking: this is some sort of joke, right?," she wrote in a fundraising email, as reported by the Boston Herald. "But we all thought Donald Trump was joking when he rode down the escalator at Trump Tower and announced his campaign, too."
Robert Ritchie, the Michigan rocker known as Kid Rock, promised a "major announcement in the near future" on Twitter Wednesday night while confirming kidrockforsenate.com was real. The website sells "Kid Rock for Senate 2018" merchandise and asks, "ARE YOU SCARED?" in large text.
Warren seems to be. "And sure, maybe this is just a marketing gimmick for a new album or tour—but we all thought Donald Trump was just promoting his reality TV show, too," she continued. The email links to a website which splits money raised between Warren, who is also running for re-election in 2018, and Michigan's incumbent Democratic senator and would-be Kid Rock opponent Debbie Stabenow.
Kid Rock has not filed the necessary paperwork with the Federal Election Commission to run against Stabenow. But he asserted on his website that his running for Senate is "not a hoax" and promised to be "a voice for tax paying, hard working AMERICANS and letting politicians like her know that We the People are sick and tired of their bullshit!"
Stabenow brushed off the potential challenge from Kid Rock, saying "he is better at playing the guitar" and that she would "keep doing what I do best, which is fighting for Michigan."
Kid Rock had been floated by some conservative activists in Michigan as a possible candidate. The rap-rock-country singer has been an outspoken Trump supporter and visited the White House in April with rocker Ted Nugent and former Republican Vice Presidential nominee Sarah Palin.
Saul Anuzis, former chairman of the Michigan Republican Party, told the Herald that Kid Rock should be taken seriously as a potential candidate.
"He's well liked," he said. "He's a big proponent of Detroit and somebody who's put his money where his mouth is, investing back home."