Why Is Erdogan Tricking NATO Into an Apology?
This article first appeared on the American Enterprise Institute site.
Turkey's Foreign Minister Mevlüt Cavusoglu is in Brussels to attend a NATO Foreign Ministers' Meeting. He has some explaining to do.
The problem started last month at a fairly innocuous exercise in Norway. According to reports first voiced by President Recep Tayyip Erdogan, Turkish participants saw a poster listing both Erdogan and Mustafa Kemal Ataturk, the founder of modern Turkey, as "enemies."
Reuters explains:
Turkey is pulling 40 soldiers out of a NATO exercise in Norway, President Tayyip Erdogan said on Friday, after his name appeared in a list of enemies on a poster at the drill, an incident that drew an apology from both the military alliance and Oslo…
"They [Turkey's military chief and European Union minister] said they had decided to pull our troops out and will do so, so we told them to not stop and go ahead . . . take our 40 soldiers out of there," Erdogan told members of his ruling AK Party in Ankara.
Commenting on the incident at the alliance's Joint Warfare Centre in Stavanger, Norway, NATO Secretary-General Jens Stoltenberg said: "I apologize for the offense that has been caused."
"The incidents were the result of an individual's actions and do not reflect the views of NATO," said Stoltenberg, who is a former Norwegian prime minister, in a written statement.
The individual involved, a civilian contractor seconded by Norway and not a NATO employee, was immediately removed from the exercise, Stoltenberg said.
Nothing fuels Erdogan like a good grievance, and nothing prompts speedy European apologies like accusations of racism. Alas, in this case, it appears that Erdogan and his supporters manufactured the crisis and that the Norwegians may not have been to blame.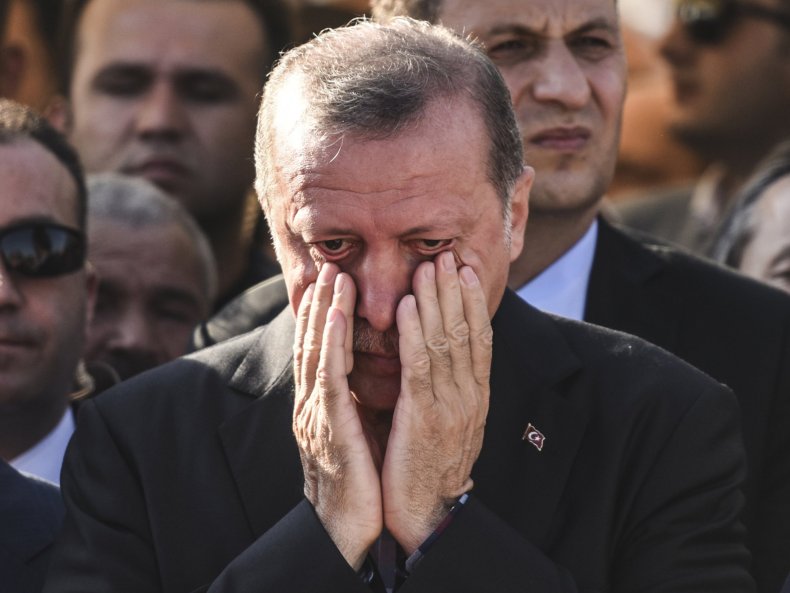 Consider that, according to Turkish officers, dispatch to such exercises is frequent and usually occurs at a fairly low level. The Norway exercise was an exception: Rear Admiral Cihat Yayci apparently selected one officer, Major Ebru Nilhan Bozkurt, to attend.
Not only is it rare that a two-star officer would be directly involved, but Bozkurt's selection is especially curious. Nicknamed the "Princess of Perincek" (a reference to fiercely anti-NATO ideologue Dogu Perincek), Bozkurt had been sentenced to 5–10 years in prison for blackmail and military espionage, but had left the country.
Now, she is mysteriously back and has apparently been forgiven by a two-star admiral. But not just any admiral: Yayci has a very close relationship with Erdogan. During the attempted coup on July 15, 2016, Yayci was reportedly the person who prompted Erdogan off-camera to declare himself "chief of the Armed Forces" in his famous Facetime interview on the night of the supposed coup attempt.
In short, it seems not only possible but also quite probable that Erdogan — or his top aides — sent Bozkurt to the Norway exercise more as an agent provocateur than as an honest participant.
Couple this both with the murkiness about how such a poster came into existence and who brought it into the exercise and the fact that it associated Erdogan with Ataturk, a comparison which benefits Erdogan as he tries to solidify his nationalist base.
The notion that Erdogan and his supporters might purposely spark a crisis in order to seek benefit from it is not beyond the realm of possibility. In 2009, for example, Erdogan threw a temper tantrum at Davos and berated the late Nobel Laureate and Israeli President Shimon Peres as a murderer before storming out.
He returned to Istanbul to be met at 3am by thousands of supporters waving Palestinian and Turkish flags.
Istanbul may be a cosmopolitan city, but it is still difficult to come up with thousands of Palestinian flags in the middle of the night. Couple that with the fact that the Istanbul Metro was ordered to remain open that evening before Erdogan's outburst, and it appears that he stage-managed the entire affair.
The same may hold true with the 2010 Mavi Marmara incident in which Israeli commandos killed nine Turks (one of whom was a dual American citizen) as they intercepted the blockade-busting ship.
The Mavi Marmara was not the only ship intercepted that night, although it was the only one on which bloodshed occurred. It only subsequently emerged that the ship had been provided by Erdogan's political party and those on board belonged to a charity affiliated with al Qaeda.
Then, of course, there is the 2016 coup which appears increasingly to have been much more of a Reichstag Fire than an actual coup attempt.
The point is that Erdogan repeatedly precipitates crises in order to benefit from them. The change in process before last month's NATO incident in Norway indicates that it too was a Turkish put-up job.
That NATO and the Norwegians would apologize so quickly in the face of Turkish bluster was part of Erdogan's calculation. They should not have.
And now that the facts are better known inside Turkey, if not in Norway, it's time for Cavusoglu to apologize. NATO is too important to be used as a foil for domestic Turkish politics.
Michael Rubin is a former Pentagon official. He instructs senior military officers deploying to the Middle East and Afghanistan on regional politics, and teaches classes regarding Iran, terrorism, and Arab politics on board deploying U.S. aircraft carriers. He has lived in post-revolution Iran, Yemen, both pre- and post-war Iraq, and spent time with the Taliban before 9/11. His newest book, Dancing with the Devil: The Perils of Engaging Rogue Regimes examines a half century of U.S. diplomacy with rogue regimes and terrorist groups.