Why Is the Evel Knievel Estate Suing Disney? 'Toy Story 4' Character Is A Little Too Similar to the Legendary Stuntman
If Keanu Reeves' Duke Caboom character in Disney's Toy Story 4 made you think of famed stuntman Evel Knievel, you're not alone. Knievel's estate has filed a lawsuit in Las Vegas against the mouse, claiming that the character was violating copyrights held by his estate.
K&K Promotions, which Knievel's son Kelly is the president and spokesperson for, owns the rights to the stuntman's likeness. According to Business Wire, the lawsuit states that Disney violated K&K's rights to publicity and infringed on its copyright.
The Caboom character in the Toy Story installment does have a number of similarities to Knievel. The character introduces himself as "Canada's greatest stuntman," after riding up on a motorcycle and wears an outfit with red stripes and Canadian flag cape, similar to Knievel's red, white and blue jumpsuits.
In an email to Newsweek, Kelly Knievel criticized Disney and called the company hypocritical. "I don't see a big long line of Disney executives lined up to jump a motorcycle over 13 buses. While we note that Disney uses their Mickey Mouse lawyers to aggressively protect Disney intellectual property, they did not seek permission to use Evel Knievel at any time," he wrote.
The lawsuit is seeking compensation for damages and a cut of the money made from the film. It is being filed by attorneys Randall Jones and Ronald DiNicola.
In an emailed statement to Newsweek, a Walt Disney Company spokesperson said it intends to fight the lawsuit. "The claims are without merit and we intend to defend against them vigorously in court," the statement said.
According to TMZ, the lawsuit cites interviews and reviews in which people noted Reeves' character's similarities to the stuntman, which are also evidenced in the commercial created for the Duke Caboom toy in the film, with the character being launched off dirt ramps. It is incredibly similar to commercials made for the 1973 Evel Knievel Stunt Cycle, which features the toy version of Knievel going off ramps and clearing ditches. The Evel Knievel Stunt Cycle is still available for purchase through EvelKnievelToys.com. A similar Duke Caboom toy that was featured in the film is also available to purchase on Amazon.
Knievel died in 2007, but his son said it was disrespectful for Disney to make money from his likeness. "Evel Knievel did not thrill millions around the world, break his bones and spill his blood just so Disney could make a bunch of money. He remains an instantly-recognized icon, as demonstrated by the huge popularity of the re-issued Evel Knievel Stunt Cycle among kids who hadn't even been born when my father died a dozen years ago," Kelly Knievel said in a statement to Business Wire.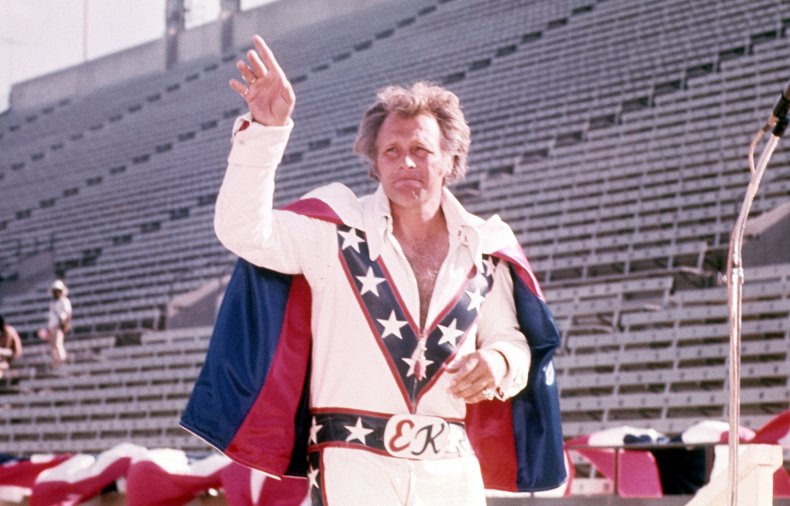 Update 9/24/20 3:00 p.m. EST: This story has been updated to include comment from Kelly Knievel, which was received after the story was originally published.