Why Is Everyone Roasting Virgil Abloh? The Designer's Donation Has Caused Some Ire
Fashion designer Virgil Abloh felt the wrath of Twitter on Monday.
The creative director for luxury brand Louis Vuitton and the mastermind of the streetwear brand Off-White came under fire on social media after sharing a screenshot of a donation he made to the Fempower Community Bond Fund in Miami, Florida. The fund was organized to cover bail expenses for people arrested while protesting the death of George Floyd, who was killed by a white police officer in Minneapolis last week.
Plenty of celebrities have publicized the hefty donations they've made to cover protesters legal fees across the country—for instance, Chrissy Teigen donated $200,000 to help bail protesters out of jail while others like Seth Rogan, Janelle Monae, Steve Carrell and more have matched the donations of their friends by thousands of dollars. However, Abloh became the ire of people on social media after he shared a screenshot of his donation on Sunday: a mere $50.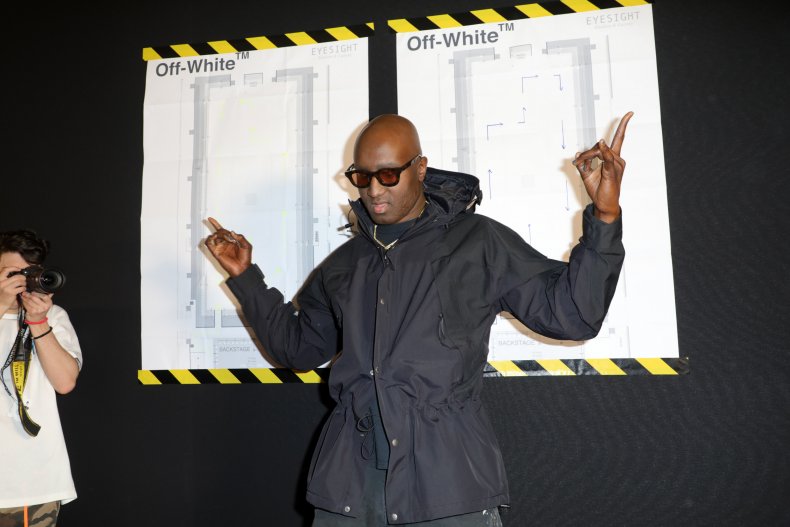 The post resulted in immediate backlash from fans and followers who shamed Abloh for his presumed unwillingness to donate more.
"Virgil Abloh. Creator of Off-White.. Artistic Director of Louis Vuitton donated a measly $50... and y'all want me to feel bad for designer stores getting looted???" One Twitter user wrote on Sunday.
Many people were baffled by the small donation that likely wouldn't cover the price of many of the items sold under his Off-White label.
"Virgil Abloh selling socks that's worth the same as mortgages and said here's $50 my brother fight the power," one person wrote.
Another said, "Virgil is a stingy man. That man sells y'all tshirts with Comic Sans font across it for hundreds of dollars and only donated $50."
Only fueling the fire, Abloh lambasted rioters for vandalizing storefronts in Chicago and Los Angles while protesting of the death of Minneapolis resident George Floyd. Along with condemning vandals on his own Instagram stories, the designer criticized protesters for raiding and destroying the businesses of his fashion friends as well. He left a particularly scathing message for rioters in an Instagram post shared by streetwear aficionado Sean Wotherspoon, whose Los Angeles boutique was left in shambles after protests over the weekend.
"This is fucked up. You see the passion blood sweat and tears Sean puts in for our culture. This disgusts me. To the kids that ransacked his store and RSVP DTLA, and all our stores in our scene just know, that product staring at you in your home/ apartment right now is tainted and a reminder of a person I hope you aren't. We're apart of a culture together. Is this what you want?? When you walk past him in the future please have the dignity to not look him in the eye, hang your head in shame...." Abloh wrote in the comments section of Wotherspoon's post on Sunday.
Dozens of people blasted the 39-year-old, calling his post tone-deaf compared to other designers and store owners who shared messages of support on their social media accounts. Wotherspoon also assured followers that he was more concerned over racist behavior and the unjust killing of Floyd and other black Americans at the hand of police than any damage done to his clothing shop.
This isn't the first time Abloh has felt become the ire of the public. The Chicago designer came under fire in May 2019 for the lack of diversity in his company after he shared photos of the many graphic designers, art directors and "crazy crazy talented kids" employed by Off-White who turned out to be predominately white.
At the time, Off-White responded to the controversy by noting that the pictures shared was his attempt to shout out his team specifically based in Milan, Italy.
"When questioned about diversity, Virgil Abloh takes pride in being African and American. His design team is diverse, and his practice has been built on making the art and design industry an inclusive community," the statement read, later listing the names of some people of color who held high positions at the company.
Despite the current recoil over Abloh's donation, the designer did share a post on Instagram encouraging people to call Minnesota district attorney Mike Freeman to "demand justice for George Floyd and his family" on Thursday.
Newsweek reached out to Abloh and Off-White for comment, however, received no response at time of post.
See a few more reactions to Abloh's recent social media posts below.