Why Fans Will Always Hate WAGs Like Gisele Bündchen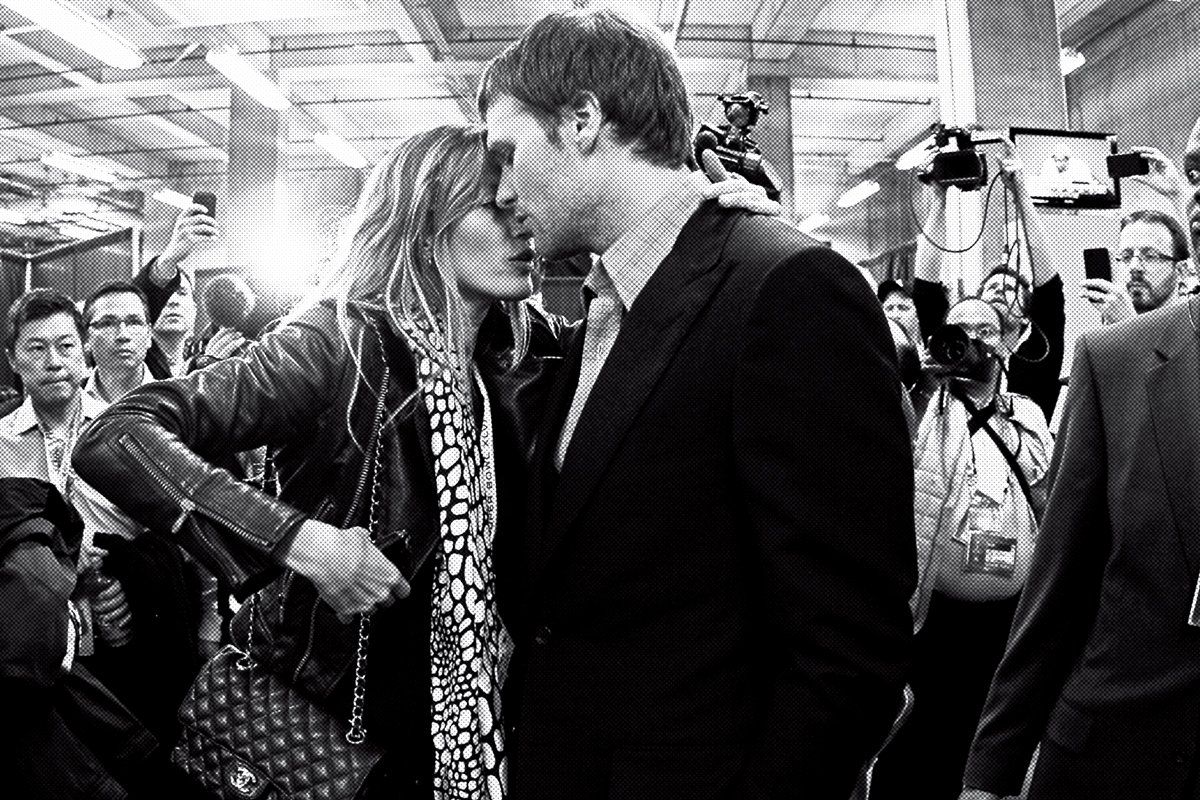 Not that it matters, but Gisele was right.
"My husband cannot f--king throw the ball and catch the ball at the same time," said the Brazilian stunner, worth an estimated $150 million, as she stalked through Lucas Oil Stadium last week after the New England Patriots' devastating collapse in the last minutes of the Super Bowl.
That foulmouthed and wholly accurate bit of postgame analysis, prompted by taunting New York Giants fans, was as astute as anything Terry Bradshaw ever said. Gisele's take on the game: her husband, human Ken doll Tom Brady, had thrown several nice passes; his butterfingered wide receivers had flubbed them. As she said, "I can't believe they dropped the ball so many times." A locker-room photo taken later that night showed the former Victoria's Secret angel forehead-to-forehead with Brady in what appeared to be a beautiful alien mind meld. A tabloid report had them jetting off to Costa Rica in time to watch the sun rise.
In the week since, Gisele "the Body" Bündchen has come to represent, for Patriots fans, all that is evil. She is a rich, globe-trotting interloper who violated the sacred code of professional athletics in calling out individual players, if not by name, then by clear implication. However unwittingly, she stole the show.
And that only scratches the surface of her villainy. She also stole her husband away from his ex, actress Bridget Moynahan, while Moynahan was pregnant with their child. She dragged Brady to New York, enemy territory, and to California, which is so far from Boston, it may as well be Russia. Look at the umlaut in her name, for heaven's sake. The couple is photographed so often gallivanting around—dancing in Rio, mugging at Fashion Week—that it is hard for loyal fans to believe his head is really in the game. She has wiggled her way into the bromance of professional sports, disrupted the burly gladiator culture, dressed her man in Tom Ford, and hauled him off to the Met gala. In the five years since Gisele came on the scene, the Patriots have not won a championship. Who do you think is to blame? She is Yoko Ono, fans say. She might even be a witch.
In fact, she is just a WAG, the British term for the "wives and girlfriends" of professional athletes, and, for practical purposes, the easiest object of rage for fans who would rather not turn on their (losing) teams. The prettier, more famous, or more successful the WAG, the easier it is blame everything on her. Soccer fans love to hate designer and former Spice Girl Victoria Beckham, wife of David, who often sat stony-faced through his games. In one view, she has systematically softened her tattooed husband, especially in the years since his 2004 affair, when he was forced to take time out to rebuild their marriage. Beckham made his own appearance during the Super Bowl in a nearly pornographic black-and-white commercial for his new underwear line at H&M.
It's no easier for American WAGs. Fans have brutally attacked Kristin Cavallari as a distraction to her fiancé, Chicago Bears quarterback Jay Cutler. They virtually immolated Jessica Simpson every time Dallas Cowboys quarterback Tony Romo made a mistake during their relationship. Bündchen, among the prettiest and most successful women on the planet, may as well be Satan.
"She's a convenient lightning rod," says sports psychologist Charlie Brown, who specializes in athletes' romantic relationships. "You've got all this pent-up frustration, this emotional intensity, and she's a safer target" than the athlete himself. Brown compares it to family members attacking ambulance drivers at the scene of a medical emergency, which he says is common.
Contemporary WAGdom emerged as a phenomenon as the press swarmed soccer wives during the 2006 World Cup. In Britain, WAGs attend matches under a kilo of makeup, wearing their highest patent-leather platform stilettos and Herve Leger bandage dresses tight enough to explode their breast implants. There is much smacking of gum and waving of acrylic nails, and, among their spouses, much infidelity. The American WAG is more rooted in conventional popular culture: dating an athlete is de rigueur for models and pop stars; it's also one of the easiest ways to get your own reality television show.
The life of a WAG is not easy, especially when she too is in the spotlight. To be a good wife and not a mere WAG, she needs to put her husband first. She must support him and be loyal to him. She also serves a larger narrative purpose by filling out the picture of his life. Male fans lust after her, female fans dream of getting mani-pedis with her, and, in this, she helps sustain the illusion that she and her husband are really not so very different from everyone in the stands.
"Your job as the wife of a professional athlete is to make sure all his needs are met and that he can fully focus so he can go out there and do what he needs to do," says Jackie Christie, wife of retired NBA star Doug Christie. "I get what Gisele was saying, but I thought those comments were harsh and out of line."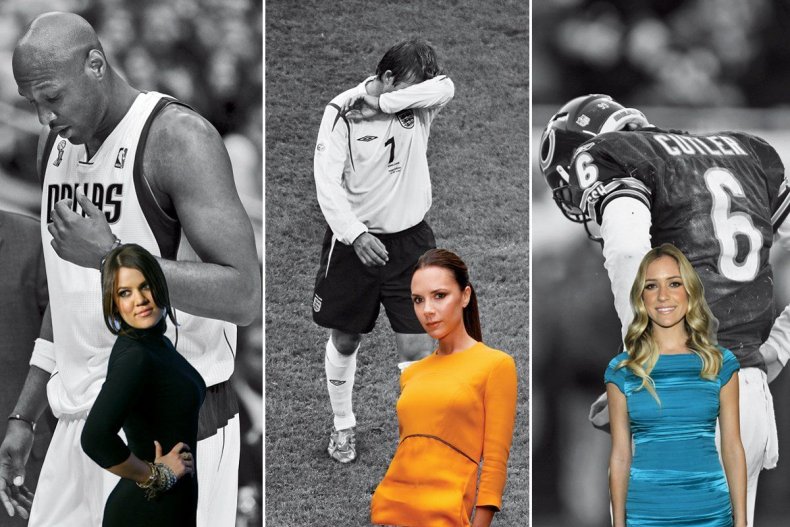 Bündchen's comments also violated another cardinal WAG rule, which is to never open your husband up to mockery. WAGs are permitted, even encouraged, to be outrageous. They revel in excess on a dozen cable reality shows, throwing parties and tantrums, even dragging their husbands into the publicity muck. But emasculate their men? Never. That's why it was perfectly appropriate when Khloé Kardashian reportedly purchased a "sex swing" to spice up her love life with Dallas Mavericks star Lamar Odom—with whom she appears on the E! reality show Khloé & Lamar—but a giant misstep when Gisele, in the days before the Super Bowl, sent out an email to friends asking them to "pray for" Tommy, as if he were a Make-a-Wish kid. The New York Post splashed the text across its front page, and the mantra "Pray for Tommy" became one more jeer Giants fans shouted from the stands.
"I don't think people realize how stressful it is on our end," says Kim Zolciak, a Real Housewives star and the wife of Atlanta Falcons defensive end Kroy Biermann. (Zolciak risked a similarly harsh fate when she told Newsweek she texts Biermann long messages before every game and urges friends to pray for him.) She feels Bündchen is being unfairly maligned.
Journalist Gay Talese became well versed in the plight of WAGs while writing his definitive Esquire profile of Joe DiMaggio, whose wife Marilyn Monroe was arguably the first of the species. Monroe and Bündchen faced similar obstacles trying to balance their lives as public figures with their desire to quietly support their mates. "This Mrs. Brady, in fairness to her, fans were taunting her, and she was defending her husband as a good wife sometimes does," Talese says. "It doesn't make her politically charming, but I think she should be applauded for showing some loyalty. At least she didn't run off after the game with some Super Bowl winner."
"It's usually strong women who are attracted to these men," says Alex Demyanenko, producer of VH1's Football Wives and Basketball Wives. "And they're often stuck between a rock and a hard place, especially when their man is being attacked. They get fed up and feel like they have to express themselves."
Still, such sympathy is rare. Both coaches and fans complain that the glittery demands of a high-maintenance woman distract players from the game. Fabio Capello, onetime manager of the England national soccer team, has spoken out against beguiling women—"We're here to play, not for a holiday"—and allows his players to see their spouses only the day after a big match. Massachusetts-born sports columnist Mike Barnicle says, "If it's one of the older-school coaches, he probably regards it as 'For Christ's sakes, tell her to stay away.'?" Things are a little better in the NFL, where some assistant coaches are approximately the same age as many of the players, he says. Unless, that is, "the wife becomes a distraction, with ridiculous demands. In that case, no matter your age, you're thinking, 'Jesus Christ, what are we doing here?' Eventually the player pays for it."