Why Is 'Fearless Girl' Moving? Mayor Bill de Blasio Announces New Location for Statue
The showdown between "Fearless Girl" and the "Charging Bull" is coming to a close.
New York Mayor Bill de Blasio announced on Thursday that the bronze statue, of a girl standing defiantly in the path of her adversary, would find a new home in front of the New York Stock Exchange by the end of the year.
State Street Global Advisors, one of the financial firms that funded the statue, said it's only fitting that "Fearless Girl" remain in the city's Financial District, as its executives had hoped it would draw awareness to how few women sit on corporate boards. The company argues the statue has already had a measurable impact: Since the installation of "Fearless Girl" in March 2017, State Street says more than 150 companies have hired women to their boards.
"Our hope is that by moving closer to the NYSE she will inspire more companies to take action," Cyrus Taraporevala, State Street's president and CEO, told CNN.
Many were disappointed to find that State Street Global Advisors was behind a statue they believed had been spontaneously installed as a feminist statement free from corporate ties. More disappointing still was when it emerged that a Department of Labor audit found that the company had paid more than 300 female employees at the company less than their male colleagues. State Street agreed to pay them a $5 million settlement.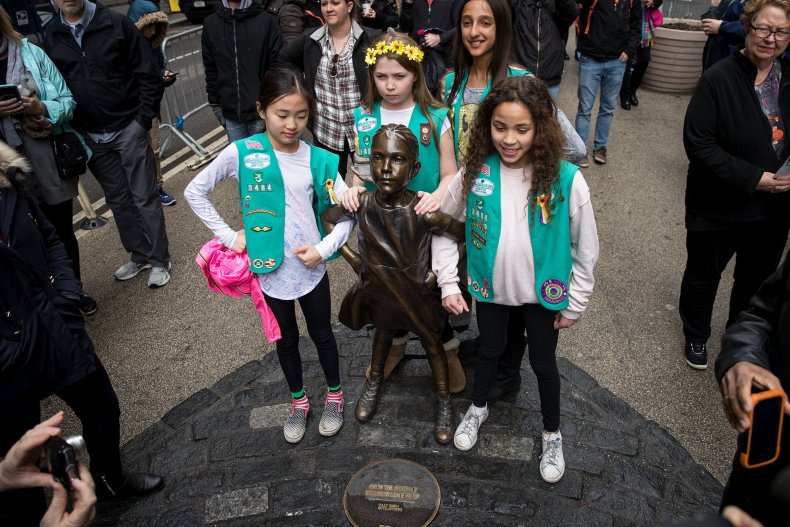 It wasn't the statue's only controversy.
Just a month after the installation of "Fearless Girl," Arturo Di Modica, the Italian sculptor behind the "Charging Bull," hired attorneys from the New York Civil Liberties Union to threaten legal action against the city for copyright infringement. Di Modica claimed placing "Fearless Girl" directly opposite of his iconic statue had been done without his permission, and fundamentally changed the message he intended his work to convey.
Besides, "Fearless Girl," he said, wasn't a sincere feminist call to action so much as it was an "advertising trick."
Whether or not they agreed with Di Modica's artistic concerns, others found it difficult to get past what Ginia Bellafante called the statue's "false feminism" in a piece for The New York Times.
"Is the root of this effort an organic wish to buoy the ambitions of confident little girls in high-tops?" Bellafante wondered at the time. "Not particularly.'
Still, in some measure, that has been the effect. Countless young girls have posed beside the statue, or hugged it, or adorned it with pink pussy hats and Wonder Woman crowns. Its sculptor, Kristen Visbal, is happy to see it remain a Manhattan fixture.
She told CNNMoney: "Fearless Girl [will] continue to inspire the global community regarding gender collaboration in every aspect of life."