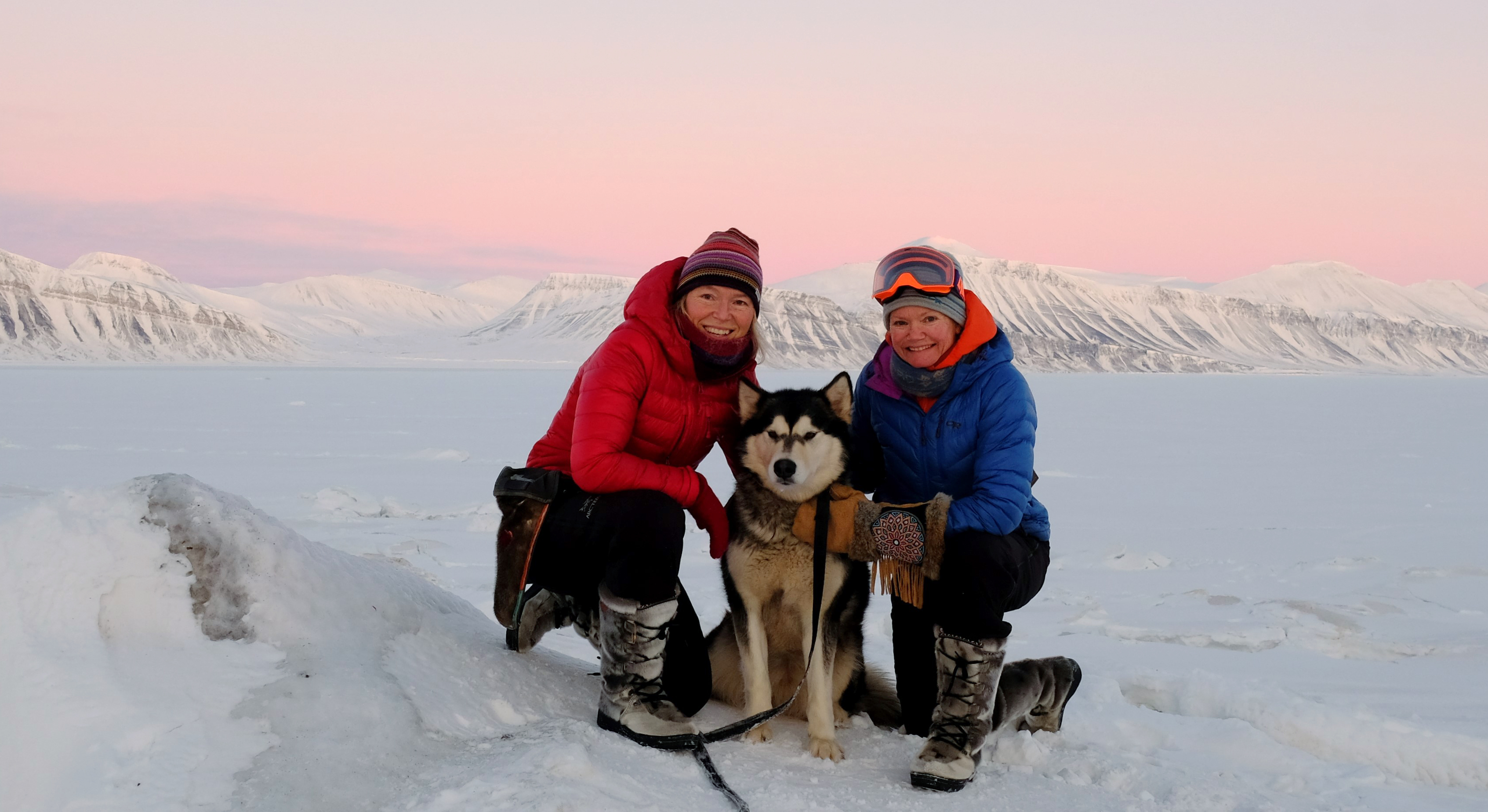 Totally isolated from any other humans other than your roommate/best friend/coworker who you're sharing a 215-square-foot room with during some of the darkest days imaginable. Sound all too familiar? But instead of the dangers of COVID lurking outside your door and a face mask as your tool for survival, you need to carry an infrared night vision scope, flares and rubber bullets in case your neighbors don't respect social distancing. While most of us have experienced isolation and long nights living through the COVID era, probably not many of us can relate to having your only neighbors during the pandemic being polar bears.
For two indomitable women, Hilde Fålun Strøm and Sunniva Sorby, this was their extreme COVID reality. They have spent 16 months—10,000 hours—isolated together in the high Arctic in the 76th parallel in the world's northernmost archipelago, Svalbard, Norway. Surrounded by polar bears and total darkness, they are staying in a remote trapper's hut with no electricity or running water, and the nearest sign of civilization is 140 km away. And it's all by choice.
Welcome to Svalbard, Ground Zero for Climate Change
Sorby and Strøm became the first women to spend a winter alone (without a male team member) in the Arctic, in one of the harshest, most extreme places in the world. Even their dog is a female. A few women have overwintered at Svalbard before, but never without men. But these polar ambassadors aren't doing this for bragging rights. That wasn't their goal for the first time during the 2019/20 winter season, and certainly not when they decided to return for a second time during the winter of 2020/2021. They are isolating themselves at the top of the world for a far greater purpose.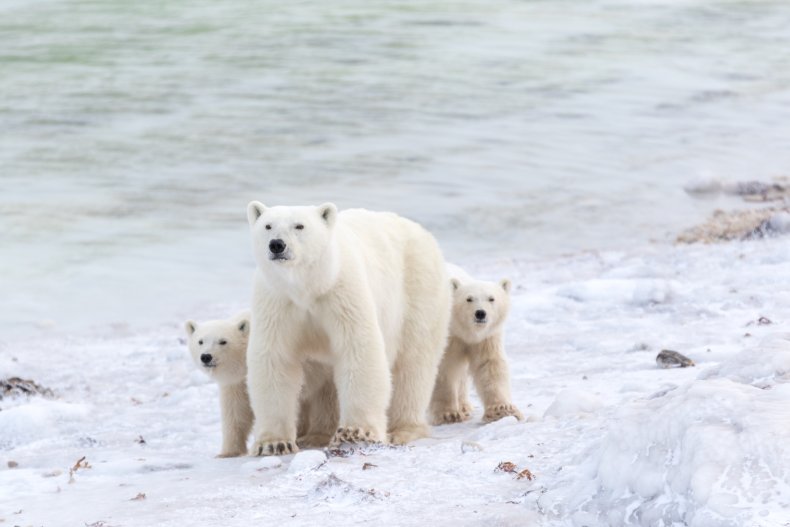 "It's a pretty extreme existence. And we came back for the second time simply because we felt like our voices are far more powerful from here. We do want to draw attention to a global issue but from a place where the heart is beating the fastest for both of us," Sorby tells Newsweek from a satellite phone in their hut in Svalbard.
As citizen scientists and polar ambassadors, their mission Hearts in the Ice brings attention to the place on the planet that's experiencing the most extreme shifts due to climate change. The world's northernmost archipelago, Svalbard, is the fastest-warming place on the planet. November had its warmest day on record in Svalbard at 9.4 C (49 F) and this year's sea ice minimum tied for the second-lowest extent on record, according to NASA and the National Snow and Ice Data Center.
The outlook in Svalbard, the front lines of climate change, sounds all doom and gloom: rising temperatures, melting sea ice, birds dying from microplastics in the ocean debris, polar bears that can't find food.
"Up here in the Arctic, everything changes twice as fast as in the rest of the world. Climate change is happening all over the world, but here it's accelerating and it's a lot more visible up in the Arctic," says Strøm, adding, "That's why it's a mirror to the rest of the world. The temperature is rising four times as fast than in the rest of the world."
Bonding Over Polar Extremes
Both in their 50s, Sorby and Strøm are uniquely qualified to be polar ambassadors and citizen scientists in the high Arctic, as each woman has over 25 years of observations and experience in the polar regions, seeing firsthand all the dramatic changes in the Arctic and Antarctic from climate warming.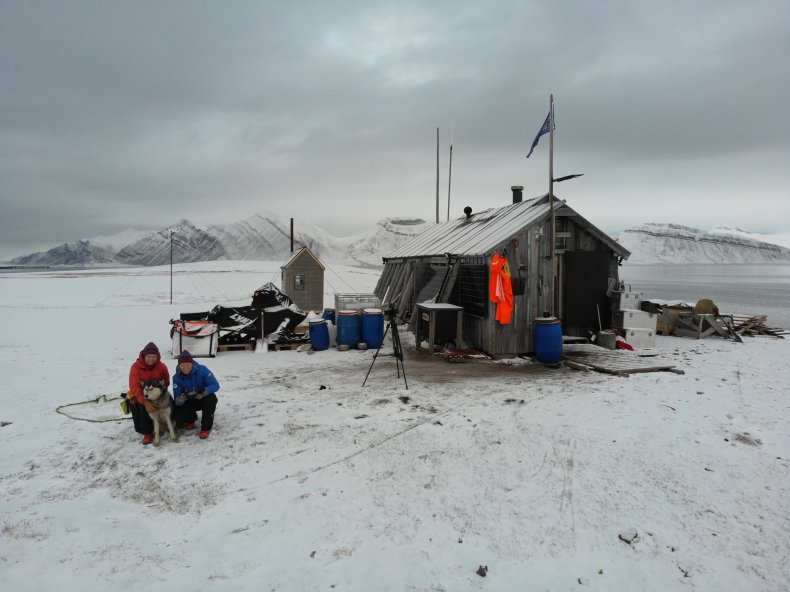 Strøm is Norwegian and lives in Longyearbyen, Svalbard, and has taken numerous long expeditions with severe conditions in the Arctic and has had over 200 polar bear encounters. Sorby is Canadian, although born in Tønsberg, Norway, and was the first Canadian woman to ski across Greenland and Antarctica to the South Pole. After meeting at an Adventure Travel Trade Association (ATTA) world summit in Alaska in 2016, they both realized they had a unique bond for polar extremes.
Skiing across the South Pole took 67 days, 700 miles and a 200-pound sled, and yet Sorby says there was something more difficult than the most grueling expedition of her life: what was weighing heavily on her conscience.
"Nothing harder than the low that I feel by having borne witness to all the change in both the Arctic and the Antarctic over my close to 25 years of exploring in the polar regions," shares Sorby.
"Over the years, we've discovered that the world is experiencing such extreme, violent shifts in temperature, climate destruction, and displacement of people and we wanted to do something about it," she adds.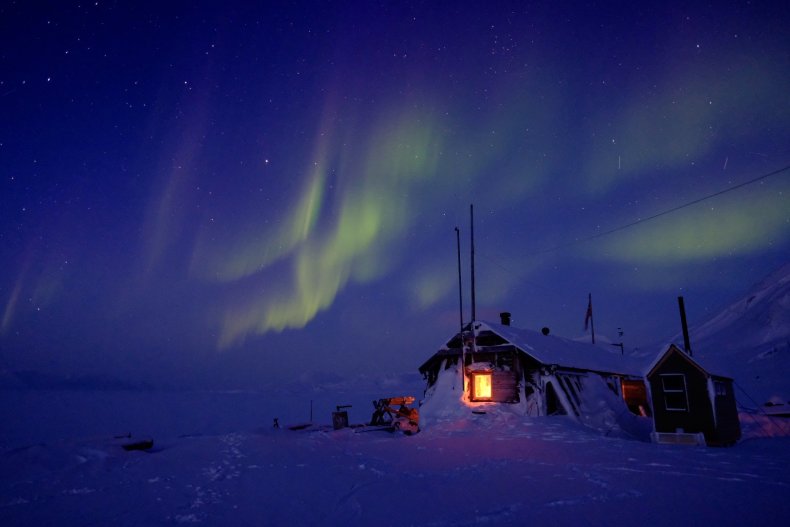 Thus Hearts in the Ice was born and the women's first winter season in 2019-2020 went down in history as they isolated themselves in their tiny uninsulated trapper's hut called "Bamsebu" with polar bears lurking outside the door, all with a mission to bring attention to the place on the planet that's experiencing the most extreme shifts around climate change.
Bringing Heart and Citizen Science to Climate Change
While their reports might not include the best news for climate change, the core mission of Hearts in the Ice is to make climate change more accessible and relatable. Acting as middlewomen between scientific reports and everyday people, Strøm and Sorby add a bit of softness to the harsh realities of climate change with engaging storytelling, both on their blog and their presentations to schools all around the world, and by inspiring everyday people to make small changes in their life. Strøm and Sorby are filling a need: bringing a bit of heart to the dismal climate change forecast.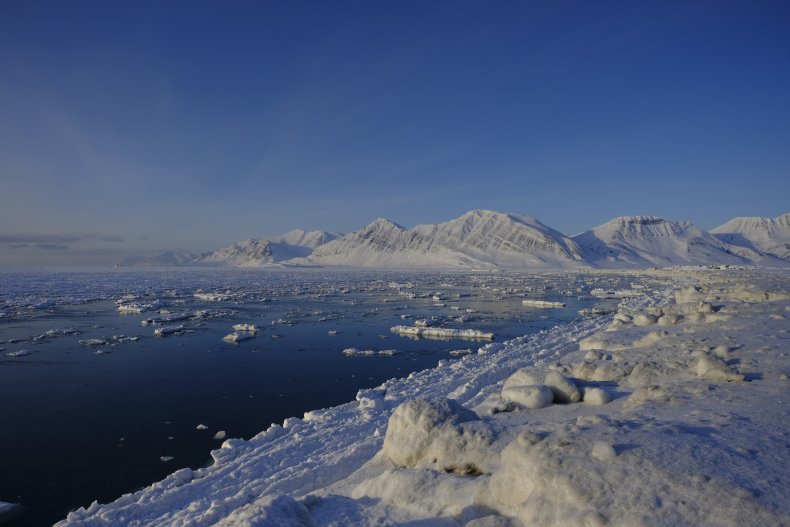 Sorby and Strøm serve as citizen scientists at Bamsebu, the name of their remote cabin, by collecting data for existing research being conducted in the Arctic, tracking polar bears (they've had a few extremely close encounters, such as observing a female polar bear with her four-month-old cub), and reporting on seven citizen-science projects. But with a pandemic allowing them to extend their mission, they are also providing research to scientists on what it's like to be isolated in an extreme climate for so long.
"We feel very strongly that climate change walks hand-in-hand with the pandemic and that it is also a crisis, but it's one we can see," says Sorby.
From cleaning up plastic on the beach, to driving less/walking more, to buying things without too much packaging, the women try to encourage changing small daily habits, ways of thinking and being creative to embrace, as Sorby says, the enormity of the fact that we need to go from climate despair to some form of stubborn optimism around climate change.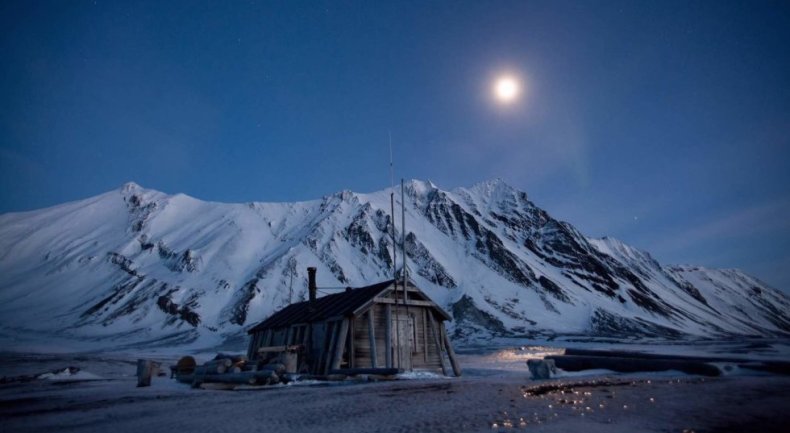 One tangible action Hearts in the Ice recommends to make a measurable impact? Purchase carbon removal through direct air capture via Tomorrow's Air, the first collective for carbon removal with permanent storage.
Women on the Front Lines of Climate Change
Strøm has been living in Svalbard for 25 years and says, while the history of the early pioneers in this Arctic region is extremely important to her, she thinks it's about time women are on the front lines.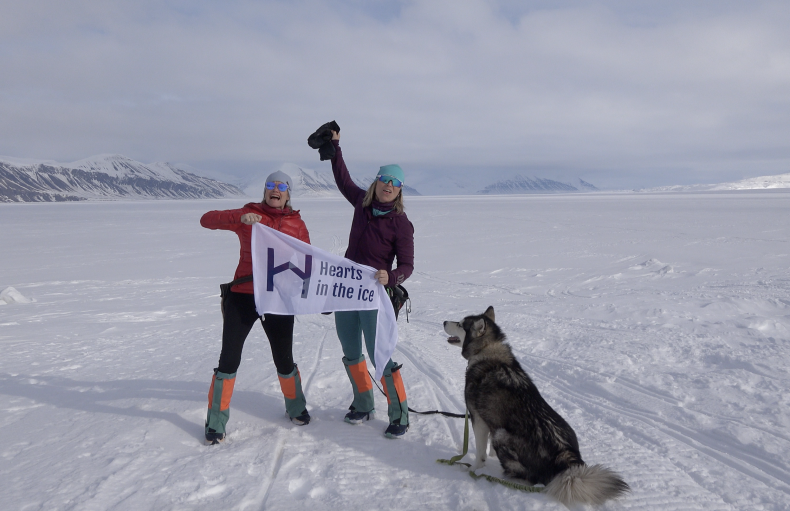 "We have more than 150 years of history here, but it's all written by men," says Strøm. "It's about time two women write the story about how this is done by females. We are as strong, as powerful, as knowledgeable, and as comprehensive as men are."
Foraging in a whiteout for a resupply of wood, carrying heavy Siberian logs, taking parts off a snowmobile in subzero temperatures, their blog recounts the extreme parts of their mission. There's no shower, no running water, no light switch, no juicer or microwave. Instead, they're surrounded by the remnants of the beluga whaling era of the early 1900s: thousands of bones scattered on the beach covered with ice and snow.
"This was a man's world," they recount in their blog, "Trapping, hunting and early expeditions were dominated by men. Stories told by men about men. The women were there, in these stories, and often represented the glue that kept things together. They were true pioneers that possessed equal skills and brought the tough, soft feminine into an otherwise harsh world."
Strøm and Sorby, having now survived and thrived during two winters, can attest that women can complete this mission just as well as men. Are there even advantages to being a woman on an extreme expedition like this? Strøm says yes, and that maybe it's even easier being a female on an expedition here, despite the heavy physical labor.
"I think we have an advantage being women because we're able to be vulnerable and to share with each other. We don't compete as much as men do," says Strøm, adding, "I think jealousy and competition are things we can more easily overcome in a situation like this. I think we use our heart a little bit more than men, too."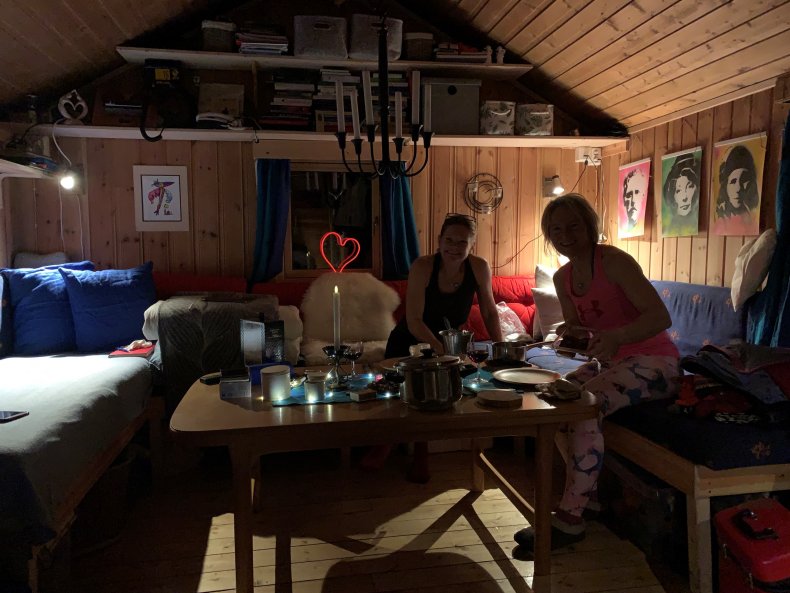 More staggering feats? The duo has managed to go without a shower for more than a year at their cabin Bamsebu. They've also survived in only 215 square feet that serves as their bedrooms, dining room, office, workout studio, kitchen, laundry room and science lab.
Their off-grid mission that relies solely on solar and wind—combined with their supporting CO2-reducing projects—has made their entire Arctic stay, which in May 2021 will be 19 months total, not only climate neutral but climate positive.
It's Not About Strøm and Sorby, It's About Us
"We are doing our project for the benefit of the collective, not for ourselves," Sorby says. "And so, we are an example of other strong female leaders in the world that are showing up for the collective."
We need to think as a collective and not just for our own little world," she continues. "And so those of us who have access to knowledge, or have access to resources, who have access to networks, we need to be the bridge builders. So we are really trying to encourage people to be self-leaders, to take responsibility for their own lives and the life of someone else that you can't see."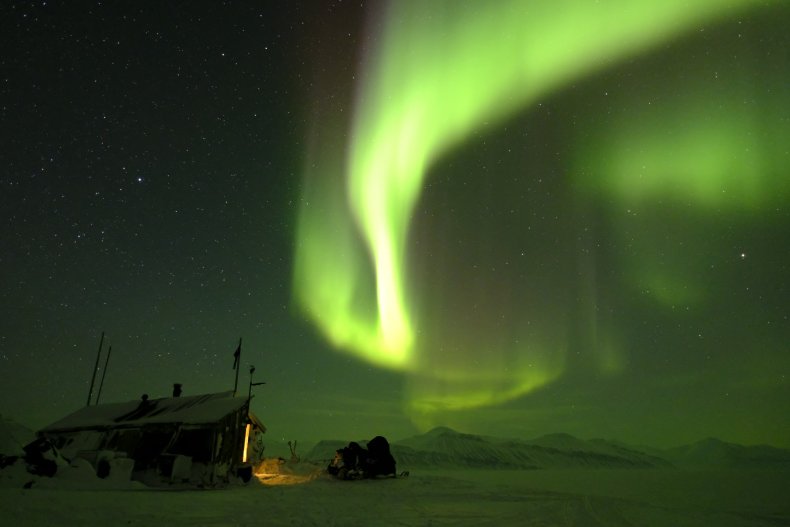 "It's not about Sunniva and me, it's about our children; they don't have a tomorrow If we don't do anything now," adds Strøm. "It's up to you and me and Sunniva that need to make the change now."
"We are trying to ignite that small thing inside people that makes a change—to go from despair to being present and engaged. It's extremely serious."
After being isolated for a year and a half in one of the harshest places on Earth, all they're asking is for each of us to care about climate change from our little corner in civilization. Now.
***
Inspired by "Hearts in the Ice" and want to take action against climate change?
Follow Strøm and Sorby's mission on their "Hearts in the Ice" website.
Donate to the "Hearts in the Ice" mission.

Donate to protect polar bear moms and cubs or adopt a polar bear.
Purchase carbon removal through direct air capture via Tomorrow's Air, the first collective for carbon removal with permanent storage underground.
Sign Tomorrow's Air Clean Up Pact voicing your commitment to making the atmosphere healthier by removing carbon dioxide and permanently storing it.