Why France Coach Didier Deschamps Will Make History If Les Bleus Win World Cup
When France and Croatia walk onto the pitch to contest the World Cup final on Sunday the focus will rightly be on the teams, but it's one of the men on the bench who could make history.
Les Bleus coach Didier Deschamps could become only the third man to win the World Cup as both player and as manager, following in the illustrious footsteps of Mario Zagallo and Franz Beckenbauer.
Zagallo scored Brazil's fourth as the Selecao secured its first World Cup title by beating Sweden in 1958 and was also in the starting XI when they retained the title four years later, beating Czechoslovakia 3-1 in Chile.
In 1970, Zagallo was Brazi's manager as one of soccer's greatest ever sides clinched a third World Cup, beating Italy 4-1 in the final in Mexico City. When the two teams met in another World Cup final 24 years later, with the Selecao winning 3-2 on penalties, Zagallo was Brazil's assistant coach.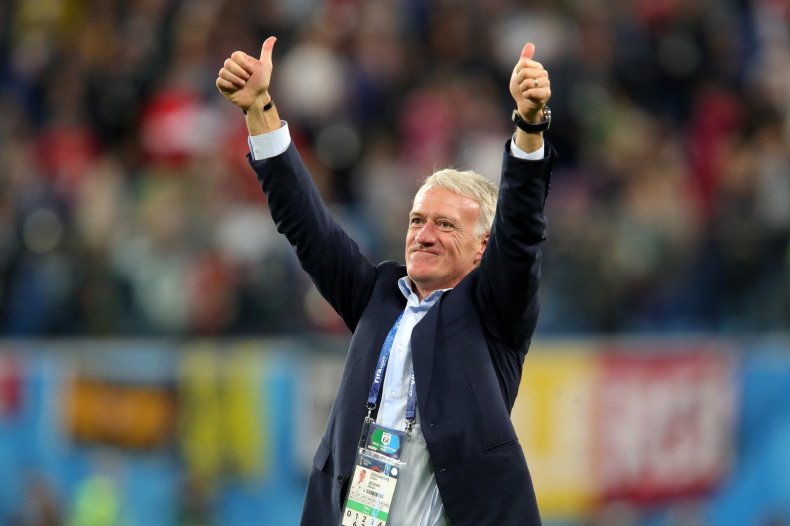 Beckenbauer, meanwhile, captained West Germany to their second World Cup, as they beat the Netherlands on home turf in 1974. Der Kaiser then led West Germany to the World Cup final in 1986, where they lost to a Diego Maradona-inspired Argentina.
Four years later, Beckenbauer and Germany exacted revenge on Argentina, as an Andreas Brehme penalty four minutes from time secured a 1-0 win and a third world champion crown.
Deschamps captained France in 1998 when they won the World Cup for the first time—thrashing Brazil 3-0 in the final in Paris. He could lead them to a second title two decades later, but is far from being universally loved in his home country.
The former Olympique Marseille and Juventus midfielder is a deeply divisive figure, particularly among the French media, who routinely accuse him of failing to get the best out of the likes of Antoine Griezmann, Paul Pogba and Kylian Mbappe.
One of the main criticism of Deschamps is that he is not a great coach, rather someone who happened to be at the right place at the right time when France needed to replace Laurent Blanc following his resignation after Euro 2012. While the likes of Pep Guardiola and Jurgen Klopp are seen as great tacticians, Deschamps is merely seen as facilitator, whose brand of soccer is often overly conservative.
His tactical acumen has been criticized more than once, specifically his insistence in persisting with deploying Olivier Giroud up-front—who is yet to register a shot on goal at the World Cup—or picking Moussa Sissoko ahead of N'Golo Kante at Euro 2016, where France lost the final on home turf against Portugal.
While France might not be as aesthetically pleasing as some of their rivals, they have been truly efficient and defensively solid during this World Cup.
In fact, of the four goals Les Bleus have conceded so far in the tournament, three came in the same match—against Argentina in the round of 16—while the other was a penalty.
France will go into the World Cup final as favorites, but Deschamps is unlikely to change his system.
"We have to be pragmatic and we have to be realistic," he was quoted as saying by ESPN. "We are about mental strength and solidarity, working for each other."
He might not be particularly popular with the media, but neither was Aime Jacquet, the man who led France to their first World Cup in 1998.
Should Deschamps, who became France's longest-serving manager during the tournament, emulate his former manager and win the World Cup on Sunday, the criticism is unlikely to bother him too much.