Why Gender Equality Belongs at the Paris Peace Forum | Opinion
The COVID-19 crisis makes this week's Paris Peace Forum more important than ever. The pandemic is a disease of the connected world, and the failed response to it is a symptom of the crisis in the global system. COVID-19 is a devastating warning to the world: Unless you build a more inclusive global community, the consequences for prosperity and security will be severe.
This is nowhere truer than in respect of the unfinished fight for gender equality. Crises disproportionately hurt women and girls, and COVID-19 proves the rule. The common themes for women and girls around the world are clear: greater burden of formal and informal care, reduced access to health care, higher rates of gender based violence, increased risks of unemployment and likely 47 million more women in poverty.
The contraction of local labor markets due to lockdown restrictions increases exploitation, and the pressure on family budgets drives too many women to desperation. Girls are also more likely to be pulled out of school, never to return, either joining the labor market or being forced into an early marriage. Unfortunately, the global system does not address these inequalities of gender in its response to crises.
For example, despite increased rhetoric during COVID-19 about the need to prioritize women and girls, tailored and targeted plans with adequate funding remain missing at the international level. Less than half of 1 percent of the funding request for the Global Humanitarian Response Plan, which sets priorities for the global response to COVID-19, went toward preventing violence against women and girls. This is despite the fact that 73 percent of refugee and displaced women reported increased domestic violence in some of the places where the International Rescue Committee works.
The Paris Peace Forum is about solutions, and there will be no solutions without action to increase funding for and commitment to violence prevention, sexual and reproductive health, girl's education and emergency cash in COVID-19 humanitarian response plans before the end of this year. Gender equality should be a marker of success for all aid spending and a central pillar of President Emmanuel Macron's vision for European unity and leadership in support of global common goods. There is an opportunity to further expand upon the president's statement at the United Nations General Assembly, which committed to multilateralism and international development, as well as to build on the declaration of gender equality as a national priority of his term.
Response plans also need to account for the unique experiences of women and girls across age, sexuality and race. Disadvantages and inequalities are too often compounded. For example, adolescent girls or those living with disabilities require specialised services. We call on participants to find feedback mechanisms so that the lived experiences of women and girls in crisis settings are accounted for, helping to shape international response plans and leading to outcomes that are not only more inclusive, but lasting.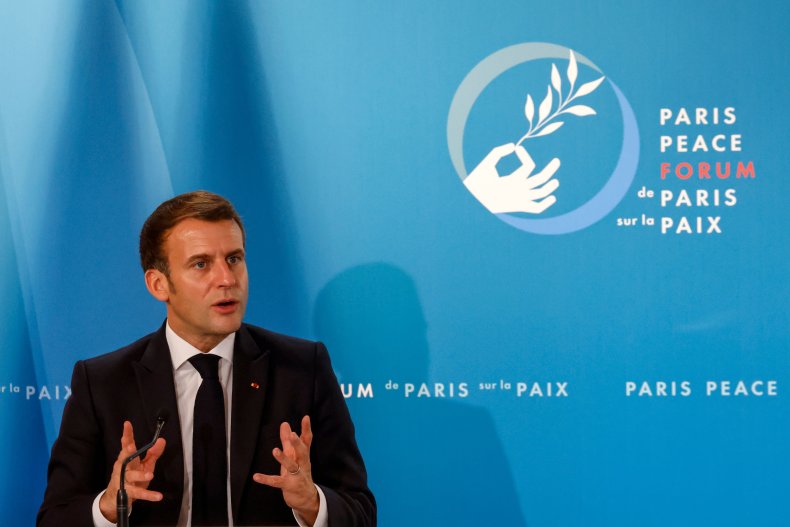 Women's leadership is critical during this process, with equal and diverse representation needed at all decision-making tables. The work of Stand, Speak, Rise Up to end sexual violence in conflict zones—an initiative to which the Women's Forum is a partner—demonstrates that innovative projects undertaken by survivors for survivors are crucial to their empowerment and to that of future generations. Twenty years following UNSC Resolution 1325, governments need to commit to the full implementation of Women, Peace and Security National Action Plans and agree on measurable outcomes for women's leadership. As partners to the Paris Peace Forum, the Women's Forum and the International Rescue Committee will continue to focus on making women's leadership central to a gender-equal and inclusive crisis response, both at the event and beyond.
Finally, it is not only governments but also the private sector that needs to prioritize the rights of conflict-affected women and girls. This collaboration goes beyond funding to include the development of financial products that are tailored to the needs of women refugees. Training must also be provided for these services, especially as it pertains to mobile technology, to increase both financial and digital literacy.
Next summer, France will co-host the Generation Equality Forum, providing an opportunity to agree to a renewed vision for gender equality and a concrete road map for reform, more than 25 years after the Beijing Platform for Action. The Paris Peace Forum can set the tone for the next 12 months, to ensure women and girls in conflict and crisis are not left out of G7 and COP26 plans and commitments that will shape our collective efforts over the coming years.
David Miliband is CEO and president of the International Rescue Committee (IRC).
Chiara Corazza is managing director of the Women's Forum for the Economy & Society.
The views expressed in this article are the authors' own.