Why Ghislaine Maxwell Witness May Have 'Powerful and Credible' Prince Andrew Evidence
A Ghislaine Maxwell trial witness has said Prince Andrew's accuser told her about having sex with the royal in a newspaper interview.
Carolyn Andriano said she was shown the photograph of the Duke of York with his arm around Virginia Giuffre, then 17 years old.
Prince Andrew wants the case against him thrown out and is waiting for a judge to rule on his legal team's latest efforts.
If the lawsuit makes it to trial, Andriano could be called as a witness, just like she was at Maxwell's trial in late 2021 when the British socialite was convicted of sex trafficking.
However, her account is complicated because she has also said Giuffre was not coerced and should not be awarded compensation. Prince Andrew denies having sex with Giuffre.
Andriano told the Daily Mail: "I asked her if she'd been to the Palace. And she said, 'I got to sleep with him.' I said, 'What? You're f****** with me,' and she said 'no, I got to sleep with him.' She didn't seem upset about it. She thought it was pretty cool."
She added: "I don't think she [Virginia] deserves any compensation. I don't think she was coerced into doing anything."
Lawyers told Newsweek her account might not help Andrew, even though Giuffre's case is that she feared her life was in danger if she did not comply with instructions to sleep with the prince.
Georges Lederman, a defense attorney at international law firm Withers, told Newsweek: "Ms. Andriano's testimony as to coercion or otherwise is likely of little value in the courtroom, as she would not be declared an expert witness in sexual assault cases.
"Thus, the little benefit that might inure to Prince Andrew would likely be outweighed by the seeming corroboration of the sexual encounters, thereby undermining his credibility."
Amber Melville-Brown, head of media and reputation at Withers, told Newsweek: "The fact that the witness is, as self-proclaimed, no fan of Ms. Giuffre might play in Ms. Giuffre's favor, the jury believing that she is not seeking to assist a friend and that her independent evidence is all the more powerful and credible.
"A jury need not find that simply appearing to be 'cool' about the alleged encounter meant that she actually felt that it was.
"The words of a young girl to her friend—if they took place—could be motivated by all manner of emotions and circumstances, bravado or fear, vulnerability or ego, pride or shame."
Andriano told the Mail about receiving a text from Giuffre, who was in London at the time, in 2001.
She said the message read: "I'm in London with Jeffrey and Maxwell and Prince Andrew."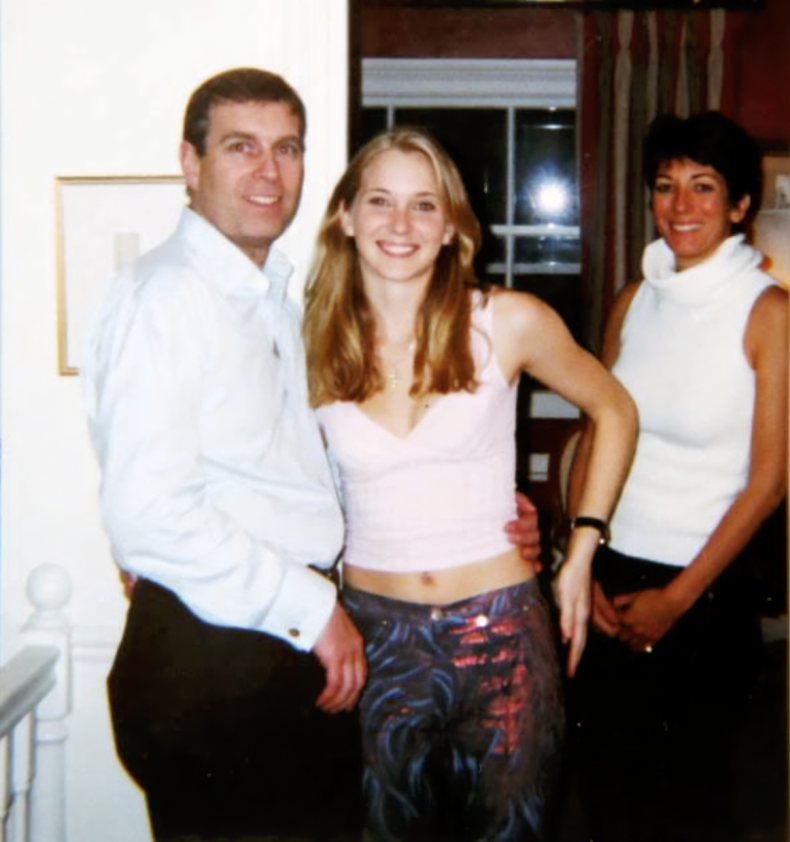 Andriano added: "She said they were going to have dinner. I kind of didn't believe her, but I had no reason not to. I thought it was far-fetched but, then again, she knew wealthy people and had been to fancy parties and stuff like that.
"I said, 'bulls***'. I was calling her out on it, but she swore [it was true]. She said she was going to see if she could get a picture."
When Giuffre returned from Britain, Andriano said she mentioned the encounter again, asking: "So where's your picture, Miss Princess?"
She said Giuffre produced the now infamous image of Prince Andrew with his arm around her while Ghislaine Maxwell smiles in the background.
Neama Rahmani, president of West Coast Trial Lawyers, told Newsweek: "Though Andriano's statements about what Giuffre told her are hearsay and generally inadmissible, Andriano can corroborate Giuffre's account of having sex with Prince Andrew.
"Andriano can authenticate the infamous image of Giuffre with the prince, and Giuffre's phone calls and text messages may come into evidence as prior consistent statements if the prince's attorneys argue that Giuffre's claims are fabricated, which I expect."
However, there may still be downsides to calling Andriano as a witness for Giuffre's legal team.
Rahmani said: "Andriano may affect Giuffre's damages by testifying that Giuffre was not upset at the abuse.
"Giuffre's lawyers will counter by arguing that she was a minor who could not consent to sex, and that Giuffre's statements are consistent with the psychology of child sex abuse victims, many of whom like their abusers. Overall, Andriano's testimony helps Giuffre's claims much more than the prince's defense."
However, some of what she has to say may be difficult for Giuffre to hear, as Andriano says it was Giuffre who brought her into Epstein and Maxwell's world.
Andriano told the Mail: "There's no amount of money in this world that will ever mend what was stolen—my innocence as a child by Maxwell and Epstein who had been in cahoots for God knows how many years.
"I have children and I know as a mother, and as a woman, there's no way in hell I could ever do something along the lines of what Maxwell has done."
She added: "I don't think Virginia deserves anything less than what Maxwell is getting because she trafficked me into a world of spiralling downward slopes and it has taken my husband John 12 long years to get me to love myself again."
Andriano may also have to testify against Maxwell again as that case could be heading for a retrial over the media interviews of a juror.
Newsweek has reached out to representatives of Virginia Giuffre and Prince Andrew for comment.
Update 01/12/22, 5:55 a.m. ET: This article was updated to add additional comments from Carolyn Andriano.