Why Gina Carano is Being Targeted By Trolls on Twitter
MMA champion and actress Gina Carano has had a tumultuous few days on twitter due to controversy over her recent tweets as the hashtag #Ginacaranoisoverparty began trending on August 5.
The 38-year-old Haywire and The Mandalorian star has been called "racist" and a "bootlicker" and it seemingly began when she posted the famous black and white photo showing a collective Nazi Salute, where one man isn't saluting.
She later posted an article about the photo, writing: "Heartbreaking and powerful story of a man who changed his ways for the woman he loved.. love changes the world, one person at a time."
On August 4, Carano tweeted: "In my experience, screaming at someone that they are a racist when they are indeed NOT a racist & any post and/or research you do will show you those exact facts. Then I'm sorry, these people are not 'educators'... they are cowards and bullies."
This came after she posted the black and white photo which seemed to spur on a slew of tweets targeting the actress.
One Twitter user, defending Carano wrote: "Gina Carano is being bullied & harassed by SJW trolls. They're calling her a 'racist bootlicker' & demanding she 'Say ACAB/BLM' to prove she's not racist. Gina is having none of it, calling them cowards for trying to bully her off social media."
They added, sharing screenshots of tweets targeting Carano: "Bot accounts harassing Gina Carano will post the same message within 1 minute of each other. Matching profiles with: 'She/Her - BLM/ACAB' bios that change name & layout. Actual proof of someone using bots to bully a female Star Wars actress."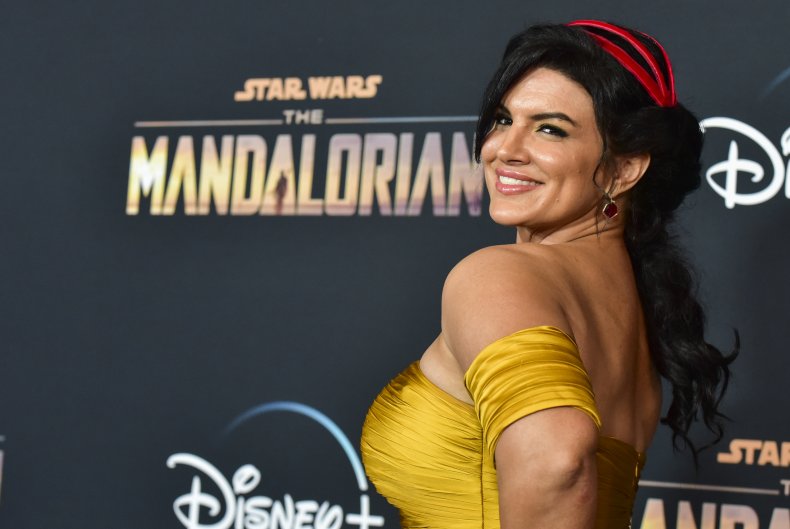 However, many accused Carano of blocking accounts that support the Black Lives Matter movement. As one user wrote: "Unfollow gina carano. she blocks people for saying BLM and has a defense squad of neo-liberals and right-wing assholes #notmycaradune #ginacaranoisoverparty."
Others are claiming they are trying to "educate" Carano, with one person tweeting: "These aren't trolls, these are people trying to educate you so you can get on the right side of history."
Carano responded to say that those tweeting her are not "educators" but "bullies and cowards."
However, Carano appears to be unfazed by the attention and address the "trolls" in a tweet yesterday, sharing a photo saying "the trash took itself out" and writing: "Dear trolls.. pssst..(oh but make sure you keep checking in from all of your other 12 fake accounts). Cowards."
Newsweek has reached out to Carano's representatives for comment.