Why the 'Ground Zero Mosque' Will Enrich New York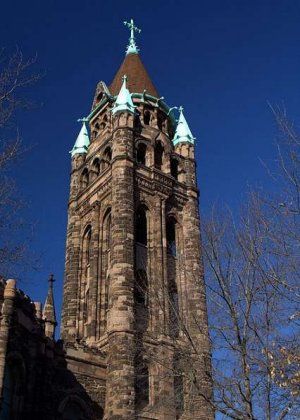 The atheist son of nonpracticing Jews, I'm about as far from a Christian as you can get this side of paganism. And yet I love churches.
When I was a child, it was a Roman Catholic church—St. Augustine's, the massive jumble of stone and wrought iron that takes up half the city block adjacent to that of my parents' house in Brooklyn—that anchored my sense of place. On the return leg of car trips, St. Augustine's spire appearing on the horizon told me we were almost home. The fence provided an outfield wall for Wiffle-ball games, and the bells chiming on the hour reminded me to get out of bed (not that it did much good).
The summer after my freshman year of college, I was showing off my neighborhood to a friend from out of town when she asked whether I had ever been inside the church. I was ashamed to admit that I had not. "Ben!" she exclaimed, with genuine horror at my lack of curiosity toward such a beautiful building that I passed every day. Ever since then I have made a point of ducking in every few years. I have stumbled upon masses in Creole for Haitian-American parishioners, and services in Spanish. I have yet to actually witness one in English, although they do occur.
I revel in my native Brooklyn's identity as "the borough of churches," from the imposing Gothic Episcopal and Catholic edifices to plain little Baptist storefronts and modest Pentecostal signs in Spanish.
One summer night many years ago, while walking home from work, I heard the most joyous music emanating, like an aural glow, from the basement of a church a few blocks from the house where I grew up. I wandered down in time to catch the very end of the African-American gospel choir filling the basement with their uplifting song. The moment they finished, I planned to leave, but the pastor was such a pleasure to watch—with his passionate and playful delivery a decided counterpoint to my previous experiences with clergy of all faiths—that I stayed.
Perhaps my favorite is Plymouth Church in Brooklyn Heights, its unadorned, modest New England Congregationalist architecture a striking, peaceful counterpoint to the Victorian grandeur of its surrounding neighborhood. Plymouth was the home of the great abolitionist preacher Henry Ward Beecher and a stop on the Underground Railroad.
And then there is St. Ann's, the Episcopal congregation that incubated my progressive high school, and still lends its large and riveting, if somewhat worn-out, space to the school for major events. There, in the pews, under the stained-glass windows, were the sources of some of my fondest and most poignant memories of high school: a teacher leading us all in an acoustic rendition of The Wall by Pink Floyd at the annual Christmas assembly, a recent memorial service for a social-studies teacher who mentored me.
As I wander around my new neighborhood, just a mile from my parents' house but a world apart in a New Yorker's psychology, I'm excited to discover a Muslim area along Fulton Street that I never knew existed. The muezzin blasts out of a tiny mosque across the street from my subway exit as I head home from work. On weekends I stroll down to the hub of halal restaurants, past the men congregating in skullcaps, and puzzle over the exotica in store windows. Recently I stumbled across a little old Orthodox synagogue in the Crown Heights neighborhood of Brooklyn, no wider than the brownstone I grew up in. Sitting next to an exposed subway track, with its sandstone façade and Moorish arches, it looked random in its surroundings and yet utterly appropriate.
I'm also fond of Trinity Church, which houses the Episcopal chapel where George Washington worshiped as president. New Yorkers just say it's downtown, but to Newt Gingrich it would be "at Ground Zero." I am reminded of all these religious institutions by the debate now raging over the proposal to build an Islamic Community Center at the site of the former Burlington Coat Factory, half a mile from Trinity. The outrage triggered by the so-called "Ground Zero Mosque," is echoed in local fury at mosque construction from just across the harbor in Staten Island to Murfreesboro, Tenn.
Arguments in defense of the Park51 project in New York tend to fall into two categories. Some people assert, correctly, that to limit First Amendment protections to those activities we like is to eviscerate the Constitution. Others maintain that tolerating the project is smart geopolitics, that we must reach out to Muslim moderates at home and abroad. But what about the case for the Islamic center as an actual cultural benefit to the rest of us because of what it offers, not just what its presence says? One thing that has seemingly been lost in the debate is the beauty and cultural wealth that religious and ethnic pluralism brings to America as a whole and New York in particular.
Debates about the precise brand of Islam to be practiced at Park51 seem to miss a more essential truth: you do not need to agree with the views of a clergyman, much less those of all his coreligionists the world over, to appreciate what his house of worship brings to your community. I have strong objections to the teachings of the Vatican on reproductive freedom, contraception, and equality for gays. Still, I drive my traveling companions crazy by insisting on ducking into every church that I pass in Europe. And the same goes for every Buddhist temple I could find in Thailand.
My experience may be more fortunate than some people's. I don't know how I would have been received at some of these places had I worn a yarmulke or walked in holding hands with another man. Certainly New York's religious sects can irritate each other—just ask the ultra-Orthodox Hasidic Jews in Williamsburg how they feel about the immodestly clad bicyclists who have appeared on their streets. But it is precisely our proximity to people of other cultures and religions that makes New York City the great pastiche that it is. Perhaps that's why New Yorkers are more likely to support the Park51 project than people from less diverse, less integrated areas. Where I'm from, Gentiles have been to Passover seders, and I've been to Catholic confirmations. From the charmingly garish Christmas decorations of Dyker Heights to the Ramadan breakfast I shared with a shop owner on Atlantic Avenue, it is precisely the assertive presence of religious and cultural practices I do not adhere to that makes my home where it is, right by St. Augustine's.