Why the 'Hamilton' Film Works — and Joel Schumacher's 'Phantom' Didn't
Turning a Broadway musical into a movie is no easy task. Bringing the excitement that was onstage to the silver screen is a challenge, from sets and songs to simply making sure the musical translates to the screen. West Side Story (1961), My Fair Lady (1964) and Cabaret (1972) were all successful shows that were adapted for the silver screen with similar success.
Filmed Broadway shows such as Peter Pan (1955), She Loves Me (2016) and Newsies (2017) were also massive hits which opted to shoot a staged performance. So was Hamilton (you may have heard of it).
Hamilton, which premiered on Disney+ on July 3, has been an absolute hit. Between the acting, singing, dancing and songwriting, the filmed version of Lin-Manuel Miranda's Tony Award-winning show has many viewers obsessed. Disney+ even saw a 74% spike in streaming subscriptions the weekend it premiered, as per Forbes.
What also makes this film adaptation of the staged show work is how it was made. Director Thomas Kail recently revealed exactly how he filmed and edited Hamilton. He used 30 cameras to shoot the musical in three days in 2016 (June 26, 27 and 28, Sunday through Tuesday) and spent three years piecing it together. On the 26th and 28th, Kail shot straight through with an audience. On the 27, he had no audience, allowing him to focus on closer shots of the show.
"I had six cameras that were shooting on the Sunday with different operators and then three fixed cameras or nine total," Kail explained to Inquirer.net. "Then, I changed all the positions for the fixed cameras for the Tuesday so the multiple gets high really fast, but that's how we made it."
This movie musical was an incredible example of converting a stage musical to screens with only three days of footage, unlike Joel Schumacher's 2004 adaptation of Phantom of the Opera whichtook four months to film.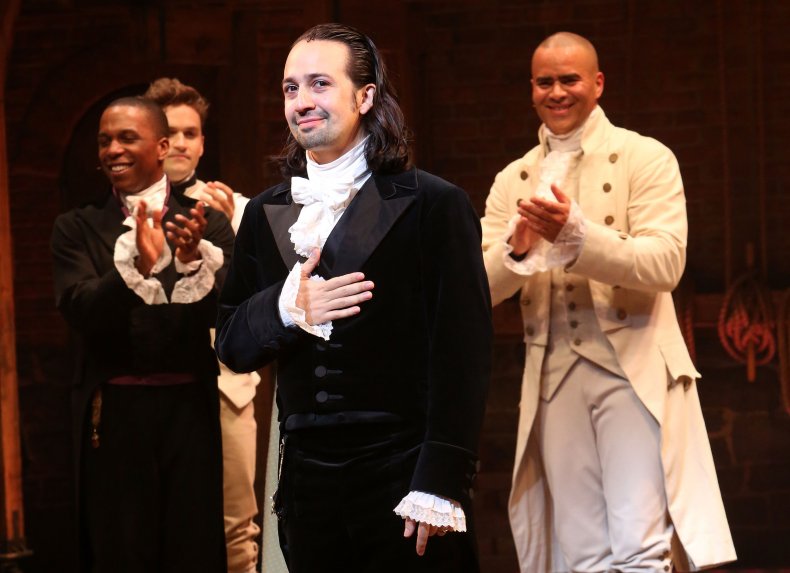 The big-budget adaptation of Andrew Lloyd Weber's musical was a cinematographic mess, despite the fact that it had been in development since 1989. Schumacher's focus on making other films and Weber's divorce were just two events which added to the delays.
Schumaker starred Emmy Rossum, Patrick Wilson, Minnie Driver and Gerard Butler as the Phantom, and was nominated for three Academy Awards. But those noms didn't translate to critical acclaim.
According to Rotten Tomatoes, the film has a 33% approval rating. "The music of the night has hit something of a sour note: critics are calling the screen adaptation of Andrew Lloyd Webber's popular musical, histrionic boring and lacking in both romance and danger," the consensus read. Although critics didn't like the movie, audiences loved it.
What threw critics appeared to be the movie's...cinematography and direction. Shots failed to make the sound stages of Phantom look cinematic. The scenes felt like an overstuffed painting, and though that type of spectacle would have translated well onstage for the suspension of disbelief, it felt exhausting onscreen and lacked dimension. The sweeping camera shots and long takes didn't add anything either, especially when showing off the mostly computer generated sets.
The film's color schemes were also deemed dull. In the "Masquerade" scene, for example, many colors and bright images are mentioned throughout the song. However, the main colors of the costumes were black and white, a stark contrast to the lyrics.
The set of Hamilton, meanwhile, was simple yet effective. Since they were also using the costumes and the set directly from the show, nothing got lost in translation as far as spectacle went.
Weber was granted full artistic control. When it came to his intentions of adapting Phantom, he said, "We did not want to do a film version of the stage show," as per Playbill. "We wanted to make a film in its own right."
Kail, meanwhile, wanted to recreate the theater experience for viewers at home. "I was just interested in trying to create an experience with the film of Hamilton that would let you know what it felt like to be in the theater in June of 2016 in New York City at the Richard Rodgers Theatre. That was the intent," he explained.
Kail explained that they way they shot the staged musical, they were able to get as close as possible to the actors for an immersive and intimate experience. These close-up shots gave viewers the best seat in the house, unlike Phantom.
"So much of our storytelling is done in the physical vocabulary," he noted. "If I'm going to close up, it means I'm not on that dance step. It's very hard to do both those things. So, it was a real balance of making sure that I wanted to give intimacy and proximity, which you have in cinema."
Additionally, throughout Phantom of the Opera, many of the actors' mouths don't appear to match up with the music. There are also many continuity issues, from moments where the Phantom takes off his cloak, to candles being lit and unlit, and masks disappearing and reappearing during the "Masquerade" number, just to name a few errors. These tiny details made a huge difference, and audiences felt like it was sloppy.
Since Hamilton was performed and filmed live without any dubbing, these continuity issues didn't occur.
That being said, filming the staged musical was not a simple task. "It is a little more challenging in the theater," Kail noted, "You must also get the stage picture and make sure that the storytelling of the entire group was represented."
Kail also mentioned how he and Miranda wanted to preserve this particular performance with the original cast of Hamilton. "Theater always disappears. It goes away as soon as the lights come down, whereas cinema, film and television can live on."
Maybe Phantom of the Opera should be the next musical to get the Hamilton treatment.
Hamilton is available to stream on Disney+. Phantom of the Opera is available to stream on Amazon Prime.