Why 'Hamilton' Is the 'Most Disney' Disney Film | Opinion
Once upon a time, a young orphan lived on a sultry island. Though he was a brilliant writer, he was mercurial and outspoken. Transported to a faraway land of brave knights and glittering balls, he spun straw into gold with the power of his pen, broke the evil king's hold on the land, married a fair maiden and became a ruler himself.
Disney movie or Broadway hit Hamilton? This July Fourth weekend, it is both. Though the pairing might seem unusual, it is a natural fit. At heart, Hamilton is the most Disney of stories. It pairs a nostalgia for an America that never really existed with a hope for an expansive, utopian future, all while advancing an art form—just like Walt Disney's films and theme parks.
In its early years, the productions of what we now call the Walt Disney Co. were actually quite subversive. Mickey Mouse was born a witty trickster, a jack of all trades. He was "young, scrappy and hungry," outsmarting Peg Leg Pete, charming Minnie and making music as he milks cows (whose udders, like the f-bombs in Hamilton that had to be edited out for Disney+, were eventually removed by censors).
As time wore on, Walt Disney's own politics moved rightward, and the corporation was seen as a bastion of conservatism. But as scholar and author Douglas Brode showed in his book From Walt to Woodstock, the liberal, follow-your-dream messages within the films nourished the baby boomers who would form the counterculture of the 1960s and '70s.
Disney films are a place where we discover not who we are, but who we could be, if we wish upon a star. Hamilton is that, too. Through it, we see America's potential, with a cast centering actors of color and honoring the stories of women.
To engage with Disney films and Disney parks is also to reimagine America. Here, Disney has long balanced at the hinge between nostalgia and futurism. You enter Disneyland and walk down Main Street, USA, becoming a performer in a daily simulacrum of small-town America. (Until groups like the Dapper Dans started to hire Black singers, it was also an immensely white America.) Then you turn right into Tomorrowland and blast off to an imaginary future where rocket ships are king.
The fact that the dramatic structure of Hamilton mirrors a Disney film is no accident. Aside from the fact that scribe and star Lin-Manuel Miranda has a long relationship of working with Disney, Disney films and Broadway musicals are codependent art forms. As Miranda has said in interviews, "My Shot" is the classic "I want" song of both media. It is the direct descendant of "A Dream Is a Wish Your Heart Makes," "Part of Your World," "Something's Coming" and "Wouldn't It Be Loverly."
It's a special version, though—an "I want" song for a whole nation, with shades of the same grandiose civil religious sentiment that infuses Disney's takes on American history. "We roll like Moses, claimin' our promised land," Hamilton raps. A few stanzas later, he spins to the future, "Every action's an act of creation!"
As time went on, the Disney vision of American history became more staid. If Miranda's muse was Alexander Hamilton, Walt Disney's was Abraham Lincoln. Hamilton, however, makes for a better Disney princess. His frenetic longing and nonstop motion are akin to the constant striving of a brand of heroines who became more active in the years between Snow White and Moana (whose words came to life from Miranda's pen). The man who writes like he's running out of time is no different from a mermaid who won't stop trying to get out of the ocean or the beauty who devours books while longing for adventure.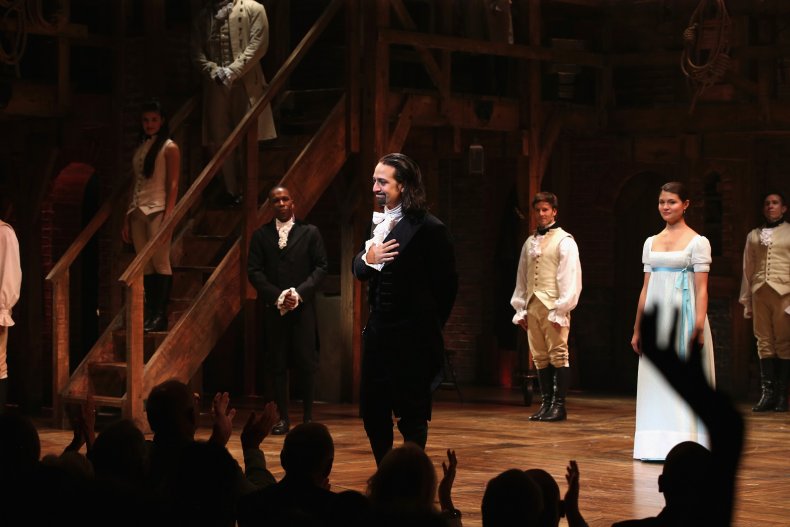 There is, of course, a more boring explanation for this synergy: money. Disney acquired the distribution rights to Hamilton in a massive deal, and no one will be surprised if Hamilton mouse ears start appearing in Liberty Square when Disney World reopens.
But following the money gets us only so far. In the end, Disney films and Hamilton work because they keep us believing in the magic of the American experiment. The American pasts of Disney parks are frozen, literally bolted to the stage of the Hall of Presidents. In Hamilton, the past is always in motion. The actors dance on a turntable, their spins doubled, a frenetic "carousel of time" that evokes the messiness of history. As Miranda said in a recent interview with the Associated Press, "We need a reminder of how magical live theater is."
In this tumultuous summer of protests and a pandemic, the notion of history twisting forward is appealing. Hamilton wrote his new future without the benefit of a traditional fairy godmother. It was the donations of his fellow islanders that sent him to the ball and placed him on a northbound ship after a hurricane. For Americans facing uncertain futures today, that magic of the collective is what we will need to summon even after we click off Disney+.
Jodi Eichler-Levine is an associate professor at Lehigh University and the author of Painted Pomegranates and Needlepoint Rabbis. She is currently studying the intersection between religion and the Walt Disney Co.
The views expressed in this article are the author's own.