Shopping With the Enemy: Why West Bank Palestinians Can't Avoid Israeli Goods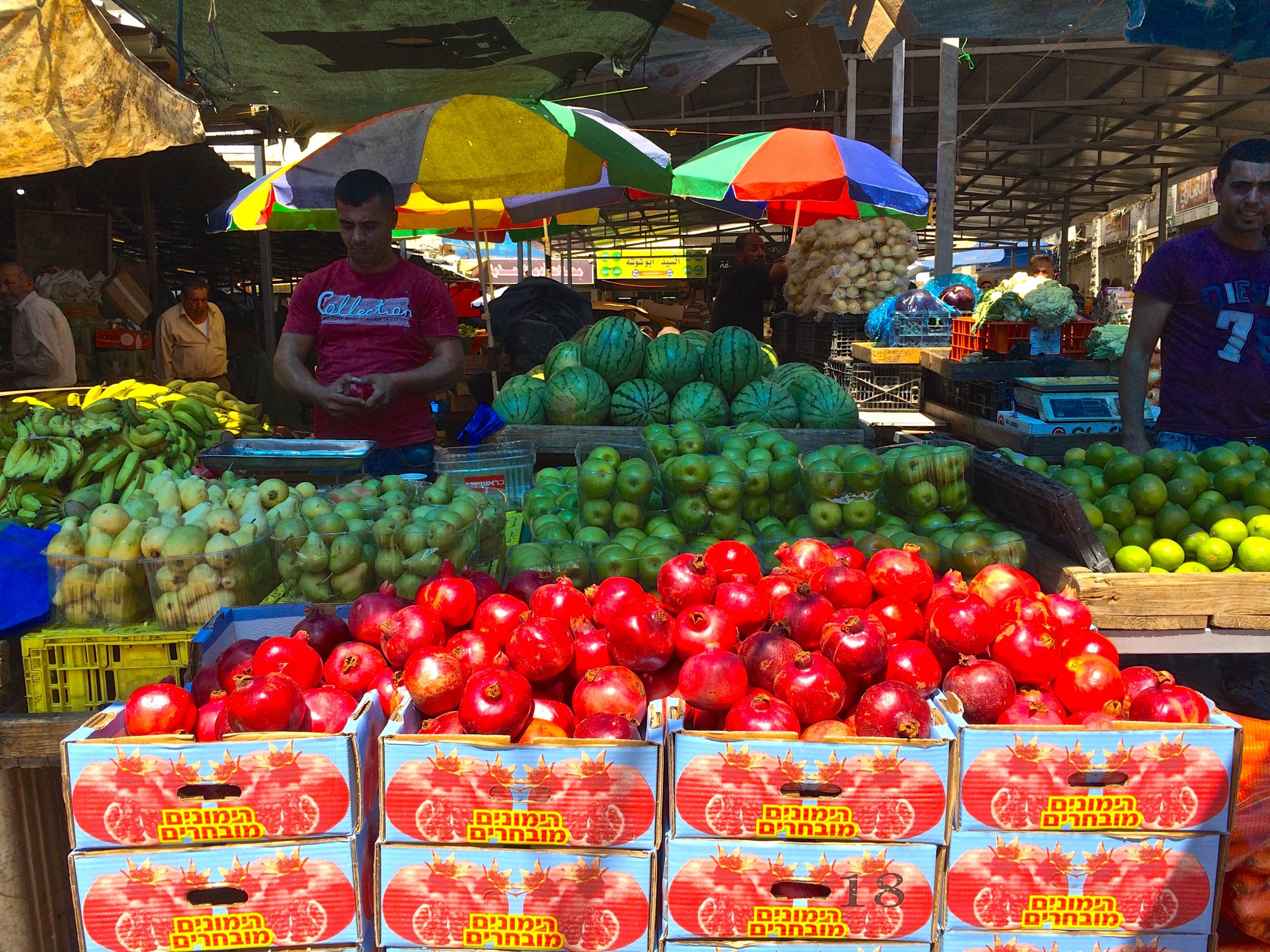 It's early afternoon in Ramallah, the de facto Palestinian capital of the disputed West Bank, and the main fruit and vegetable market is bustling. Vendors and shoppers shout prices and orders in Arabic while they exchange produce in boxes bearing Hebrew letters.
It's here where battles over international campaigns for boycotts of Israeli products often clash with the reality of local economics. It's really hard for Palestinians in the West Bank to boycott Israeli goods because the country controls and saturates the market with products, and local and imported alternatives are limited for the average cash-strapped Palestinian.
Amid the crowded stalls and corridors that day, Rezan, who declined to give her last name for privacy reasons, is on a mission to buy mushrooms. In the West Bank, that means Israeli mushrooms, as there's no Palestinian producer.
Rezan has five people in her family, and they, like many other Palestinians, support the boycott of Israeli goods—in theory. But with few options, she buys what she can find and afford. "Each has their preferences," she says. She won't eat certain Israeli packaged snacks, but she concedes, "I like Israeli chocolate."
Nearby, Ahmed Hawajah is selling Israeli fruit and isn't interested in chatting. An older woman buying nectarines clicks her tongue when asked about the subject. "Practically, there's no boycott here," Hawajah then says. "People can't. We sell what we can. There are no alternatives."
'What's Cheaper?'
Internationally, global boycotts of Israel—namely the Boycott, Divest and Sanctions (BDS) movement—have gained momentum in recent years, targeting companies, celebrities and academics associated with Israel and its settlements. Supporters say it's a powerful nonviolent tool to oppose Israel and its occupation of the West Bank, drawing inspiration from the boycott against apartheid South Africa. Critics say BDS unfairly singles out Israel and is tainted by anti-Semitism, drawing connections to Nazi Germany-era boycotts of Jewish stores.
Across Europe and the U.S., the battles over BDS have been fierce, as supporters and critics have clashed in a variety of places, from college campuses to food co-ops. The Israeli government declared BDS a strategic threat equivalent to Palestinian militant groups and a nuclear Iran. In December, New York Governor Andrew Cuomo issued a blacklist of companies that support BDS, which critics condemned as an attack on free speech. Israeli officials recently called for boycotts of French goods after France implemented European Union guidelines to label Israeli settlement products.
On the ground in the West Bank, however, navigating daily life in an economy tightly intertwined with Israel is less straightforward. "There are a lot of people who do not really care whether it's French or Palestinian or Israeli," says Palestinian entrepreneur Sameer Khrishi. "It's a bread-and-milk-sensitive issue. What's cheaper?"
Around 2.5 million Palestinians live in the West Bank, which Israel took control of in 1967, along with East Jerusalem and the Gaza Strip. (The latter is now controlled by the Islamist group Hamas, and Israel and Egypt have placed it under blockade). The Palestinian Authority rules parts of the West Bank along with the Israeli military. But with the peace process stalled—and with it, hopes for a Palestinian state alongside Israel—Palestinians in the West Bank live in a fractured land dotted with Israeli checkpoints and settlements.
President Barack Obama and his predecessors considered Israeli settlements illegal under international law, and as an impediment to peace. But President-elect Donald Trump's team actively supports their expansion, and Israel's right-wing government recently lashed out at the Obama administration for not vetoing a United Nations resolution denouncing settlements at a time when some in Israel are increasingly calling for the annexation of the West Bank.
Israel controls all exports and imports in the West Bank, and residents need Israeli permits to leave the territory, which authorities say are for security reasons. Jobs and money are in short supply among Palestinians: The World Bank estimates that West Bank unemployment for Palestinians reached 26 percent this year.
The Palestinian Authority cannot endorse boycotts of Israel because of economic agreements in the 1994 Paris Protocol, which followed the Oslo Accord. But in 2010, the authority endorsed boycotts of products from Israeli settlements in the West Bank. Palestinian Authority President Mahmoud Abbas has angered BDS activists by rejecting calls for a wider boycott.
Palestinian interest in boycotting Israel rises during increased conflict, like the 2014 Gaza war, and then fades, gaining a little more momentum each time, says Sam Bahour, a Palestinian-American businessman in Ramallah who runs a nonprofit to encourage economic relations with Palestinian producers. Despite the Palestinian Authority's ban, Bahour says, settlement products are still making their way to West Bank markets. "I don't think it [the idea of boycotts] has been impactful."
Palestinian economist Raja Khalidi describes the West Bank as a "captive economy," meaning Israel dominates all parts of it and "dumps" cheap products into the market. Under these conditions, Palestinians can't be expected to take part in boycotts like those abroad, argues Khalidi, research coordinator at the Palestine Economic Policy Research Institute in Ramallah.
"How can a prisoner population boycott the jailer without starving?" he tells Newsweek.
Khalidi, who wrote a recent report on the prospects of a Palestinian boycott, argues that "if there isn't the [Palestinian] productive capacity, it's self-defeating to call for an Israeli boycott."
Barriers to Investment
Barriers to production in the West Bank range from Israeli import and export restrictions, to the Palestinian Authority 's chaotic and corrupt bureaucracy, to the uncertainty of investments under occupation and even people's preference for—and trust in—Israeli products after years of consuming them.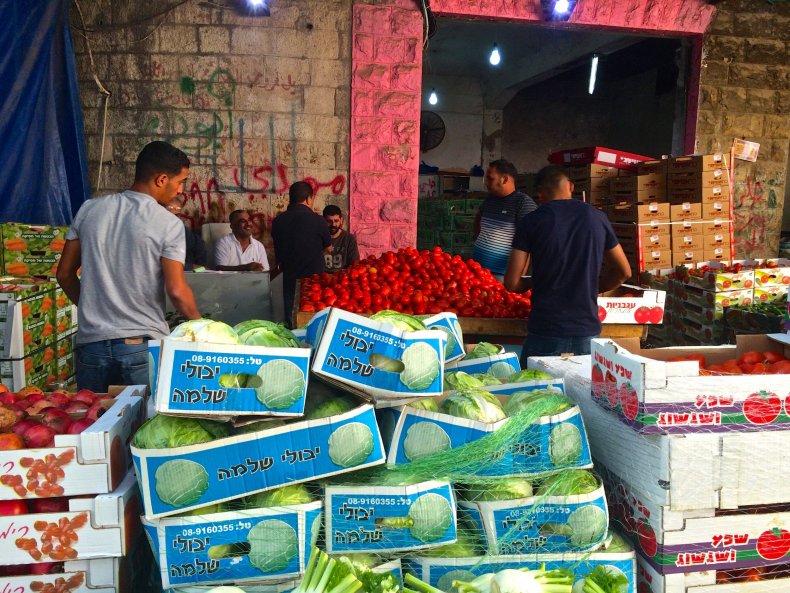 About two-thirds of Palestinian imports are from Israel, and more than 80 percent of Palestinian exports go to Israel, according to the Bank of Israel . Israel accounts for about 55 percent of Palestinian trade, but the Palestinian territories make up just 3 percent of total Israeli trade, according to a 2016 United Nations report.
"I think the idea of being proactive in producing alternative Palestinian production sources, it's hard work," Khalidi says. " That's why BDS is so popular [internationally]. It's easy to do."
Bishara Jubran, head of the Ramallah-based Arab Industrial Co., knows the struggle firsthand. In 1970, he and friends started a detergent and personal care line, Star, that is now sold throughout the fractured Palestinian territories. Jubran is proud of his Palestinian brand, but the company is "forced to deal with Israel" on all levels of production, down to the electricity that comes from there, he says, so it's never fully independent.
Jubran says his company has been successful because of its focus on consumer quality. In recent years, he adds, Palestinian dairy products and medicines have notably increased in value and availability.
Still, he argues, Palestinian leaders must do more to improve the investment environment, like strengthening laws and removing bureaucratic red tape. "One of the problems with the boycott is the trust in the Palestinian products," he says. "So you need the efforts of the economy to help the Palestinian manufacturers to upgrade the quality of their goods and services."
Within the past five to 10 years, Palestinian producers have gained a greater market share from Israeli companies, says Yitzhak Gal, a researcher at Tel Aviv University's Moshe Dayan Center for Middle Eastern and African Studies. But stipulations in the Paris Protocol outlining trade with Israel, coupled with the lack of basic water, sewage and transportation infrastructure, remain impediments to more advanced production. "Water and electricity supply restrictions today are more harmful than traditional, so to speak, restrictions on the passage of trucks," Gal says.
For a brief period, Khrishi, the Palestinian entrepreneur, appeared to offer a model for success. Nearly four years ago, he and a few friends started the Amoro Co., a mushroom factory in Jericho, using imports from Holland. They had little experience but compensated for it with passion. They hired Palestinian women who had worked at Israeli settlements—where many Arabs toil in unregulated construction and agriculture jobs—and provided better salaries and conditions.
Soon they had gained a large share of the West Bank mushroom market—until this summer, when Israeli authorities held the compost they import for farming at the port because of paperwork problems. A spokesperson for the Israel Tax Authority said the agency could not specifically comment on the case because of limited information. However, the spokesperson said Israel restricts imports of "dual-use materials" like fertilizer, which can be used for homemade bombs.
Khrishi, however, alleges this was an excuse to stop their production. "Lots of Palestinian companies do pay money for a middleman to facilitate their applications," he says. "You have to have an Israeli middleman. But we didn't."
Losing too much money, Khrishi and his team shut down the business in September. They are now trying to turn the farm into a homemade compost yard so they won't be dependent on imports. " You have to come up with alternatives," he says.
In the meantime, there are still plenty of Israeli mushrooms in Ramallah's market for Rezan and other shoppers to buy.