GameStop's stocks are surging again following weeks of volatility on the stock market, sparked by a group of Reddit users who came together to short squeeze the hedge funds that bet against the video game store chain.
Today, on March 1, GameStop opened at 9:30 a.m. ET at $104.54 but shot up to $109.42 by 9:37 a.m. At the time of writing, GameStop stock is at $106.61. Following a few explosive weeks, GameStop shares were up by five percent premarket on Monday. But why is GameStop stock going up?
GameStop belongs to a group of so-called "meme stocks" that have been targeted by small investors on Reddit, along with AMC, BlackBerry, Naked Brand Group, and Koss Corporation. According to MarketWatch, these brands were active again in premarket trade on Monday.
On Thursday last week, GameStop's stock surged by more than 80 percent as members of the r/WallStreetBets subreddit—which has 9.4 million members—shared a flurry of posts, hoping for GameStop stock to soar as it did in January. Markets Insider reported that GameStop closed at $101.74 per share on Friday, which was up about 428 percent year-to-date.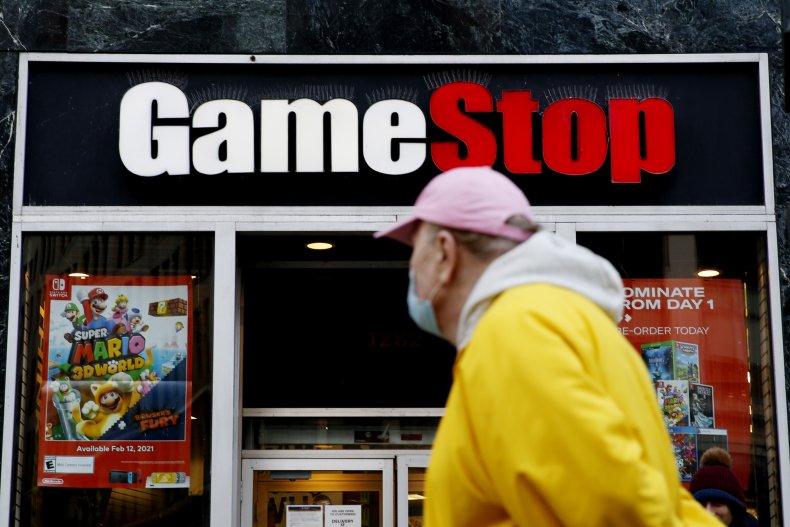 Today, on the r/WallStreetBets group, a thread titled "Daily Discussion Thread for March 01, 2021," was established and amassed more than 9,500 comments in around four hours, while a separate thread titled "GME daily thread March 1, 2021" received more than 14,500 comments in three hours.
The latter thread sees Reddit users encouraging each other and making predictions about what will happen to GameStop stocks today.
One Reddit user said: "I used to hate Mondays. Then I found the stock market," while another said: "I'm home 'sick' today."
Others are making bets about what they will do if the stock hits a certain threshold, like one user who said: "My GME March bets—if we hit $800—rocket tattoo, $1,000—I'll spend 25k at GameStop and donate it all to children's charities, $10k—Donate $50k to a charity that I will let WSB decide."
Many users are commenting with the rocket emoji, which has been used to suggest the stocks are going "to the moon."
However, Markets Insider has reported that hedge funds have started tracking relevant Reddit posts to keep up with the small traders and find out which stocks they may target next, so the future of r/WallStreetBets' success is uncertain.
Additionally, regulators are investigating the subreddit to determine whether or not it amounts to market manipulation.
Although the group of Reddit users has been credited for GameStop's stock soaring, a report from Reuters suggested that bots may have played a role in GameStop's surge in January.
According to Reuters, PiiQ Media's analysis of social media posts found that bots used the platforms to promote GameStop, but it is not certain just how influential the bots were in the event overall.
PiiQ analyzed keywords including "GME" and "Hold the Line" and found patterns that suggested bots were involved. Aaron Barr, co-founder and chief technology officer of PiiQ, told Reuters: "We saw clear patterns of artificial behavior across the other four social media platforms.
"When you think of organic content, it's variable in the day, variable day-to-day. It doesn't have the exact same pattern every day for a month."