Why Has Kim Jong-il Gone to China?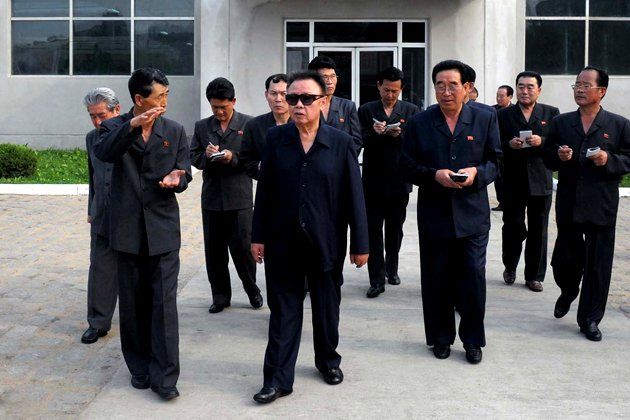 As Jimmy Carter arrived in North Korea to help negotiate the release of an American prisoner, the country's leader and his son Kim Jong-un took a private train into China, according to South Korean officials. Is it a diplomatic snub, a cry for aid from the North's only real ally, or medical emergency for the sickly dictator?
Both The New York Times and Reuters cite South Korean sources who say that the Dear Leader, reportedly terrified of flying, pulled into China on Wednesday night. Both report that he might have stopped in Jilin, in northwest China, to visit a school he or his father attended as a child. But it seems unlikely that was the entire reason for the reclusive leader's second visit to China since May.
The Worker's Party that runs North Korea, at the behest of Kim, is having a rare meeting in September; many watchers feel it may be to officially mark the succession of his third son to the leadership. Kim has reportedly been in very poor health since he apparently had a stroke in 2008 and may be in a hurry to ensure his son's place at the helm of the Hermit Kingdom. That would also, of course, mean introducing him to the Chinese leadership.
The illness itself, say others, could be a reason for the apparently abrupt decision to visit China. Kim might require medical treatment at that country's superior facilities.
It might also be that the North's perpetual economic and humanitarian crises require immediate Chinese aid in the aftermath of devastating recent floods. Reuters spoke to Daniel Pinkston, a Korea specialist with the International Crisis Group, who pointed to signs that the succession is being accelerated and "other signs that they are hurting for cash aid and assistance. The two things are not mutually exclusive," he said. "If the succession is being accelerated, then of course Kim has an incentive to address the economic problems and other issues which will be helpful for his son in the transition to taking power."
But before you get comfortable trying to wrap your head around all that, there's more. It might also be a simple diplomatic snub. Kim Keun-sik, a South Korean analyst, told The New York Times that a "possible political message of this is that North Korea gives its priority to China over the United States." And the Times also floats the possibility that Kim's visit is an effort to get new weapons from China.
North Korea barely acknowledges that the rest of the world exists, so no statement was forthcoming from officials on the leader's movements. China, says the Times, never confirms a visit from Kim until afterward. Like everything else we hear from North Korea, it seems, today's news is more a riddle than a solution.