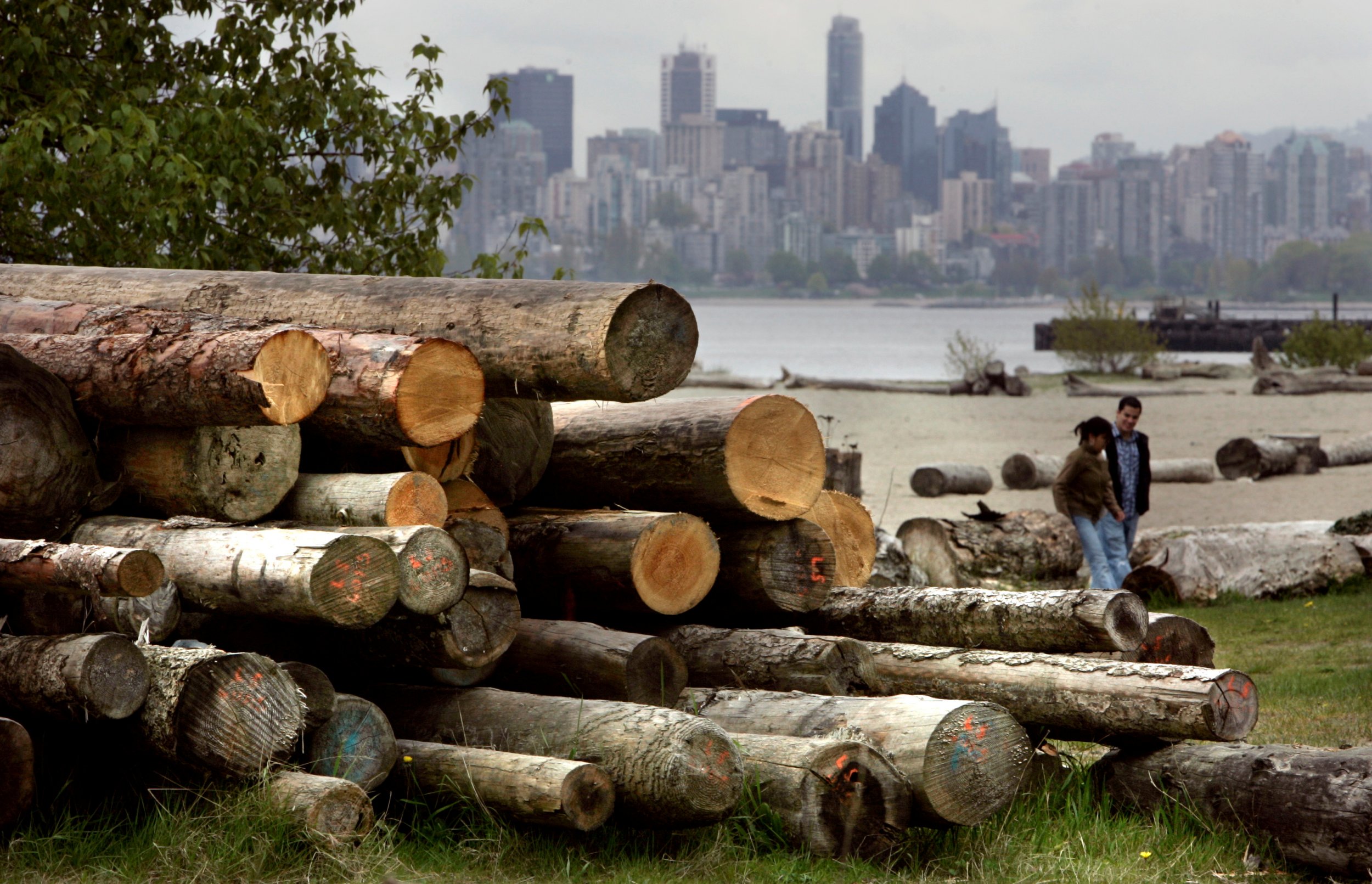 President Donald Trump has escalated a long-running trade dispute with Canada over the price of timber.
At a gathering of conservative journalists at the White House on Monday, Trump said the U.S. would impose a 20 percent tariff on imported softwood lumber from its northern neighbor, tweeted Breitbart White House correspondent Charlie Spiering. The Commerce Department added Monday that the tariffs could go as high as 24 percent.
Commerce secretary Wilbur Russ told the Wall Street Journal the countries had "tried to negotiate a settlement but we were unable," and that tariffs would apply retrospectively.
The dispute is an unexpected cooling down in the usually warm relations between the two countries. Many observers had expected Mexico or China to be the first targets of Trump's protectionist trade policies. Trump also suggested Tuesday that Canadian dairy products could be subjected to tariffs, with U.S. farmers accusing the Canadian government of unfair pricing policies.
So what is the dispute about, and what is the impact of the decision likely to be? Newsweek takes a look.
Softwood lumber is one of Canada's largest exports, and according to Statistics Canada the U.S. buys 80 percent of the supply, most of which is then used by construction companies to build timber frames for homes. In total, the trade is estimated to be worth about $6 billion a year, according to Canadian government data.
However, U.S. importers have long accused Canada of unfairly subsidising the commodity. They allege that some Canadian provinces allow loggers to fell trees at reduced rates, and then sell them at lower prices than competitors across the border. In November, U.S. lumber producers lobbied the US government to impose tariffs.
The countries have disputed how much lumber Canadians can sell across the border and at what price since the 1980s. Previously there have been short-term deals over the sale of softwood, which is constructors' preferred choice to build home frames, but the existing deal expired in October.
Canadian Prime Minister Justin Trudeau and former U.S. President Barack Obama agreed to reach a deal over the dispute in June before the existing deal expired in October, but were unable to do so before Obama left office.
In his interview with the Wall Street Journal, Russ took aim at the North American Free Trade Agreement, which Trump has pledged to renegotiate. He described Canada's alleged actions as "not our idea of a properly functioning Free Trade Agreement."
The dispute is unlikely to be resolved soon, as the U.S. does not currently have a chief trade negotiator, with nominee Robert Lighthizer not yet having completed Senate confirmation hearings.
Canada criticised the measure, with Foreign Minister Chrystia Freeland and Natural Resources Minister Jim Carr describing it in a joint statement as an "unfair and punitive duty" imposed on "baseless and unfounded" allegations. They said the measure would cost jobs on both sides of the border, and cause a rise in U.S. house prices.
The tariffs caused the Canadian dollar to fall against the U.S. dollar in overnight trading, down 0.40 percent to C$1.356.
Khoon Goh, senior foreign-exchange strategist at ANZ, told CNBC there could be scope for more weakness in the Canadian dollar, and noted that U.S. officials had also spoken about imposing tariffs on dairy products: "It's not just the lumber," he said, "Any further escalation of this situation between the U.S. and Canada could well see the Canadian dollar weaken further."
However, the duties were below the expectations of some analysts. Kevin Mason, managing director of ERA Forest Products Research in Vancouver, told Bloomberg: "It definitely could've been a heck of a lot worse." Timber companies told Bloomberg that high timber prices would absorb most of the tariff costs.
While analysts believe the tariffs will benefit U.S. timber suppliers, they could also result in higher costs for people such as homebuilders buying it.
"Effectively, this policy subsidises one industry while imposing higher costs on all the rest. It is obviously intended to hurt Canada, and it will of course have some impact there: but the principal pain will be felt by American citizens," wrote Frances Coppola in Forbes.