Why Hasn't Congress Passed $2 Trillion Coronavirus Stimulus Package Yet?
After four straight days of negotiations, Senate Minority Leader Chuck Schumer and Treasury Secretary Steven Mnuchin appeared hopeful on Monday evening that an agreement could be reached on a roughly $2 trillion stimulus package aimed at giving a boost to the economy and businesses hard-hit by the coronavirus outbreak.
"We are hopeful that this could be closed out tomorrow," Treasury Secretary Steven Mnuchin said late Monday, according to CNN.
Schumer shared in that sentiment, explaining that it was no easy task to strike a bill on such a "huge bill of $2 trillion, with many different moving parts."
However, the Senate Minority Leader said President Donald Trump appeared "very happy" to hear that Senate and White House negotiators were close to reaching a deal, with an agreement expected to be reached as soon as Tuesday morning.
Happy or not, Trump took to Twitter the very same night to lambast Democrats for repeatedly blocking efforts to pass the stimulus package due to concerns that it prioritizes big corporations over small businesses and families in the U.S.
Taking particular aim at House Speaker Nancy Pelosi, Trump wrote in a late night tweet: "Republicans had a deal until Nancy Pelosi rode into town from her extended vacation. The Democrats want the Virus to win? They are asking for things that have nothing to do with our great workers or companies. They want Open Borders & Green New Deal."
Republicans, Trump said, "shouldn't agree!"
Already, Congress members have passed two other packages in response to the COVID-19 outbreak. They have struggled, however, to come to an agreement on a third, dubbed "phase three" in the legislative branch's response to the pandemic.
While White House and Senate negotiators were working to come to an agreement on the Senate package on Monday, however, Pelosi introduced a $2.5 trillion Democratic version of the bill that she said prioritizes "America's workers" over corporations.
"The Senate Republicans' bill, as presented, put corporations first, not workers and families," Pelosi said in a statement. The House Democrats' bill, she said, "takes responsibility for the health, wages and well-being of America's workers."
Dubbed the "Take Responsibility for Workers and Families Act," the House bill requires that any corporation that takes taxpayer dollars must protect workers' wages and benefits, rather than prioritizing "CEO pay, stock buybacks or layoffs," Pelosi said.
It also is aimed at giving small businesses "fast relief with grants and loans to tide them through this crisis" and strengthening Unemployment Insurance "so that it can replace the average wages of our workers who are losing their jobs and hours."
The bill is also aimed at giving hospitals and other health providers "desperately needed funds" to continue providing care to people in the U.S. and to ensure that healthcare workers and first responders have Personal Protective Equipment.
As part of that effort, the bill also calls on Trump to invoke the Defense Production Act immediately, which would allow the president to force industries to expand production of supplies essential to the fight to combat the coronavirus outbreak.
The bill would additionally provide direct payments to families and seek to strengthen Child Tax Credits and the Earned Income Tax Credit, as well as extending the guaranteed paid family and medical leave to more workers, including those caring for seniors.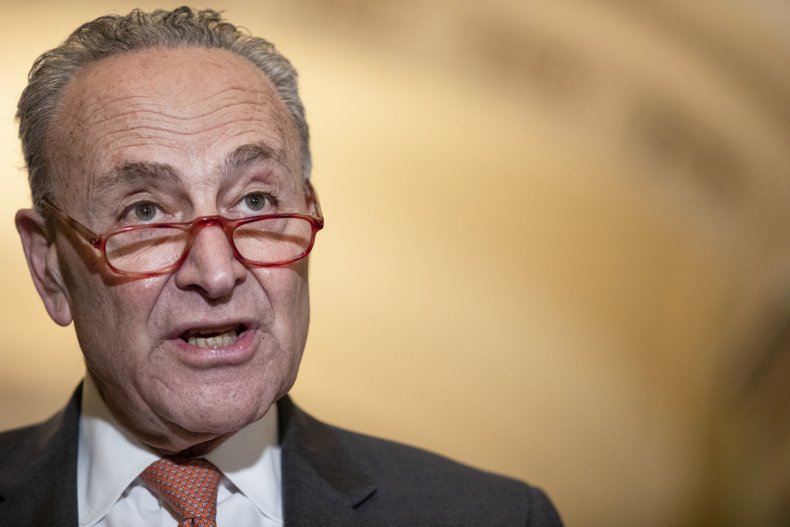 The bill's introduction appeared aimed at putting pressure on senators negotiating the Senate bill, with Pelosi saying she hoped Senate would "move closer to the values in the Take Responsibility for Workers and Families Act."
While Trump has blamed Democrats for delaying the passage of a stimulus package, the president has also called on both sides to "get together and just stop with the partisan politics."
"I think that's happening," the president said on Monday. "I got a call a little while ago, I guess they are getting closer."
"It should go quickly and it must go quickly," Trump said."It's not really a choice. They don't have a choice. They have to make a deal."