Why Hasn't the U.K. Closed Its Borders To Stop COVID Spread?
Travelers to the United Kingdom from abroad could be asked to prove they have tested negative for COVID-19 before they arrive amid calls for tighter border controls to stop the spread.
The second wave of the pandemic is raging across the U.K. after a new rapid variant of the disease was detected in the south of England followed by a second new variant, which originated in South Africa. Daily cases are now above 60,000, with total deaths at 82,624. Prime Minister Boris Johnson's announcement of a new national lockdown with a stay-at-home order in place made no specific mention of restrictions on people entering the U.K. from abroad, leading to calls for tougher action on travel.
London Mayor Sadiq Khan called on the British Government to "get a grip" on international travel and implement stricter measures at the U.K.'s major arrival points - many of which are in or surrounding the capital city.
Khan said: "If you compare and contrast what happens at our airports in relation to the airports in, for example, Seoul, there is a big difference. So I'm really frustrated, as the mayor of a city with a number of airports serving us – Heathrow, Gatwick, Stansted, City, plus the Eurostar – at the ease with which people can come in to our city, potentially with new strains of the virus."
Heathrow Airport said it continues to request the government "establish a common international standard for pre-departure testing to ensure safer travel to and from all destinations". Labour shadow home secretary Nick Thomas-Symonds wrote to Priti Patel with concerns people arriving in the U.K. who are meant to go into quarantine are not being checked. He wrote that it leaves the country "defenseless, and completely exposed" to new COVID mutations.
The U.K. Department for Transport said a measure that would require all people entering the country from abroad to provide evidence of a negative test result is "one of several being considered" by the government. "Additional measures, including testing before departure, will help keep the importation of new cases to an absolute minimum," a spokesperson said.
Any decision would be a devolved issue, so would only affect England, with Scotland, Northern Ireland, and Wales implementing their own border controls. Currently, international arrivals from countries that are not exempt under the British government's travel corridor program have to self-isolate for 10 days.
Under the test and release scheme introduced in December, this can be shortened if someone has a private test five days after their departure and it comes back negative. During the first lockdown, the government argued against introducing border restrictions while the prevalence was so high in the U.K. and it wasn't until June that the quarantine rule was brought in.
"The World Health Organization (WHO) has traditionally not been in favor of it," Mark Woolhouse, professor of infectious disease epidemiology at the University of Edinburgh, tells Newsweek. "The science argument is that in most cases, since no country can close its borders completely, the best you can do is to slow the arrival of a new pathogen rather than keep it out indefinitely,"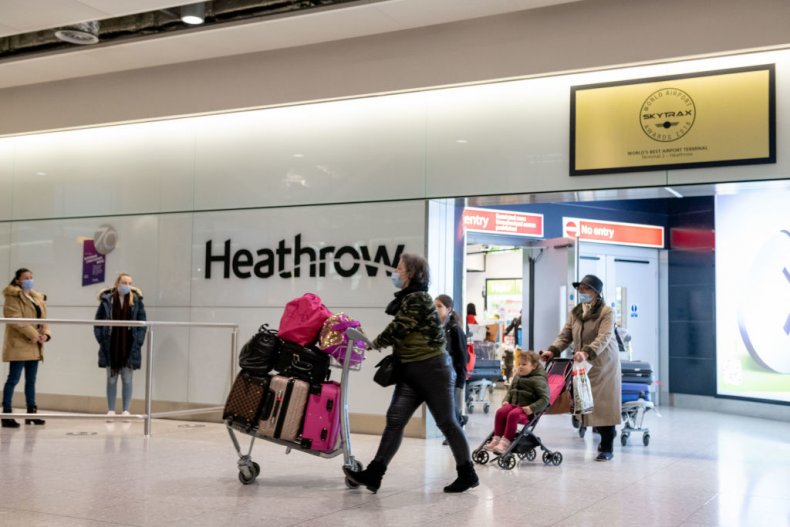 The best time to close borders, Woolhouse says, is right at the beginning of a pandemic. Should the U.K. have done it sooner - and how early would that have been?
"This will be the subject of inquiries to come," he says. "To have done so, the U.K. would have been acting against WHO advice at the time, so that would have been a very difficult decision to make," he says. "We now believe the virus was very widely seeded in the U.K. in February, so it would have had to have been in early February or January last year. I can't see how that would have happened. Doing it as a reactionary measure is probably hopeless."
Harvard epidemiologist William Hanage adds that putting border restrictions in place now would not be a scientific move, but a political one. "It might have helped with some of the introductions of the virus to the U.K. over the early autumn by holidaymakers," he said.
"Right now, given the presence of the more transmissible variant, in many ways it makes more sense for global health for the U.K. to require a negative test from people leaving the country. It is yet another example of the country's dilatory attitude to the pandemic response."
Professor Rowland Kao, the Sir Timothy O'Shea professor of veterinary epidemiology and data science at the University of Edinburgh, argues there may be some benefit due to new variants of COVID that pose the biggest risk in terms of the longevity of the disease.
"Everything we are doing, in terms of restrictions, creates an opportunity for the virus to respond. So we expect new variants to occur quite regularly," he says. "Border control does become more important with regard to new variants, because even if it has a chance of coming in, the chance becomes lower, so the likelihood it comes later is greater, which gives us more time to develop new variants of the vaccines to address these variants of the disease."
When France shut its border to England following the detection of the new rapid variant in Kent, it is very likely it was already present in the country, according to epidemiologists.
Woolhouse says: "You have to close borders, if you are going to do it at all, as a precaution - which means having borders shut all the time. You would have to have the restrictions permanently in place during the pandemic. Someone needs to do the science and the sums and find out the cost-benefit of that, but it is contrary to normal global health practice."
Cabinet Office Secretary Michael Gove said announcements will come in the days ahead on "how we will make sure that our ports and airports are safe" as lockdown continues. "It is already the case that there are significant restrictions on people coming into this country and of course we're stressing that nobody should be traveling abroad," he told ITV.
The U.K. has imposed a ban on direct flights from South Africa and restrictions on flights to the country after its new COVID-19 variant was detected in two people in England - one in London and the other in the northwest. Both were contacts of people who traveled to South Africa. It is already the dominant virus variant in the Eastern and Western Cape provinces of South Africa and has now spread to other countries including Austria, Norway, and Japan.