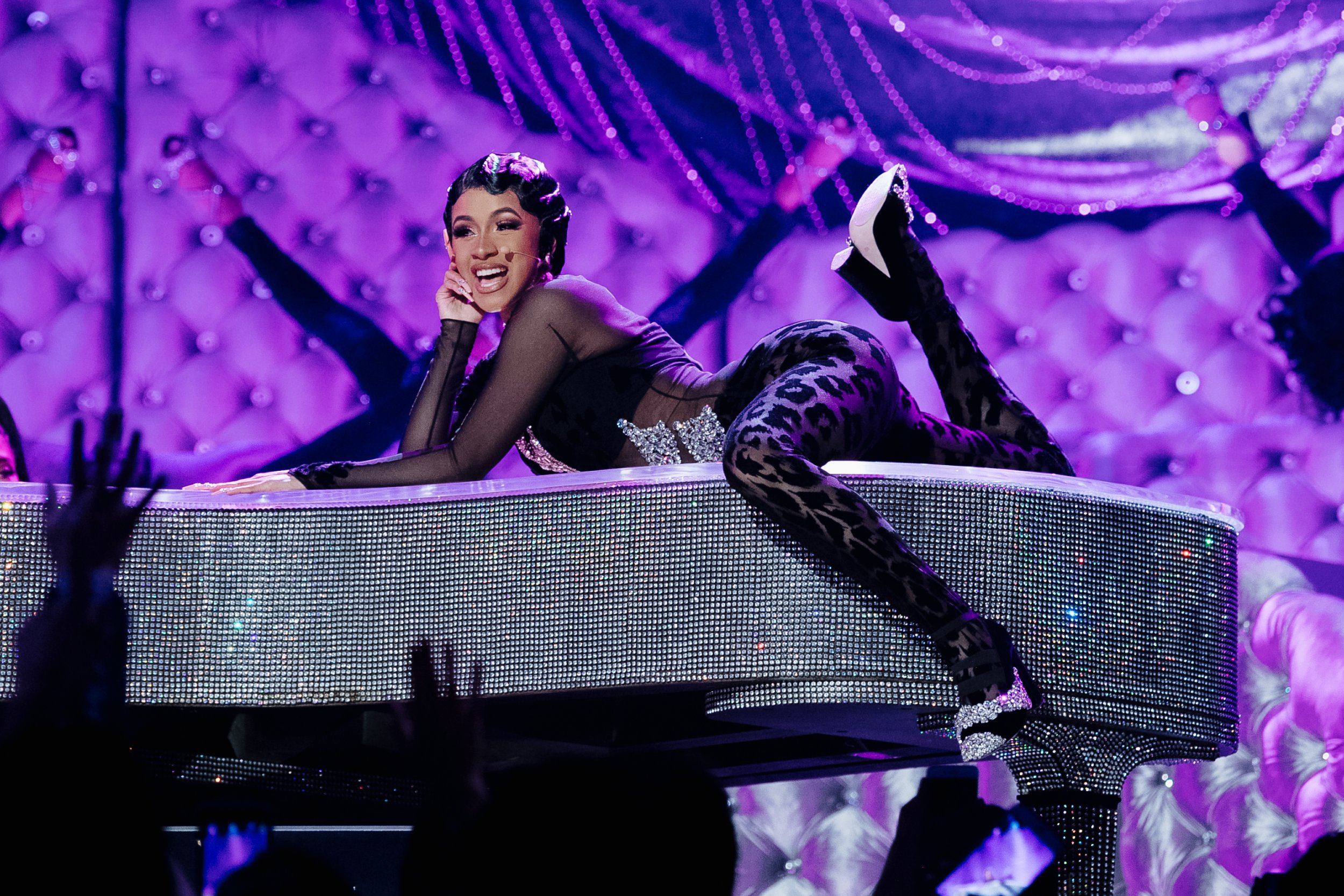 More than 14,000 people have signed a petition aimed at preventing rapper Cardi B from performing at an event in Houston, Texas, over animal welfare concerns.
The artist—who made history on Monday by becoming the first solo female to take home the Grammy for Best Rap Album—is set to play a show on Friday, March 1, at the NRG Stadium, as part of the 2019 Houston Livestock Show and Rodeo.
But the petition—which was created on the site Care2—urges the star to pull out because the event involves the mistreatment of animals, it argues.
"Horrible news, animal lovers: Cardi B is headlining an event chock-full of animal abuse," the petition description reads. "Cardi B is, herself, an animal lover, which is why we're asking her to stand up for these poor animals and cancel her performance at the rodeo."
The creator of the petition—who is simply identified as "Kelsey"—wrote that there were certain events at the show where animals are poorly treated.
"The Houston Livestock Show and Rodeo includes events like the 'Calf Scramble' where stressed and scared baby cows are set loose and then chased by children," the petition read. "There is also a 'Paint Horse Show' where horses are trained to perform and move through trails using a method called 'breaking'—a.k.a. getting beaten. There is not good reason to treat a horse like this, it's truly just to force them to perform for human entertainment."
The petition also noted that the show featured more traditional rodeo events, which the creator described as "extremely abusive."
"For example, in order to get the bulls angry enough to buck their riders off, they apply a painful flank strap," it read.
Animal rights activists and organizations argue that these straps are used to irritate and enrage rodeo bulls. Animal rights organization PETA says that they are often fastened uncomfortably tight around the bulls' abdomens, which causes them to buck vigorously.
However, rodeo proponents claim that while the straps encourage the bulls to buck by providing a sensation of pressure, they are not painful to the animals, adding that the behavior is a natural reaction to having the rider on top of them.
The petition—which has a goal of 15,000 signtatures—went on to note that Cardi B is clearly an animal lover due to the fact that she has 11 dogs.
"She may not know all the ways animals are being abused to make this Houston event go on though," it read. "That's why it's up to us, her fans, to ask her not to use her name and popularity to support such gruesome behavior. Cardi, please be a hero for animals and drop out of this event!"
In a statement provided to Newsweek responding to the petition, officials from the event said: "The Houston Livestock Show and Rodeo strongly believes in the importance of animal welfare. We take great pride in the care and attention our livestock receive throughout the Rodeo. We work closely with veterinary professionals and the Houston SPCA who are on-site daily. We are looking forward to welcoming Cardi B on March 1 and would be happy to show her how we treat all animals."
Other notable artists performing at the event include Carlos Santana, Kings of Leon, Camila Cabello and Kacey Musgraves.
This article was updated to include comments from Houston Livestock Show and Rodeo officials.