Why HBO Canceled 'Titans' and 'Doom Patrol'—Cast and Crew Have Their Say
Titans and Doom Patrol have been canceled by HBO Max, reports have confirmed.
The DC Universe shows were some of the few left from the superhero franchise, but it has now been revealed that both will end with their fourth season.
Here is everything that fans need to know about the decision, and what the cast and crew have said so far about it.
Why Has HBO Canceled 'Titans' and 'Doom Patrol'?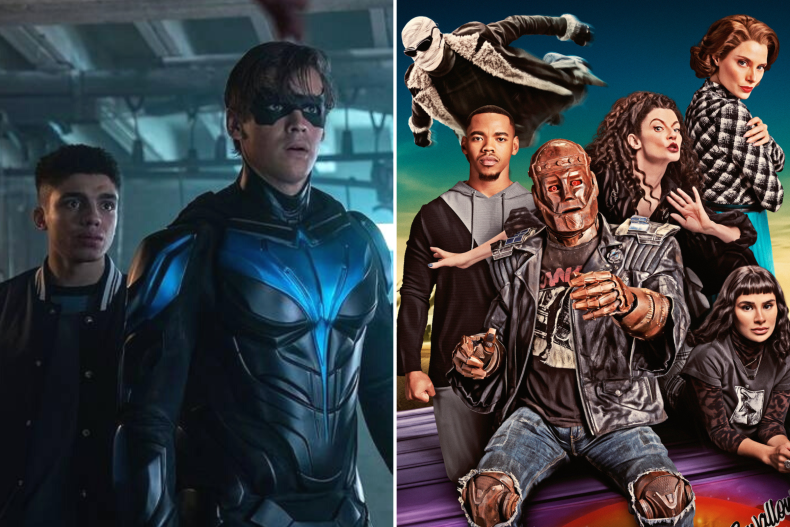 Titans began in 2018 on streamer DC Universe before moving to HBO Max in 2021, the first half of its fourth season finished airing on December 1, 2022, and it has not yet been announced when the second half will be released.
Doom Patrol, meanwhile, began as a spin-off of Titans in 2019, and its fourth season was also split into two, with the first half airing from December 8, 2022 to January 5, 2023. The release date for the second half has not yet been revealed.
The Hollywood Reporter reported on HBO Max's decision to cancel both shows, with sources saying that the team behind both shows "saw the writing on the wall" and decided to write their fourth seasons in such a way that they would have satisfying conclusions for fans.
A HBO Max spokesperson told the publication: "While these will be the final seasons of Titans and Doom Patrol, we are very proud of these series and excited for fans to see their climactic endings.
"We are grateful to Berlanti Productions and Warner Bros. Television for making such thrilling, action-packed, heartfelt series.
"We thank Titans showrunner Greg Walker, executive producers Greg Berlanti, Akiva Goldsman, Sarah Schechter, Geoff Johns, Richard Hatem, and the team at Weed Road Pictures. For Doom Patrol, we celebrate showrunner Jeremy Carver and executive producers Greg Berlanti, Sarah Schechter, Geoff Johns, Chris Dingess and Tamara Becher-Wilkinson.
For four seasons, fans have fallen in love with the Titans and Doom Patrol, investing in their trials and tribulations, and in their legendary battles saving the world time and time again."
Newsweek has contacted HBO Max for further comment.
Greg Walker, executive producer for Titans, said in a statement: "I'm immensely proud of our gifted cast, crew and writing staff and their efforts in bringing to life all 49 episodes over the last five-plus years.
"I couldn't have asked for better partners in Berlanti Productions, Warner Bros. Television, and HBO Max, and from the beginning, Geoff Johns and Akiva Goldsman. I'm incredibly grateful for their unyielding trust throughout this process.
"Lastly, I have to thank our incredible fans for their continued support, engagement, and the passionate community they've built around our show. We have six episodes left to unleash upon the world that we hope will give our beloved characters the creative closure we all know they deserve."
While some may believe that the decision to cancel both shows is a result of James Gunn and Peter Safran's recent takeover of the DC Universe, and their plans to change and improve the franchise, this is actually not the case.
Gunn took to Twitter to dispel any suggestion that they made the decision, as he told fans it was something that happened before they came on board.
He wrote: "The decision to end the series precedes us. But I certainly wish the best for the talented group of creators, actors, and the rest of the crew that produced both shows."
'Titans' and 'Doom Patrol'
Cast and Crew Have Their Say on Cancellation
Following the announcement that the shows would be coming to an end, several of the cast members of both shows took to social media to bid farewell to fans.
Curan Walters, who played Jason Todd in Titans, said on Twitter: "What an incredible journey it has been. Thank you for a special 4 seasons. I couldn't thank you enough @DCComics @DCTitans. JASON TODD OUT.
"I will miss this fan base so so much. Emotions are real. I thank you all ... from the bottom of my heart."
Jay Lycurgo, who portrays Tim Drake, shared that he would say a proper goodbye to the franchise when the second half of Season 4 is released, but added: "I'll save my goodbyes until Tim masters his Bo staff! Until then let's get ready for a b***** ending in Part 2 ay!!"
Sendhil Ramamurthy is set to appear in the second half of Season 4, but penned a farewell message on Twitter that said: "Honored to be a part of the final chapter of this incredible show with a most lovely cast & crew. I hope all you #doomieslike the ending the talented @DCDoomPatrol writers room crafted. I think it's pretty special. Thanks for all the love ❤️"
Diane Guerrero, who portrays Jane in Doom Patrol, shared a retro poster of the show on her Instagram stories and wrote: "So long to Doom Patrol! We had a great run. Love everyone who made this show possible.
Joshua Orpin, who plays Superboy in Titans, shared several photos from set on Instagram, and penned an emotional goodbye.
"When you're an actor, you take what's on offer. Characters come and go. It's all part of the gig, and you've got bills to pay ... But every once in a while, a role comes along that's so enthralling, so fascinating, so alien and yet human, that you're compelled to give a little more of yourself.
"You're driven to connect a little deeper, to access parts of yourself you may not have even known were there. You pour your heart and soul into the work, so much so that to say goodbye to such a character would be like severing a part of yourself. In these cases, saying goodbye is tough. This is one of those.
"What a ride! There are no words that can truly express what it's meant to me to have been given this colossal opportunity, to have been entrusted with the immense responsibility of playing this part. I suppose these will have to do: 'For me, this was a once-in-a-lifetime thing, a dream role. I'm incredibly grateful, believe me when I tell you, I've savoured every single moment.'"
The actor added: "Thank you to the dedicated producers, writers and directors, who took these legendary characters from the pages of Teen Titans and built this show from the ground up.
"To my fellow cast, and the world class team of hard-working crew members who made every day of working on this show an absolute joy. Most of all, thank you guys. The fans of the show who've stuck with us over the years, and especially those of you who've personally shown me such astonishing love and support from the moment I was cast. It means the world.
"But it ain't over yet! Season 4, Part 2 is still to come! I'm so proud of what we've accomplished this season, particularly the way we ended it.
"We got to go out on our own terms, and left nothing in the tank. This season's conclusion was for the fans. I can't wait for you all to see it. So... Farewell, Superboy. You'll always have a place in my heart."