Why Helsinki? Donald Trump Meets Putin in Finland
President Donald Trump will meet Russian President Vladimir Putin for their first ever bilateral summit. The pair have selected a historic venue but little clarity over the agenda.
Finland's capital of Helsinki will host the summit, the White House and the Kremlin announced last month, after weeks of speculation during which the Kremlin initially touted Austrian capital Vienna as a possible venue, state news agency Itar-Tass reported. Here are the most likely reasons why they chose Helsinki instead.
Convenience
Russian President Vladimir Putin has an unmissable event in Moscow the night before meeting Trump—the World Cup final in Moscow. The match in the Russia capital will cap off an unblemished success for the Kremlin in hosting millions of fans from across the world and presenting a cosmopolitan, carefree Russia that even locals are not accustomed to. Putin has only attended Russia's opening match of the tournament, sending his Prime Minister Dmitry Medvedev to subsequent games but the Kremlin has already announced Putin will return to the VIP stand at the Luzhniki Stadium for the final, Tass reported.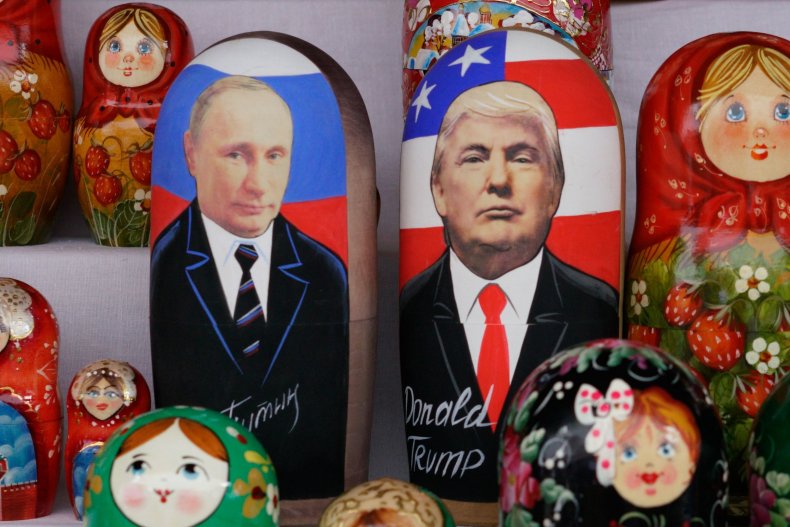 At just over an hour-and-a-half, the flight to Helsinki is very manageable for Putin regardless of how wildly he opts to celebrate the closing of the soccer championship. Trump is also less than 3 hours away, after visiting the U.K. to meet Prime Minister Theresa May, Queen Elizabeth II and play a round of golf. Not only is Helsinki geographically close, but Mayor Jan Vapaavuori says it is part of a concerted effort to demonstrate the city's suitability to efficeintly host big events at short notice.
"Helsinki´s strategic goal is to be the most functional city in the world," he told Newsweek. "I don´t think there actually are many cities, which can host an event of this scale in a matter of weeks. The decision to hold the meeting in Helsinki speaks in favor that we have a reputation as a pragmatic and trustworthy host"
Historical Symbolism
While the agenda so far has been sparse on details, Trump has already shown a proclivity for navigating high-profile meeting with confused or vague objectives and then declaring victory. Already during his visit to Europe he has made inaccurate claims about what he agreed with NATO allies in Brussels and despite touting his summit in Singapore with Kim Jong Un in May as a success, little has suggested Pyongyang has made marquee changes to its policy.
Before losing his job, Trump's Secretary of State Rex Tillerson repeatedly voiced concern that Russia was too enthusiastic to hold meetings between Putin and Trump with few "sufficiently substantive" new points to make. In Helsinki, a low-substance meeting with Putin that ends with merely reiterating existing commitments can still be portrayed as part of a historical conversation Moscow and Washington have had in the city. Three U.S. presidents have met two Soviet leaders and Russia's first ever president in the city, in all occasions the meetings have ended with amicable steps taken by both sides. In 1975 President Gerald Ford met Soviet leader Leonid Brezhnev, in 1990 President George H. W. Bush met with Soviet leader Mikhail Gorbachev and President Clinton and Russian President Boris Yeltsin met there in 1997.
"Neutral" Ground
The reason for some of the historic meeting held in Helsinki in the past is due to Finland's role during the Cold War as a neutral country. The country never joined U.S.-led military alliance NATO, much to the delight of Russia, with which it shares an 800-mile border. The label holds more contentious status in Finland today as it is still not a NATO ally but Foreign Minister Timo Soini told public broadcaster Yle, there is no ambiguity where Finland's solidarity is.
"Finland is part of the west, a part of the European Union, Finland is a NATO partner for peace," Soini said. "Finland's position here isn't unclear to anyone."
Putin has a good relationship with Finland's President Sauli Niinisto and Finland has maintained a strategy of keeping in touch with Russia bilaterally, without reversing commitment to E.U. agreements.
"They view this as complementary to their E.U. relationship," Kadri Liik, Senior Policy Fellow at the European Council for Human Rights. "They have a special position and they have special reasons for it. Finland's policy has always been to keep in contact with Russia and be armed to the teeth."