Why High-Profile Latino Democrats Won't Speak at Biden's Virtual Convention
High-profile Latino Democrats won't be speaking at the Democratic National Convention despite a willingness to do so, spotlighting a sea change represented by an unprecedented virtual convention and leading to scrutiny over who in the party gets speaking slots during the drastically shorter broadcast.
For example, Julian Castro, the primary's only Latino presidential candidate—who emerged as a progressive voice on racial equity and police reform long before the killing of George Floyd—will be speaking only on Zoom with the former presidential candidates, according to Democrats with knowledge of the plans.
Representative Joaquin Castro, chair of the Congressional Hispanic Caucus (CHC) and Julian's brother, also will not speak. That's because the shortened nature of the program means caucus leaders will not be taking part, a source with ties to the campaign said on condition of anonymity because the person was not authorized to speak about the issue.
The Castro brothers declined Newsweek's requests for comment.
It is unclear if Representative Alexandria Ocasio-Cortez, the influential progressive leader and the youngest woman ever elected to Congress, will speak—her office did not respond to a request for comment. But Representative Tony Cárdenas, the chairman of BOLD PAC, the political arm of the Hispanic Caucus, will not speak, Newsweek confirmed.
"It's hard to believe that the Biden campaign would allow this convention to be whitewashed, but it looks like that's what might happen," a member of the CHC told Newsweek.
Democrats and Latino leaders have been left flummoxed by the choices the Biden campaign is making regarding inclusion in its virtual convention, which will have two-hour-long broadcasts from August 17 to 20, one-third of the available programming in previous presidential years.
"There is no dearth of eloquent, passionate, inspiring Latinos and Latinas in leadership positions today that should be able to share the stage with others at this moment in American political history," said Arturo Vargas, executive director of the National Association of Latino Elected and Appointed Officials. "It is absolutely essential that Latino voices be included in both party conventions."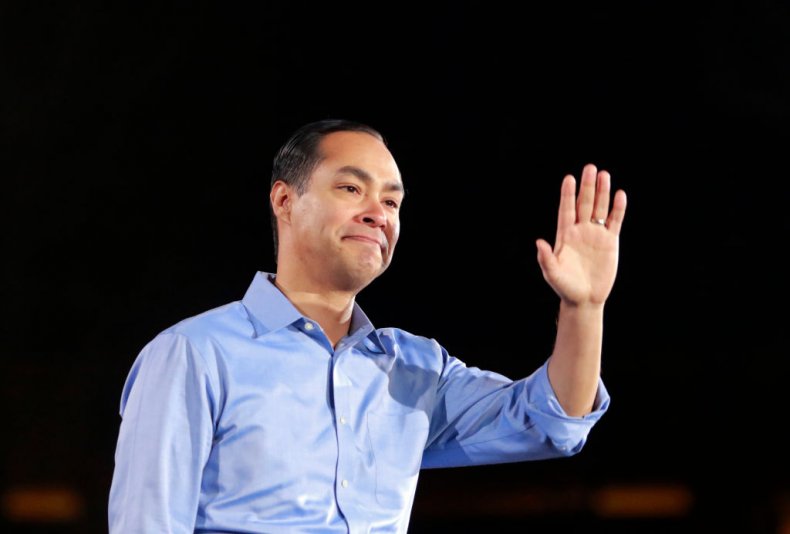 A source with knowledge of the convention's program said it is still being worked on but will have a number of Latinos from all across the country throughout. Yet the only one confirmed to Newsweek is Representative Filemon Vela, a staunch Biden supporter who endorsed him shortly after the former vice president announced his run in 2019.
The explanation given to those who spoke to the campaign is that Bill Clinton, for example, will speak for only three minutes. And a Biden adviser told Politico the campaign purposely wanted "to have as few elected officials as possible" because they would turn three minutes into 15.
But Democrats who spoke to Newsweek say perceived loyalty, as is the case with Vela, is a key factor in who gets speaking slots. Former presidential candidate Pete Buttigieg, who endorsed Biden earlier than Julian Castro, will have a speaking slot, the source with ties to the campaign said.
"I did hear the campaign was creating programming for all of the former candidates and there was a slight favoritism slanted towards Pete because he endorsed at a very important time for the campaign," the source told Newsweek.
Buttigieg endorsed Biden the same night as Minnesota Senator Amy Klobuchar, on March 2, a day before Super Tuesday. Julian Castro made his endorsement official three months later, on June 2.
Senators Kamala Harris, Elizabeth Warren and Bernie Sanders, who all competed for the party's nomination, are expected to have prime speaking slots as well.
The Biden campaign did not respond to multiple requests for comment from Newsweek.
The tumult arose the week that the campaign made strides that heartened Hispanic Democrats, unveiling a "Latino agenda" that included support for small businesses and education, as well as a push for a Smithsonian National American Latino Museum and appointments of Latinos in a future Biden administration. The campaign followed this by announcing an eight-figure paid media Latino program, with ads in Colorado, Florida, Arizona, Nevada, Virginia, Pennsylvania and North Carolina.
But the push for representation also comes a week before Biden is expected to make his long-awaited vice presidential nomination, which many expect to be a black woman and not the only Latina mentioned on his short list. "Michelle Lujan-Grisham, I think we all know, is not getting picked," the source close to the campaign said. That widely held belief among Democrats has only deepened frustration over Latino representation at the virtual convention.
But others said diversity and inclusion are not only shown in the elected officials speaking to the camera. Stephanie Valencia, a former Obama administration official, told Newsweek the tight format of two-hour programming each night will be an opportunity for stories about immigrants and Latinos. It could include, she said, essential workers on the front lines of the coronavirus crisis and immigrant children brought to this country and given work authorization through the Obama-era Deferred Action for Childhood Arrivals program that President Donald Trump has sought to end.
"At the end of the day, the convention is for party insiders, and in the times of COVID, I question the number of ordinary people who are paying attention and tuning in," Valencia said. What will move voters instead is the kind of field, television, digital and radio program the campaign has invested in, she added.
Still, despite a transformed convention, Democrats said the Biden campaign is missing an opportunity to speak to young Latinos, whom it needs to continue courting. They say that in past years there were Latino keynote speakers and that the campaign was recommended new faces, like Harris County Judge Lina Hidalgo in Texas, who could speak about the coronavirus outbreak in Texas, or newly elected congressman Ritchie Torres, who will be the first gay Afro-Latino in Congress.
Hidalgo is expected to have a small role, but both suggestions were rebuffed, Democrats said, because the campaign doesn't want to lose viewers by having elected official after elected official speaking directly to camera, as in past years.
For his part, Vela confirmed that he was speaking via video at the convention. He declined to tell more to Newsweek.
"Oh! Glad you reminded me," he wrote in a text. "I missed my recording yesterday as I was tied up on hurricane relief stuff back home—still have 500 homes under water—let me circle back on that."