'Why I Gave up a Triathlon Medal at the Finish Line'
I started competing in triathlons six years ago, after a three-month stay in Canada as a student. Because I saw that sport is very important during formative years there, I was inspired, and when I returned to my home city of Madrid, I decided to try a triathlon. Through my cousin, I enrolled in the club in my city; Ecosport Triathlon Club de Alcobendas.
I am currently a student, and this year I'm beginning the fourth year of a total of six years of a double degree in physical therapy and sports science. Each year I compete in approximately 20 triathlons, so I estimate that in the past six years I've completed more than 100 in total. When I am preparing for a triathlon, I train every day for two or three hours, depending on my coach's schedule and before a race I will alter my diet to include more carbohydrates, for example, more pasta and rice.
On September 13, I competed in the Olympic race in the Santander Triathlon, held in Santander, the capital city of the Cantabria region on Spain's north coast, which includes a 1500 meter swim, a 40km bike and 10km run.
During the race I was in third position after swimming, and then in the transition to the bike, five riders were grouped together in the positions from third to eighth. From the transition of the cycling element to running I was close to British triathlete James Teagle, he was in third position and I was fourth.
On the last lap of the 10km race, James sped up, ran a few meters ahead, and left me behind. Then, in the final stretch of the race, athletes had to deviate to the right. But James passed by and when he realized, he returned. When he returned and entered the detour towards the finish line, he caught up with me as he was running extremely quickly. But unfortunately, he wasn't able to take the final turn before the finish line well, and he ran into the fences. At which point I passed him.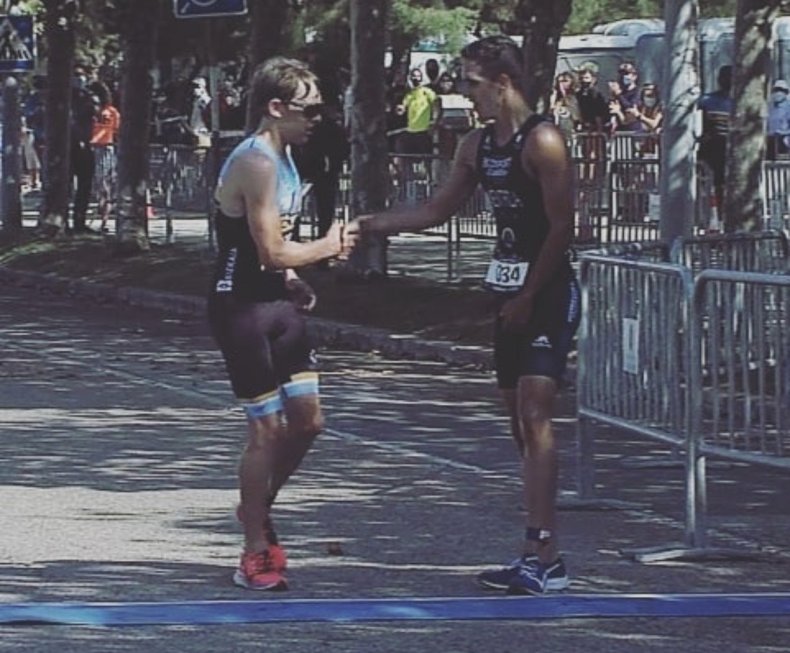 I then slowed down because I felt that I didn't deserve third place, it wasn't the way I wanted to get a position on the podium. Although I would have liked to have stood on the podium and had a photo with Javier Gómez Noya and Kevin Tarek Viñuela, who had finished in first and second position respectively, I stopped and I waited for James at the finish line. I wasn't sad, because I was satisfied with my race, but obviously I was a little disappointed not to stand on the podium as a medal winner.
As soon as he realized what was happening, James came to thank me before crossing the finish line and then thanked me again afterwards. At the time, I wasn't really aware of the crowd. But later, after seeing the video, I appreciate that the public applauded.
It was a bittersweet joy. Immediately afterwards, I spoke on the phone with my parents, who told me that I had done the right thing and that they were very proud of me. And many of my friends congratulated me, too. I have spoken to James directly and indirectly through the media a number of times since the race, and I'm sure we will stay in touch.
But I am really surprised by the response to my actions, I never thought something like this would happen. I feel like I'm floating on a cloud, the recognition that I am receiving directly and through social media is overwhelming.
That Will Smith recognized what I did and posted about it on Instagram was just incredible. I hope that I'll be able to process all of this soon, and I am very grateful to all the many people who have written to me. I have no words to express how exciting this all is.
I'm going to continue participating in triathlons, and on Saturday, September 27, I will run the Spanish Middle Distance Championships in Bilbao. It's a new distance for me, so I hope that I will enjoy the challenge.
Diego Méntrida Zamarra is a triathlete studying physical therapy and sports science at Rey Juan Carlos University in Madrid, Spain. You can follow him aon Instagram @diegomentrida.
All views expressed in this piece are the writer's own.
Translated from Spanish by Marc Vargas.