This year at the Tokyo Olympics, I saw my wildest dreams come true as I stood on the podium, an out gay silver medalist and one of the first women to swim the 1,500 meter event. I feel incredibly grateful that coming out as gay never kept me from being able to participate in the sport I love. All athletes—including transgender athletes—deserve to be respected and included, exactly as we are.
Throughout my life, swimming has enabled me to learn so much both in and out of the pool, and transgender athletes should not be excluded from this opportunity. All those days and nights spent practicing taught me the importance of hard work and discipline. The love and support of my teammates taught me the power of being part of something bigger than just myself. And reaching the Olympics reminded me that athletes have a global voice, and that the world is listening to what we have to say.
I have been given a platform to advocate for my community, and I can't sit silently by as I see a fellow swimmer's fundamental rights be put up for debate. All swimmers embody a diverse set of identities and characteristics. What makes us each unique also contributes to our success in the pool. Yet no one questions the validity of how cisgender athletes' unique traits and skills, or who they are, contribute to their success. However, University of Pennsylvania swimmer Lia Thomas has been unfairly targeted for just that—for being who she is, a transgender woman.
Like anyone else in this sport, Lia has trained diligently to get to where she is and has followed all of the rules and guidelines put before her. Like anyone else in this sport, Lia doesn't win every time. And when she does, she deserves, like anyone else in this sport, to be celebrated for her hard-won success, not labeled a cheater simply because of her identity.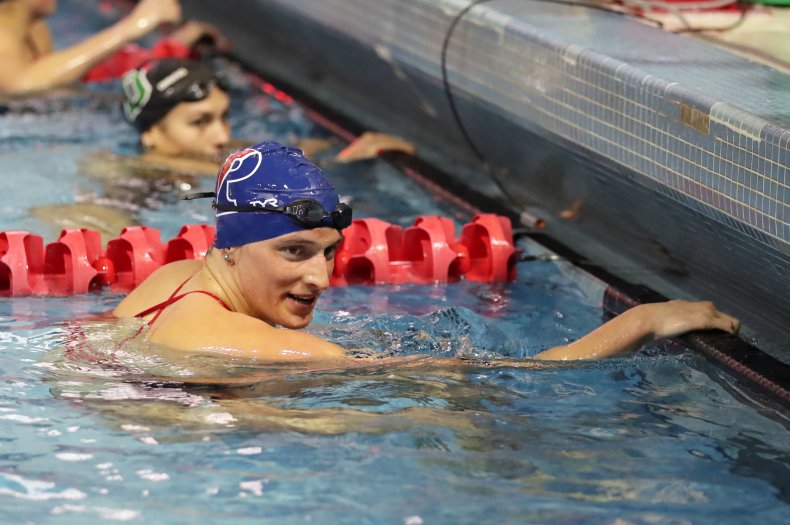 Right now, the world is facing a multitude of crises that require our attention, time and energy. Millions of people in Ukraine and around the world are fighting for survival. Globally, there have been more than 6 million deaths due to COVID-19. What we need now more than ever is compassion, and to come together as a global community. And yet this is the time that, here in the U.S., we are wasting resources and finding ourselves divided over a question that should have a simple answer: Should the transgender community be included and treated equally in all areas of life, including sports? Yes. Transgender athletes should not be denied equal rights when compared to cisgender athletes.
Many of those who oppose transgender athletes like Lia being able to participate in sports claim to be "protecting women's sports." As a woman in sports, I can tell you that I know what the real threats to women's sports are: sexual abuse and harassment, unequal pay and resources and a lack of women in leadership. Transgender girls and women are nowhere on this list. Women's sports are stronger when all women—including trans women—are protected from discrimination, and free to be their true selves.
Forcing an athlete to hide an essential part of herself in order to participate isn't a solution. If I were to remain closeted, my mental health would deteriorate, and I wouldn't be able to perform at my best in any part of my life. I wouldn't want that for myself, or for any of my teammates. We're at our best as a team—and as a global community of athletes—when we can all be ourselves.
I'm proud to be one of more than 300 NCAA, Team USA and Olympic swimmers who signed an open letter from Schuyler Bailar and Athlete Ally in support of Lia and all transgender and nonbinary swimmers. At the NCAA championships, I'll be cheering on Lia and all of the amazing swimmers that make this sport great by being authentically and proudly themselves.
Erica Sullivan is an American Olympic swimmer who won the silver medal at the Tokyo Games in 2021.
The views expressed in this article are the writer's own.