Jammu and Kashmir: Why Is India Bombing in Pakistan and Are They Going Back to War?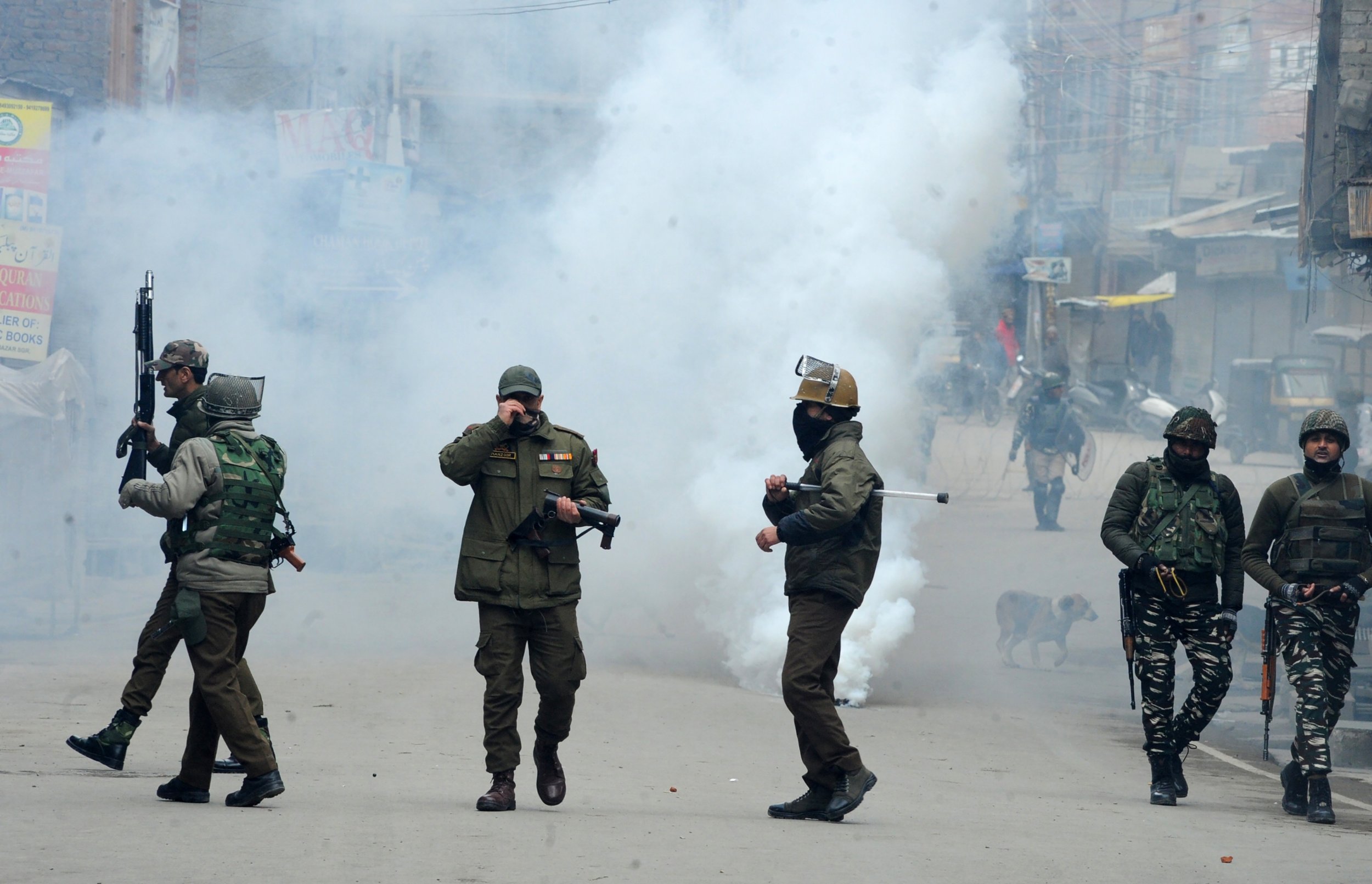 India has launched air strikes on Pakistan for the first time in almost 50 years in the wake of a terrorist attack earlier this month that killed 40 Indian soldiers.
On February 14, a 20-year-old Kashmiri suicide bomber drove an explosives-laden vehicle into an Indian military convoy in Awantipora, southeast of the capital of India-controlled Kashmir, Srinagar. It was the deadliest such attack in decades and triggered a dramatic escalation in tensions between India and Pakistan, which India accused of breaching the long-standing cease-fire by having a "direct hand" in the attack.
Kashmir has been contested territory ever since the Partition of India in 1947, and is now split between India and Pakistan, with a small portion also controlled by China. The nuclear-armed neighbors are separated by a contentious "line of control," rather than by a stable border. India-controlled Kashmir is widely recognized as one of, if not the most, militarized zones in the world, with one Indian soldier for every 17 civilians as of 2012.
India Foreign Secretary Vijay Gokhale said in a briefing reported by The Guardian that the "pre-emptive" air strike targeted a large training camp of the Jaish-e-Mohammad (JeM) group in Balakot, which claimed responsibility for the terrorist attack. According to Gokhale, "a very large number of JeM terrorists...were eliminated," but Pakistan has insisted there were no casualties or damage, and released pictures on social media to prove it.
Pakistan has also denied India's allegation that it had a "direct hand" in the February 14 terrorist attack and warned, via the military's Twitter account, that the state was "fully prepared for a befitting response to any Indian aggression or misadventure." Signaling there could indeed be retaliation, Pakistan's new prime minister, Imran Khan, declared: "Pakistan has the right to an appropriate response, it has the right to self-defence."
Tensions are never far from the surface in India-Pakistan relations, with Kashmir almost always at the center. There are regular exchanges of gunfire across the line of control. But the air raid marks a worrying escalation. It is the first time that military aircraft has traversed the boundary since the last of three wars between India and Pakistan in 1971. There are now concerns that this could be the beginning of a fourth.
The enduringly fraught state of Kashmir—its violence, creeping radicalization and reports of human rights violations—belies a broader lack of interest from the global community. "The world has never cared as little about Kashmir as it does today," Barkha Dutt, an Indian television journalist and author, wrote in 2017. Polls suggest that Kashmir, which is majority Muslim, wants independence from India, but the frequent civilian protests—and the terrorist attacks, which target India's military grip—are largely ignored, if their demands are heard at all. If in 2000, the former U.S. President Bill Clinton called Kashmir "the most dangerous place in the world," today it rarely gets a mention from world leaders.
Already on Sunday, before the overnight Tuesday raid, India was readying to send a further 10,000 troops to Kashmir, while more than 150 suspected separatists have been arrestedby authorities. Civilian attacks on Kashmiris have reportedly risen all across India, where Kashmiris are often subject to prejudice. Since 2014, the Hindu nationalism of India's Prime Minister Narendra Modi has further alienated Kashmir and Kashmiris. It took an intervention by the Supreme Court over the weekend, reminding Modi that he had a duty to protect all Indian citizens, for Modi to say that Kashmiris should be kept safe. In a speech the following day, he said: "Our fight is against terrorism, against the enemies of humanity. It is for Kashmir, not against Kashmir, not against the Kashmiris."
With elections on the horizon in May, some observers—like Pakistani senator and former ambassador Sherry Rahman, who spoke to The Guardian—have suggested the strikes are intended to escalate the tensions and boost Modi's reelection chances.