Why India Might Save the Planet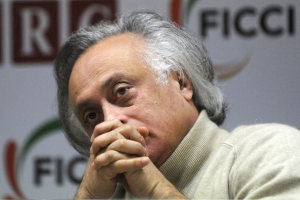 If you hadto name a most valuable player of December's climate summit in Cancún, hands down the award would go to Jairam Ramesh. His Mexican hosts, German Chancellor Angela Merkel, and ministers from small island-nations such as the Maldives and Kiribati all hailed India's 56-year-old environmental minister for salvaging the entire endeavor. Ramesh brought the West and developing countries together by pointing at ways to ease access to green technology and suggesting an agreeable way to monitor progress in tamping down emissions. In Cancún Ramesh proved himself an international power broker, a star among the world's climate warriors.
But then Ramesh returned home. Awaiting him was the pending approval of a $12 billion steel plant. The deal—the largest single foreign direct investment in India, and clearly a boon to the country's economy—would also vanquish a track of pristine forest along India's eastern coast. The project, proposed by the South Korean steel conglomerate Posco, had actually already been approved by his ministry. But local tribal groups were protesting, complaining that the deal endangered their livelihoods, which depend on the forest, and that they were not being fairly compensated for their land. Ramesh heeded their call and temporarily halted the project while two expert panels looked at the issue. Both found Posco in the wrong. But for months, Ramesh let Posco sweat. When he stepped off his flight from Mexico, however, rumors had begun to circulate that Posco was threatening to pull out entirely. Suddenly, Ramesh faced perhaps the biggest decision of his 18-month tenure.
"I am not an environmentalist," Ramesh told NEWSWEEK last month, sitting in his wood-paneled office in New Delhi. Newspapers were neatly arranged on his desk, and he punched away at a small laptop. The mood was affable, strikingly lacking the usual retinue of assistants and handlers who typically hover around a government minister. "Environmentalism is the environment at all costs," he said, but India must maintain its breakneck economic growth and do so without devastating the environment.
That would be no small feat: last year GDP grew at 7.4 percent; this year's target is a blistering 9.2 percent. Ramesh ridicules what he calls the fashionable "lifestyle environmentalism" that dominates Western Europe, where the affluent compete to outdo one another in recycling, composting, and the installation of solar panels. What India needs, he says, is "livelihood environmentalism," which preserves the bodies of water, forests, and grazing land on which the nation's impoverished farmers, fishermen, and tribal groups depend. These ecosystems, he argues, are as essential to India as its new factories and mines.
So, on the last day of January, Ramesh made his call. Posco's project would proceed. On his long list of terms, that is. The Koreans would be limited to just half of the 4,000 acres they originally wanted. In addition, the company would have to fall in line with 60 new conditions, among them plowing 2 percent of the project's profits back into the local community and preserving a quarter of the plant's premises as green space.
It is the sort of bold and idiosyncratic decision that has made Ramesh one of contemporary India's most prominent, but also most polarizing, figures. To his champions, he is a hero: the man who has proved his country is willing to do more to combat global warming than just wag a sanctimonious finger at the West. What's more, he has used his ministry to hold the line against the rapacious designs of India Inc. His critics, however, accuse Ramesh of abandoning the country's long-held position that the moral responsibility for preventing catastrophic global warming rests solely with the West. What's worse, he has done so in exchange for precious little in return. And, of course, they see Ramesh sacrificing India's economic growth on the altar of environmentalism, thus condemning hundreds of millions to abject poverty.
"The way to resolve the conflict between environment and development is to make the tradeoffs explicit," Ramesh says. "The paradox of economic growth is that ecological devastation benefits one section of society"—in other words, corporations and the wealthy—but, he argues, the pain falls disproportionately on the poor. "On the environment, the track record of Indian industry is not much to write home about."
Ramesh is hardly a typical Indian bureaucrat. For starters, there's the rock-star appearance. He may be waging a battle to stave off environmental catastrophe, but no matter, his hair is the first thing you notice: a distinguished mix of white and gray worn long and swept back in a careful, if wavy, coif. Beyond the hairdo, he carries himself with a lack of pretense and distaste for formality, noticeable in a country known to be obsessed with hierarchy and protocol. It's no coincidence that one of the few nonpolicy jobs Ramesh has ever held was an 18-month stint as a television newsman—he retains the vanity and dandy approach of an anchorman. He's always immaculately turned out in a trademark white kurta, usually paired with a dapper monochromatic wool waistcoat in some autumnal shade. (Olive green this day.) Last year, Ramesh made headlines when he stripped off the Western-style graduation cap and gown he had been issued at a convocation ceremony at the Indian Institute of Forest Management, calling the academic dress "barbaric colonial relics." One gets the sense, however, that what really bothered him was not the colonial legacy but how ridiculous he would have looked in the next morning's papers.
Beneath the preening façade, Ramesh plays the policy wonk with aplomb. He rattles off from memory the latest figures for the amount of forest cover in India and the level of particulate pollution in its cities. By training, he's a mechanical engineer, a graduate of the prestigious Indian Institute of Technology, Mumbai. He also studied at Carnegie Mellon University and the Massachusetts Institute of Technology. He cut his teeth shuttling back and forth between advisory roles in India's powerful planning commission, the Finance Ministry, and the prime minister's office. And he was among those who helped lead India's vaunted economic liberalization in the early 1990s.
Now the effects of the ensuing boom have to be handled. Today India is the world's third-largest producer of carbon dioxide, contributing about 5 percent of the world's total annual emissions. (Yes, it still lags far behind the U.S. and China, which contribute 22 and 23 percent, respectively.) Catastrophic global warming would be especially disastrous for India, which is dependent on consistent monsoon rains and on Himalayan glaciers for almost all of its food production and drinking water. Ramesh says he had clear instructions from the prime minister, Manmohan Singh, to ensure that his country present itself as "part of the solution" to global warming and not as "the traditional, obstructionist India." Singh had already begun to subtly shift from that recalcitrant position on climate change, promising that India would never exceed the developed world in per capita emissions, arguably an easy pledge to make given that India's vast population is at the bottom in emissions per person. Nonetheless, it was a significant step for a growth-hungry BRIC nation.
But where Singh had inched India's position forward, Ramesh has moved it by bounding leaps. He dropped the country's insistence that developing nations would take on significant efforts to curb greenhouse gases only if the industrialized world paid them to do so. Instead, he unilaterally committed India to limit its future carbon output, including new fuel-efficiency standards for cars and trucks, a green building code, and a mandate that 20 percent of India's energy come from renewable sources by 2020, the same target to which the EU is now committed. At Cancún he pledged India to reducing the carbon intensity of its economy. And while Ramesh is quick to point out that this is not the same as cutting the absolute level of India's emissions—something he said India would not agree to—it does mean the country will have to make significant efforts to reduce its carbon output as its economy expands.
But while his work on climate change has put Ramesh in the international spotlight, in India his impact is most immediately evident in the castrated business deals left in his wake. In addition to dialing back the Posco project, in the last year he blocked the London-based conglomerate Vedanta from building a $1.7 billion bauxite mine, claiming it violated forest-protection laws. The mining project had become an international cause célèbre, with Amnesty International, Greenpeace, and even Avatar director James Cameron all entering the fray. Given the media hype, some accused Ramesh, who is never shy about stepping into the limelight, of trying to curry favor with the so-called Bianca Jagger set by blocking the project. Ramesh scoffs at this idea. "I don't feel defensive about [my decision] at all," he says. "If bauxite mining is going to destroy livelihoods, if bauxite mining is going to pollute water sources, if bauxite mining is going to lead to large-scale deforestation, it is better not to have that bauxite mining."
And the list of companies hearing "no" from Ramesh is rapidly lengthening. In addition to Posco and Vedanta, he has held up Indian steel giant Jindal from constructing two new plants. He halted construction of a dam that was to supply drinking water to New Delhi because too many large trees would have had to be felled. He temporarily held up construction of a new airport for Mumbai out of concerns about the destruction of mangroves—allowing the developers to go forward only after they agreed to alter the location of two runways. And just last week he came out with a decision to halt the commercial planting of genetically modified maize, sparking protests from several quarters, including the Agriculture Ministry.
Ramesh relishes the maverick image. He spins it as a plus for the environment. "I have tried to put the environment onto the political agenda of our country," he says. "This not something that ought to be buried on page 18 of the newspaper."
One of the most potent criticisms leveled against Ramesh comes from environmentalists in India who say that he has been too focused on building his own cult of personality and has meanwhile neglected building institutions that will outlive his tenure. "Better to have institutionalized practices than the odd one or two good decisions," says D. Raghunandan of the Delhi Science Forum, an environmental-advocacy group. Ramesh says he is in the process of trying to build such institutions. He has plans to create an enforcement wing within the ministry that would be empowered to investigate violations and impose penalties, much as the U.S. Environmental Protection Agency can.
It remains to be seen whether Ramesh will be able to implement these programs before the end of his term. That is, if his maverick ways don't get him canned first. But at least on the climate-change front, he has already left an indelible mark. And for the moment, at least, by seizing the power his predecessors had neglected, he has rebalanced a playing field that had been tilted heavily in favor of growth at all costs. That's quite a feat for a man who's "not an environmentalist."