Why Isn't Election Day a Holiday Or on a Weekend?
As voters across the country miss work or school in order to cast their ballots on Tuesday in the heated midterm elections, one question will inevitably arise: Why isn't Election Day a nationally recognized holiday, or held on a weekend?
Elections used to take place on different days in different states across the U.S., with many areas closing up shop completely so that people could vote. But in 1845, Congress voted to make the process more uniform and passed a law designating the first Tuesday after the first Monday in November as Election Day.
At the time, it was the perfect day for the agrarian, religious makeup of the American public. Weekends were out of the question because of Sunday church services, and Wednesdays were market days for farmers, according to History.com.
But now, many consider the date to be yet another impediment in getting Americans to participate in the all-important civic right of voting. America has lower voter turnout in presidential elections than most other developed, democratic nations around the world, ranking 26 out of 32.
But in eight states, Election Day remains a civil holiday: Delaware, Hawaii, Kentucky, Montana, New Jersey, New York, Ohio and West Virginia. The territory of Puerto Rico also recognizes Election Day as a holiday.
Other states have also moved to make voting easier, even if it is not a recognized holiday. There are 30 states that have statutes forcing companies to provide workers with an adequate amount of time to vote. If companies refuse to comply with the time-off-to-vote law, they could face fines of at least $2,500 or lose their corporate charter.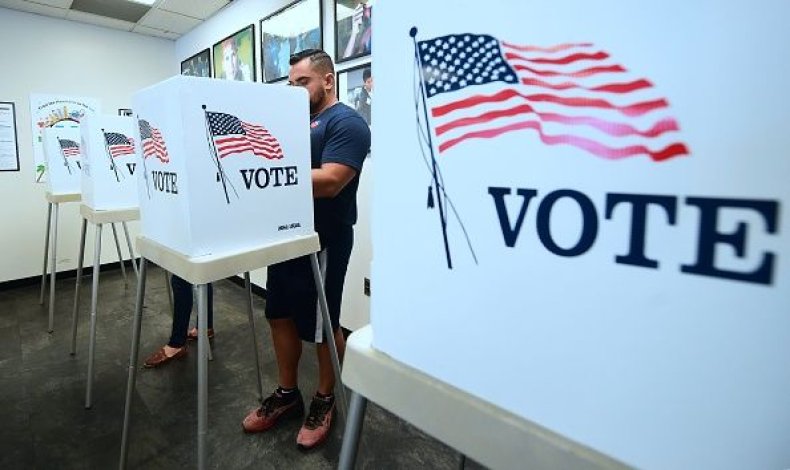 Early voting and mail-in ballots are another attempt to make up for the inconvenience of Election Day falling during the work week. Three states—Colorado, Oregon and Washington—conduct all elections through mail-in voting. Thirty-seven states and Washington, D.C., allow early voting practices.
Many high-profile corporations and companies have also made Election Day a day off for their employees. According to the website "Take Off Election Day," 348 companies have been taking off for Election Day, including brand names like Spotify, Giphy, TaskRabbit and Survey Monkey.
Outdoor retailer Patagonia recently announced that it would be closing all of its stores nationwide for the midterm elections, joining companies like Levi Strauss & Co., PayPal, Tyson Foods and Walmart.
"Together, we can remove barriers to civic participation and encourage all American workers to be citizens and voters first," the company's CEO Rose Marcario wrote in a blog post on Patagonia's website.
Why Isn't Election Day a Holiday Or on a Weekend? | U.S.