Why Isn't The First Latina U.S. Senator Doing Better With Latino Voters?
In the summer of 2016, Nevada's Catherine Cortez Masto had a problem.
The then-Democratic candidate for Senate was behind her opponent Joe Heck in the polls, and as is typical, calls were coming in from nervous Democratic leaders in the state with advice on how she could turn things around.
Some of the advice centered on how much she was embracing her Latina background on her father's side, who was Mexican-American. Those leaders included Harry Reid, the Nevada Democratic kingmaker.
"Several prominent Democratic leaders encouraged her to lean into being Latina more, including Reid and donors," a source who spoke to Reid at the time told Newsweek.
Cortez Masto would go on to lean more into embracing her Latina identity as the summer turned to fall, holding Latino-focused events, engaging more with Spanish-language media, and even forcefully pushing back when an ally of her opponent claimed she wasn't "Mexican" enough.
She beat Heck 49% to 44% on election day.
Fast forward to 2022, and Cortez Masto finds herself trailing once again, down by less than she was six years ago, but behind nonetheless, trailing by 1.7% in the Real Clear Politics average against her opponent, Adam Laxalt. A USA Today poll released Wednesday showed Cortez Masto up by two points.
There is also alarming news for Democrats when it comes to Latino voters, with a CNN poll last week showing Laxalt up by 2 points, and Cortez Masto only securing 52% of Latino voters.
"She needs at least 60% of the Latino vote," a veteran of Nevada campaigns and Latino engagement in the state told Newsweek. "It would be better if she was at 62-64%. If I'm watching these numbers, she is 10 points behind where she needs to be to win re-election."
A Cortez Masto loss would send shockwaves throughout the state and country, showing that Nevada has gone from blue to purple and now has a red tint, after having Democratic leadership through the pandemic. If it happens, Republicans could gloat that their improvement with Latinos isn't limited just to south Texas and south Florida enclaves, but has moved to the competitive southwest.
And it's not just that Cortez Masto is showing middling support among Latino voters. It also appears that Latino voters still aren't familiar with her, six years after a fall Latino Decisions poll showed she wasn't well-known among Hispanic voters.
An independent poll earlier this year produced similar results, finding that Cortez Masto wasn't a household name with a lot of voters, including Hispanics. It also found that while Republicans had not necessarily increased their standing with Latino voters, Democrats did not have the same energy behind them as in years past.
"Cortez Masto was lower than expected in terms of name recognition with Latinos," a source familiar with the polling told Newsweek. "She wasn't in the Harry Reid-Obama-Clinton in 2016 realm. I guess the question is, well why not?"
That question is one that Democrats nationally and in Nevada have wondered, hoping it doesn't haunt them after Halloween: Why isn't the first Latina U.S. Senator in history doing better with Hispanic voters?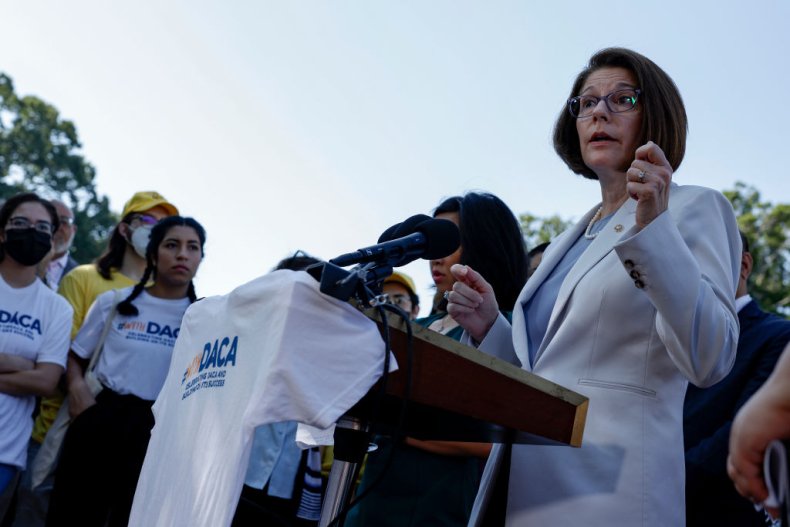 Her campaign pushed back on the idea that it's Latino outreach was insufficient or started too late, dispatching Hispanic media veteran James Aldrete, an alum of the Obama and Clinton campaigns now working for Cortez Masto, to send a statement.
"This is the most Spanish media that's ever been done by a campaign in Nevada, and the Cortez Masto team has been engaging the Latino community on the ground as well," Aldrete wrote. "The Republicans cannot keep attacking the Latino community and our Dreamers with one hand while claiming they are doing Latino outreach with the other."
The campaign told Newsweek Cortez Masto has been on the airwaves communicating with Latino voters in Spanish since March 15. Their first English ad featured Gladis Blanco, a guest room attendant who is a member of the influential Culinary Union. They noted that 200 Latino leaders endorsed the campaign ahead of Hispanic Heritage Month.
But while the question of why the Mexican-American Cortez Masto isn't catching fire with Hispanic voters is a complicated one, campaign veterans in the state do have theories.
Many of them began by pointing fingers at campaign manager Scott Fairchild.
Fairchild, who is not from Nevada, gets defensive on the issue of Latino support, a source who spoke with him said. Fairchild will admit the race is tight, but says there is no problem with Hispanic support.
Five sources knowledgeable about the end of the 2016 campaign said the race turned when Cortez Masto focused more on Latino outreach and Spanish-language engagement, driven by Mariela Hernandez — who was referred to as the best Nevada political operative in the state by one source, and one of the best Democratic operatives in the country by another — and Rey Benitez, who served as communications director and chief of staff for Cortez Masto before becoming chief of staff for Jon Ossoff in Georgia, where he is said to be doing good work engaging Latinos.
Fairchild was sick during much of the last month of the campaign and focused more on fundraising, sources said. He also reportedly did not push Cortez Masto to embrace her Latina identity as Democratic leaders ultimately did.
Democratic frustration with Fairchild includes criticism that he is unconcerned about the Latino support issue. There is some concern that white male senior staff running campaigns in recent years who appeared to be dismissive of issues with Hispanic engagement have been precursors of unexpected losses for Democratic candidates.
"To say there are no problems with Latinos, there is something here," a seasoned operative who has worked in Nevada politics for years said.
The campaign declined to respond to detailed questions about Fairchild's approach to Latino engagement, his comments during the campaign cycle, and about the end of the 2016 race.
Dan Sena is working the race for Nevada Representative Steven Horsford, and worked with Fairchild last cycle at the Democratic Senatorial Campaign Committee (DSCC). He defended Fairchild, arguing that Cortez Masto's campaign has demonstrated a real commitment to reaching Latinos.
"Cortez Masto's very first ad of a Latina worker talking about how she helped her really set the stage for how important Hispanics were going to be in the race," he said, adding that how campaigns spend their money says a lot about what they're prioritizing.
Working with Fairchild on electing Ben Ray Lujan to the Senate, Sena said he found Fairchild was intentional about Hispanic strategy and wanted to know about it from day one.
"He was very involved," Sena said. "He cared."
But frustration with the campaign and fear that Laxalt could win a Senate seat by a razor-thin margin is not limited to malcontents or progressive activists taking shots at Democrats. After Cortez Masto posted a video from Bad Bunny's Las Vegas concert — Billboard and Spotify's top artist in the country — a senior Latino operative with extensive Nevada experience shared their frustration with Newsweek.
"Going to Tacos el Gordo once and taking a pic at a Bad Bunny concert is not Latino outreach," the source said, invoking a famous Las Vegas restaurant often used for photo ops by politicians during campaign season.
But other Democrats with Nevada experience either defended Fairchild or said the campaign is doing fine with Latinos. One source said that while Fairchild did have some issues during the 2016 cycle he is doing better this time around.
The source described a high-stakes race to fill Reid's seat, which led to the former Senate leader taking a more hands-on role in the race at the end.
"As somebody who gets interviewed, my hope in a statement saying 'we don't have a problem with Latinos' is that there are things you say publicly, and then what you do behind the scenes to make sure that that's true," Melissa Morales, the president of Somos Votantes, which is spending more than half of its multi-million dollar budget in Nevada reaching Hispanics, told Newsweek.
"I can't speak to Scott specifically, but suddenly we see them everywhere," she added. "I don't know if he's leading that charge, but they're doing something right with Latinos, which shows they're not taking them for granted."
The campaign, which previously told Newsweek it was making abortion rights a centerpiece of Cortez Masto's re-election effort, shared a poll that said 81% of Latinos believe abortion should be legal. Cortez Masto has also leaned into messaging to small business owners in Nevada, like Juan Castañeda, the owner of the bakery Cake World, who in a Spanish-language TV ad said she helped save his business during the pandemic. While Cortez Masto is said to understand Spanish but is fairly limited in speaking it, the ad showcases her speaking a couple lines of Spanish to the baker.
The campaign also pushed back on the idea that its Latino engagement efforts are new, sharing 11 Latino events that Cortez Masto has held or attended, from a ribbon cutting at the new Tacos el Gordo location to hosting hundreds of Latinos at El Sol de Nevada soccer league, and a Latino phone bank the campaign hosted.
Some Democrats also said Nevada is a unique state due to the state's economy and how many people immigrate to the state every year, which means the electorate changes every four years, and even more so every six years when Senate races are held. A campaign veteran told Newsweek that Nevada Latinos work really long shifts, and the last thing they want is to go out and early vote.
"Nevada is transient state; there's a new group of voters every cycle, especially every six years," Andres Ramirez, a long-time Nevada Democratic strategist who has known Cortez Masto for 25 years, told Newsweek.
He also took issue with the small sample of Latino voters in the recent CNN poll, arguing that they under-sampled Democrats and over-sampled independents.
Ramirez said he believes Cortez Masto is doing more than she did last cycle to reach Latinos, but underlining how contentious the state is, he said he believes out of the two big statewide races which includes Governor Steve Sisolak facing Republican Joe Lombardo, only one Democrat will prevail.
"I don't think she wins by more than three points; its going to be a close race," he said. "I think Sisolak loses and Cortez Masto wins."
Still, according to political science research, Cortez Masto should have a built-in advantage in reaching Hispanic voters,
Matt Barreto, a Democratic pollster who co-wrote Latino America: How America's Most Dynamic Population is Poised to Transform the Politics of the Nation, wrote that strong Latino candidates have the ability to resonate with and mobilize their "co-ethnic" voters and see a boost of about 10 points in voter turnout and vote choice.
That means Cortez Masto should be seeing an advantage with Latino voters because of her background and ethnicity and ability to connect and resonate with them.
A NALEO tracking poll of more than 1100 Latino voters conducted this fall has also found that Hispanic voters back progressive positions on everything from canceling student debt, stronger voting rights, a path to citizenship for undocumented immigrants, banning assault rifles, abortion rights, and allowing Medicare to negotiate drug prices.
That means Latinos are amenable on a host of progressive and Democratic policies, but that the candidate matters.
"There's a view that candidates themselves can be doing more to connect with Hispanic voters," Barreto told Newsweek. "On policy items there is not growing GOP support, but right now in this cycle Latinos are not connecting their very progressive policy items to their vote choice."
Kristian Ramos, a Democratic consultant and Latino vote expert, said Latinos have no idea what his party has done for them, and it's incumbent on candidates like Cortez Masto to change that in the final weeks.
"Cortez Masto is going to live or die on her ability to communicate to Latinos what she has done to help them," he said.
While the Latino unemployment rate at its worst in 2020 was 18%, it now stands at 3.8%, Ramos said. And while four out of five Latino businesses experienced a sizable negative impact at the height of the pandemic, now one in four businesses are started by a Latino business owner.
Democrats like Cortez Masto have a positive story to tell, he argued, because "she voted for checks for Americans, checks for children, unemployment insurance," the infrastructure law, and the Inflation Reduction Act.
"They have to feel it in their bones that she's there helping them," Ramos stressed. "Do they know it was Cortez Masto that did this stuff? Probably not."
While many Democrats feel the Fairchild-led campaign could be doing more to reach Latinos, those who have spoken with him say he is quick to correct what he sees as misplaced concern.
When one Democrat tweeted earlier this year comparing Cortez Masto's 2016 campaign to her re-election effort, they had a text from Fairchild waiting for them later that day, they told Newsweek.
"Just so you know," Fairchild wrote, according to the source, "we're going to be just fine with Latinos."