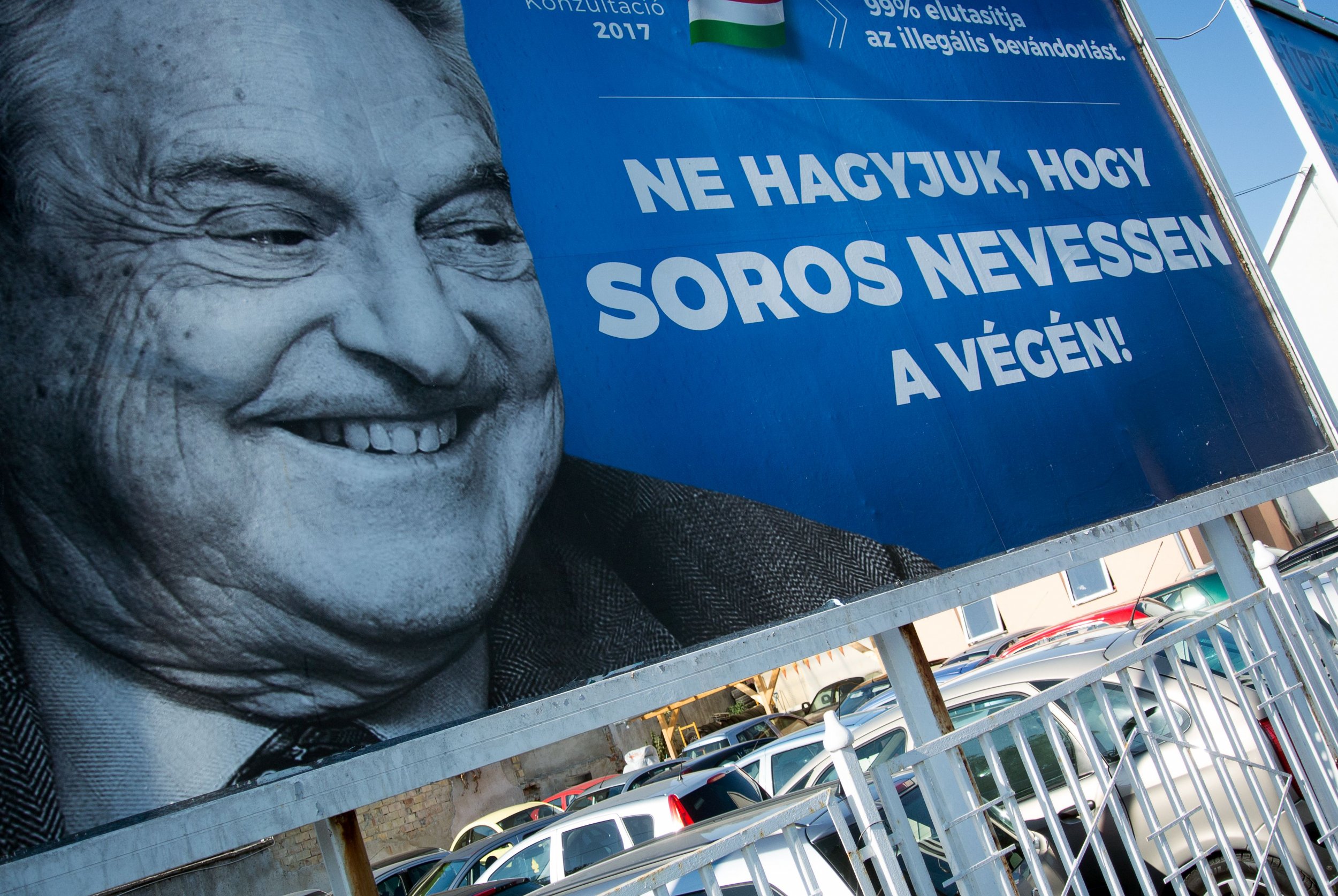 The Israeli Foreign Ministry issued a statement Sunday that appeared to back a Hungarian government advertising campaign against Jewish billionaire George Soros that has been described as "anti-Semitic."
Billboards across the country depict Soros, an 86-year-old Hungarian-American Jew, smirking alongside the line "Let's not allow Soros to have the last laugh," which the top Jewish organization in the country said evokes anti-Semitic tropes. Human Rights Watch, which Soros has partly funded, compared the billboard to Nazi propaganda from World War II that showed "the laughing Jew."
Israel's ambassador to the country, Yossi Amrani, called on the Hungarian government to take down the posters. "Beyond political criticism of a certain person, the campaign not only evokes sad memories but also sows hatred and fear," he said in a statement.
But the Israeli Foreign Ministry corrected its envoy in "a clarification" that could be perceived as a lack of support for Amrani. "In no way was the statement meant to delegitimize criticism of George Soros, who continuously undermines Israel's democratically elected governments by funding organizations that defame the Jewish state and seek to deny it the right to defend itself," a statement read.
The ministry made clear that it will condemn "any expression of anti-Semitism in any country," but the statement appears to say that such a depiction of Soros is okay. Why? The Israeli government says Soros is a donor to left-wing charities that oppose the rule of Netanyahu.
Soros has given millions to pro-human rights and democracy organizations, including those that have been critical of Israel's policies in the West Bank, where it maintains a military occupation over the Palestinians.
The billionaire also founded the liberal Open Society Foundations in 1979. In 2016, leaked emails showed one of the organization's goals was to challenge "Israel's racist and anti-democratic policies" and challenge the idea that Israel is a tolerant democracy, according to the Times of Israel.
Hungarian Prime Minister Viktor Orban is viewed in Europe as a right-wing leader who is silencing criticism, opposition voices and help for refugees fleeing the Syrian civil war. But for Netanyahu, Orban is an ally in a political bloc the government believes contains members with an anti-Israel position, a bloc that chose to set guidelines for the labeling of goods from settlements in the West Bank, East Jerusalem and the Golan Heights in November 2015.
The billboards are less of a problem for the Israeli government precisely because of the subject depicted on them, a man who wields his billions against Israel's leader. But they could become a potential diplomatic hazard ahead of Netanyahu's tête-à-tête with the key EU ally next week.
Orban's chief of staff also said the billboards were only intended to oppose Soros's advocacy for Hungary to allow refugees to enter the country. "The Hungarian government's goal is to stop Soros' migrant campaign, which is supporting the migration of illegal migrants into our country," government minister Janos Lazar told journalists last Thursday. "The government is not criticizing George Soros for his Jewish origin, but for his support of the growing number of migrants entering in uncontrolled crowds into Europe." Soros's representatives have yet to comment.
But Hungarian Jews have called on Netanyahu to cancel his visit—not over the billboards but over Orban's praise of former Hungarian leader Miklos Horth, viewed as an ally of Hitler and anti-Semite who signed anti-Jewish laws in 1938 and 1939. Orban called him an "exceptional statesman" last month. The criticism is not limited to Hungary, either. The Israeli government's apparent acceptance of the billboards has given birth to censure in the country, too.
"This won't be the last time that neo-Nazis quote [Prime Minister Benjamin] Netanyahu," Zehava Gal-On, leader of Israel's left-wing Meretz party, said on Monday. She said Netanyahu was endorsing "global anti-Semitism."
Criticism of Soros will surely continue in the Israeli and Hungarian elites. But, as Reuters reports, the posters have given some anti-Semites a chance to express their views in the form of graffiti and, on one billboard, two words were daubed that might make those in what many consider to be the Jewish state sit up: "Stinking jew."