Why I've (Again) Filed Impeachment Articles Against DHS Secretary Mayorkas | Opinion
Has someone committed a "high crime" or "misdemeanor" warranting impeachment under the Constitution if that person has purposefully and systematically dismantled our southern border? Particularly, should that person be removed from office if the results of his actions have resulted in hundreds of thousands of deaths, increased violence across the nation, surges in foreign terrorists, and destruction of America's sovereign geographical boundaries?
If you are the perpetrator of these high crimes, you might say, "No. I haven't committed a specific felony or misdemeanor as described under the federal statutes."
The case against Alejandro Mayorkas, U.S. secretary of homeland security and author of America's ongoing and unrelenting border crisis, does not necessarily turn on whether Mayorkas has actually committed a statutorily defined black-letter crime. It is whether he has committed a "high crime" as that term is understood under the U.S. Constitution.
Historically, mere gross incompetence has been used as a basis to deem a president or Cabinet secretary worthy of impeachment. And this is precisely why I filed articles of impeachment against Mayorkas yesterday.
The Founders wanted a strong check on executive branch officers, but they also didn't want the legislative branch to remove them willy-nilly due to mere political or policy disputes. Sure enough, impeachment was used sparingly throughout most of U.S. history, until the Left went apoplectic during the Trump presidency. Democrats decided that impeachment was just one of the tools they could use to attack a president who was trying to reduce the power of the Washington, D.C. cartel.
In The Federalist Papers, arguments were made in favor of the ratification of the Constitution. Alexander Hamilton, in The Federalist No. 65, wrote about the "high crimes and misdemeanors" that justify impeachment: "The subjects of its jurisdiction are those offenses which proceed from the misconduct of public men, or, in other words, from the abuse or violation of some public trust."
Does Secretary Mayorkas hold the public trust? Yes: He has a duty to operationally control our borders and protect the geographic integrity of the homeland. He has legally mandated obligations under extant statutory law, including the "...prevention of all unlawful entries into the United States, including entries by terrorists, other unlawful aliens, instruments of terrorism, narcotics, and other contraband."
While that particular statute requires perfection, which we all recognize is an impossible task, the American public still trusts him to do his very best to secure operational control of the border. He necessarily has the "public trust," and as a Cabinet secretary, he is a public man.
The next criteria is whether Mayorkas has abused or violated the public trust. Here, the numbers do not lie. A point of comparison is in order. The number of illegal aliens crossing into America skyrocketed in 2019 after leftists and open-border advocates obtained injunctions preventing the Trump administration from implementing its various border security measures.
As the Trump administration started winning legal battles and was able to apply its policies, the surge dissipated. For instance, the Yuma, Arizona border sector registered fewer than 9,000 encounters for the entire fiscal year of 2020—the last year the meaningful Trump-era border policies were in effect.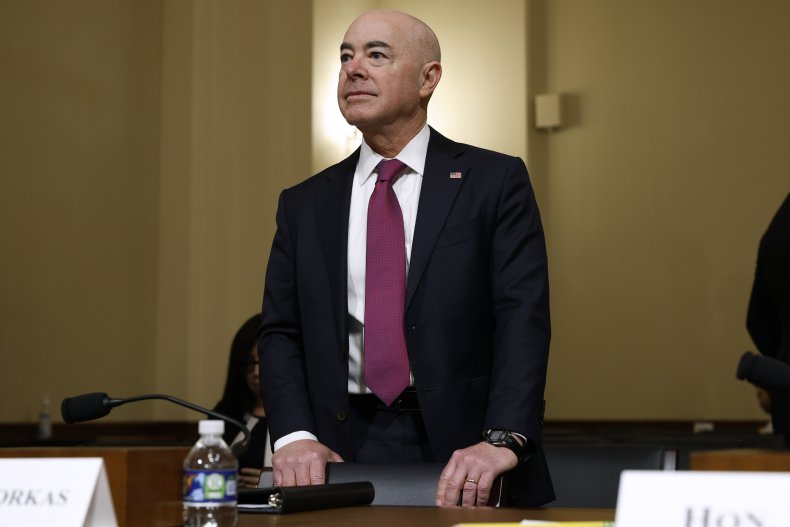 Under Mayorkas, the Yuma Sector has had more than 350,000 encounters in the last year alone. And the estimate of total encounters, known and unknown "gotaways" included, exceeds a whopping five million under the leadership of Mayorkas. Also add in a record number of terrorists attempting to enter the country and the more than a million people who successfully sneak into the interior for whom we do not know their origin, destination, or intentions, and you have a recipe for an impending disaster.
Throw in hundreds of thousands of deaths due to fentanyl and other drug cartel-related crimes, and you understand that Mayorkas has failed to even approach his statutory duty required by the Secure Fence Act of 2006.
Now, you might think that this is merely incompetence or an unlucky happenstance, but you would be wrong. The crisis at the border is not a glitch in the Mayorkas plan; it is a feature of it.
You know this is intentional because the funding given to Mayorkas's border security agencies helps fund the speedy release of illegal border crossers into America, instead of curtailing the invasion. His efforts include an app for smartphones so that illegal aliens can more efficiently be released into the interior.
He has also released hundreds of thousands of people using a law designed to admit individuals on a case-by-case basis, and which historically has usually numbered around 15-20 admittances per year. He once even told caravans of illegal aliens, "We are not saying, 'Don't come.'"
He has prohibited Immigration and Customs Enforcement from deporting the more than one million individuals illegally in the country who have had their due process and ordered removed by immigration courts.
Mexican criminal cartels control the southern border. Hundreds of thousands of unaccompanied alien children have been trafficked under Mayorkas's watch.
These things don't happen without intentionality. We know that because we know which policies work. Mayorkas has chosen to violate the law, instead.
He has committed high crimes. He is a public official who has abused the public trust. The Founders permitted impeachment when a public official violated the public trust. To allow Mayorkas to continue in public service would damage the nation.
Secretary Alejandro Mayorkas's continued public service will inflict irrevocable damage on the nation, assuming it has not done so already. Honor should persuade his resignation; preservation of the United States demands his impeachment.
Congressman Andy Biggs represents Arizona's Fifth Congressional Direct and serves on the House Judiciary and Oversight and Accountability Committees. He is also the co-chairman of the Congressional Border Security Caucus.
The views expressed in this article are the writer's own.