Why Is IVF So Expensive in the United States?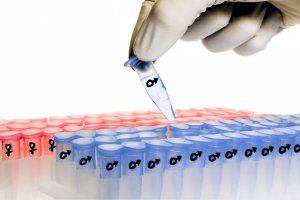 When doctors at a local St. Louis clinic told Marcie Campbell it would cost more than $15,000 to try to get her pregnant, she was crushed. For somebody with polycystic ovary syndrome, coupled with blocked fallopian tubes, in vitro fertilization was the best option to conceive a child. But with a household income of $47,000 a year, it was hardly an option. (Missouri isn't one of the 15 states that mandate insurance coverage for IVF.)
"I told them, 'There's no way.' We can't afford it. Maybe rich folks can," says Campbell, 33.
Then late last year, she found a smaller, new clinic in St. Louis called Fertility Partnership, which was charging roughly half the cost for the same procedure. Fertility Partnership's founding partner and reproductive specialist, Elan Simckes, opened his clinic a few months ago with the principle that fertility care should be more readily accessible for everyone. "A woman's right to have a chance to try to have a child should be available to all," he says.
Instead of charging the rates most other IVF clinics charge—$10,000 to $20,000 per treatment—he set his pricing at around $7,500 for a standard course of treatment including intracytoplasmic sperm injection of eggs and assisted hatching, which many other clinics don't include in their price. While Fertility Partnership isn't entirely unique, it is one of the few clinics offering more affordable treatment—Barbara Collura, director of Resolve, the National Infertility Association, says that her organization has "only heard of a handful" of clinics offering IVF at lower cost.
While patients applaud the concept, despite some initial skepticism about whether a less expensive treatment can be as effective, the opening of his clinic in the Bible Belt sent yet another wave of controversy through a field of medicine balancing on an already thin ethical edge. The local Christian community came knocking on his door to inquire about embryo handling. Other doctors in the area felt threatened by the pricing model. Dr. Sherman Silber, a reproductive specialist at St. Luke's Hospital in St. Louis and author of the book How to Get Pregnant, argues that cost alone shouldn't be the sole deciding factor for patients, and that the fertility field shouldn't be viewed as an industry. "This isn't Walmart. Embryos aren't like toothpaste," he says. "You can't do a recall on embryos."
For his part, Simckes says that claims that lower prices mean lower quality is merely one of the ways other clinics take advantage of the emotional state of their patients, many of whom are willing to pay as much as they can to get a chance to conceive. To Simckes, it's simple economics: by opening more clinics and getting more doctors the skills to provide fertility services, the costs will come down. "Just as there has been a price adjustment in other medical fields, it needs to happen in the fertility field," he says. "Once upon a time, it was considered a luxury to have Lasik surgery. It was not readily available, and costs were up to $6,000 per eye. Now, competition has brought the costs down to as little as $1,500 for both eyes. The competition in fertility cannot develop if an organization can limit the number of people providing the service." (Currently, there are only around 40 openings each year at fellowships approved by the American Board of Obstetrics and Gynecology where reproductive endocrinologists can be trained.)
David Adamson, a past president of the Society of Assisted Reproductive Technology, disagrees that the number of reproductive endocrinologists is low and the demand is high. "There is not a long wait to see reproductive endocrinologists," he wrote in an e-mail. "At this time the supply is greater than the demand."
But if supply were truly greater than demand, prices should be expected to be broadly decreasing, particularly during a time of economic downturn, which doesn't appear to be happening. In fact, more Americans seem to be going abroad to seek fertility help for cost reasons: the National Institutes of Health estimates the medical-tourism industry to grow to more than $40 billion in 2010, with a rising number of Americans seeking fertility treatments in nations such as South Africa, Argentina, or the Czech Republic. Different studies on the subject confirm that the cost of fertility treatment in the U.S. is by far the highest out of all developed countries.
According to a study by the European Society of Human Reproduction and Embryology, published in The Human Reproduction Update last month, direct costs of fertility treatment vary substantially between countries, but the U.S. stands out as notably more expensive than other countries. While the average price of IVF treatment in Japan was 3,149 euros ($4,012) and Belgium's 2,441 euros ($3,109), the U.S. averaged 10,812 euros ($13,775). The next highest nation on the list after the U.S. was Canada, with a substantially lower cost of 6,766 euros ($8,740). On top of that, American facilities only met one quarter of the estimated demand for fertility treatment. The underutilization of fertility treatments is especially noticeable within minorities and low-income patients.
"The high cost does pose a problem for many poor couples," says Mark Connolly, a health economist who led the study. "Some have suggested that the high cost of IVF acts as a form of economic natural selection."
David Fleming, director of the Center for Health Ethics at the University of Missouri, says the main concern with making fertilization affordable for more people is the risk of "commoditization" of babies. "The more you have access, the more people will do it," says Fleming, arguing that the unfortunate part of making IVF more widespread is its increased ethical stakes, such as those surrounding more premature births, which ultimately increase the cost of health-care coverage for everyone, and more babies with congenital malformations, which are twice as common in babies conceived through IVF than naturally. "The concern is that we are placing these little humans in danger," he says. "IVF, with all due respect—is it a question of need or a question of want?"
Whether infertility should be classified as a disease or a socially constructed need is a dilemma at the center of this debate. While most other developed countries consider infertility a medical condition and insurance policies often cover the costs of IVF, health insurers in the U.S. typically don't think "wanting a child" is a medical necessity. A complicating factor, according to St. Luke's Silber, is that up to 80 percent of infertility cases are caused simply by increasing maternal age. "It's hard to call infertility a disease. It's normal aging," he says, adding that only about 20 percent of women who seek treatment have what's called a "valid diagnosis," such as that they don't ovulate. "Most of the time you can't make a valid diagnosis," Silber says. "The incidence of infertility is zero to 1 percent in teenagers. For women in their early 20s, only 1 to 2 percent are infertile. In their late 20s, 16 percent of women are infertile, and in their mid- to late 30s, 25 percent are infertile. By age 40, more than half of women are infertile, and pregnancy beyond age 43 is very uncommon."
Patients like Kelly Rhodes of Bowling Green, Mo., disagree that having a child is a lifestyle choice. "This isn't like plastic surgery. I didn't elect not be able to have a child," says Rhodes. "I want to be pregnant, and I should be able to have that right."
Rhodes, 32, got married seven years ago and tried to get pregnant for three years, which ultimately resulted in more than $50,000 of medical expenses, none of which were covered by insurance. "We maxed out every card we had," she says. At the end, due to the costs, they filed for bankruptcy. "As soon as we filed, I found out I was pregnant," she says. Although they were ecstatic about the news, they were stressed and embarrassed to have to file bankruptcy against the same doctors who helped get her pregnant, she says.
"When you want a child this bad, you're willing to sacrifice a lot," she says, adding that she isn't alone. "I know people who sold their home to afford IVF." Rhodes believes IVF treatments need to come down in price and that insurance companies should cover 100 percent of fertility treatments, since they cover items like birth-control pills or hysterectomies. "It contradicts itself," she says. "You can stop me from having a child, but you can't help me have one?"
Until insurance companies decide to broadly cover IVF treatments, either because of more vocal demand from the public or spreading state mandates, it will be up to clinics like Fertility Partnership to help women like Rhodes and Campbell. And though he hopes that insurers will relent, Simckes remains committed to his cause in the meantime: "I believe that the right to build a family should not be just a luxury of the rich."