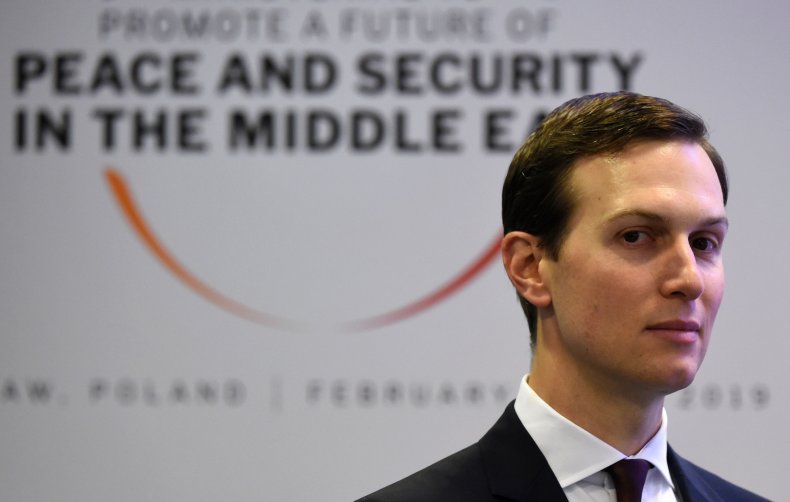 Nearly everyone is familiar with the layperson's definition of insanity: repeating the same behavior over and over again and expecting a different result. Now, perhaps the most enigmatic and misunderstood member of President Donald Trump's administration, Jared Kushner, is attempting to bring some sanity to a peace negotiation that historically has been the very embodiment of that popular slogan.
This week, at an international conference in Bahrain, Kushner will formally unveil his brainchild, which has the apt title of Peace to Prosperity. In the broadest sense, the $50 billion program is intended to address Arab-Israeli conflict by giving economically depressed communities work and opportunity to focus upon, rather than endless fighting and land division.
Since the nation of Israel was officially recognized by the United States in 1949, there has been nothing but conflict in the region. Recounting the history is beyond the scope and word limit of this piece, but suffice to say that Arab nations in general, and the Palestinians in particular, have never come to terms with the idea of peaceful coexistence with Israel.
In fact, the only "peace" the process of diplomatic negotiations has produced has come in the form of Nobel Peace Prize winners. In 1978 Egyptian President Mohamed Anwar al-Sadat and Israeli Prime Minister Menachem Begin were awarded the prize for their peace treaty. Sadat was then further rewarded by being assassinated in 1981 by his own military during a parade.
Sixteen years later, the Nobel committee would honor PLO leader Yasser Arafat, Israeli Foreign Minister Shimon Peres and Israeli Prime Minister Yitzhak Rabin for their work on a Middle East peace process. This, after the Palestinian Intifada of 1987 erupted throughout Gaza and the West Bank. Rabin, like Sadat, was further acknowledged with his own assassination in 1995.
More signs of negotiated peace meeting a horrific end came in 2000 with the appellation Intifada, which resulted in more than 6,000 Israeli and Palestinian casualties.
Jimmy Carter gets tossed in as a Nobel recipient in 2002 for his lifetime of work, most especially for his role in the 1978 agreement.
A number of people have received the highest international honor for negotiating peace in a region that seemingly has none. To this point, all efforts have focused on trying to divide land to let each side "control something" without interference from the other. Fundamental disagreements between the two sides have made every negotiated solution ultimately fail.
Along comes Jared Kushner with the idea of turning swords into economic plowshares.
Of the $50 billion included in Kushner's plan, developed over a two-year period, $25 billion would go into the Palestinian Territories and the other $25 billion would be split among Syria, Egypt and Lebanon. The plan proposes 179 different infrastructure and business projects while also earmarking $1 billion to help develop a tourism industry in the Palestinian Territories.
President Trump has indicated that wealthy oil-producing nations in the region will be asked to participate in the funding process so that those closest to the conflict have economic skin in the game.
While Palestinian leadership is already balking at the idea, that isn't unexpected, and it certainly should not be seen as a reason to abandon the plan. Palestinian leadership for decades has maintained power by stoking anti-Israeli sentiment within their population, even formalizing a reward and incentive system for so-called "martyrs" who have died or been arrested in confrontations with Israel. Changing this destructive cycle will require co-opting the support of neighboring Arab nations who share the same faith and values as the Palestinians, but who are also willing to apply a healthy dose of peer pressure in pursuit of peace, and yes, economic progress for all.
The idea that political freedom—in this case freedom from political conflict—cannot exist without economic freedom, dates back a century to the arguments of great economists like Friedrich von Hayek and Ludwig von Mises. They understood that liberty, and with it peace, is generated from free exchange and access to free markets. While Kushner's proposal is not specifically directed at laying the invisible hand of Adam Smith upon Middle East shoulders, it is designed to give people living mostly in poverty and hopelessness a real opportunity to participate in the bounty of economic development.
When individuals have more to look forward to each day than "duck and cover" or "point and shoot" they are able to hope for and therefore pursue more in life than never ending conflict. They might even become ambassadors of peace.
I applaud the creativity and innovation of this upcoming effort launched by the Trump Administration. In many ways the approach is characteristic of the entire Trump presidency, which has broken with convention when those conventions cease to be useful or productive. While there are those who think it might be insane to focus on economics to try to bring peace to a region so historically and culturally divided, the truth is we don't know yet if it is insane. We haven't tried it over and over again.
We do, however, know what behavior hasn't worked, and it's time we tried a new approach.
Charlie Kirk is the founder and executive director of Turning Point USA, the nation's largest and fastest growing conservative youth organization with a presence on over 1,400 college and high school campuses; he is also host of "The Charlie Kirk Show."