Why Did Joe Biden Fire Brett Blanton? Accusations Facing Trump Appointee
President Joe Biden has fired J. Brett Blanton, the embattled Architect of the Capitol responsible for the maintenance and operation of the historic building that houses Congress and its grounds.
A White House official told Newsweek that "after conducting due diligence on the matter, the president had directed that Mr. Blanton be fired."
The decision came after a scathing inspector general report released last fall outlined personal and management lapses, including that Blanton abused his government vehicle, misled investigators and misrepresented himself as a law enforcement official.
Further criticism came after a House hearing last week, during which Blanton admitted that he was not at the Capitol when it came under attack by supporters of former president Donald Trump on January 6, 2021.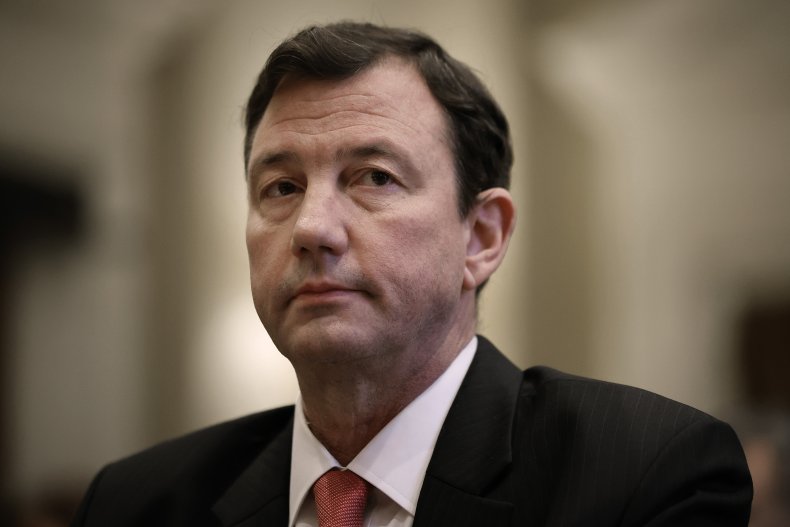 House Speaker Kevin McCarthy said in a tweet on Monday that Blanton "no longer has my confidence to continue in his job," and that he should resign or be fired by Biden.
Who is Brett Blanton?
Blanton was nominated by Trump as the 12th Architect of the Capitol (AOC) in December 2019 and confirmed for the post by the Senate later that month.
He is a civil engineer who graduated from the United States Naval Academy with a degree in aeronautical engineering in 1993 before going on to obtain a master's degree in ocean engineering from Virginia Tech.
He previously worked as deputy vice president at the Metropolitan Washington Airports Authority.
Prior to that, Blanton was a U.S. Naval officer for more than 20 years. He worked on some of the Navy's "largest and most complex planning, design and construction projects," according to his bio on the Architect of the Capitol's website. He was awarded the Bronze Star with Combat "V" for heroism in Baghdad, Iraq.
What accusations is Brett Blanton facing?
The Office of the Inspector General report issued last year found that Blanton had "Abused His Authority, Misused Government Property and Wasted Taxpayer Money, Among Other Substantiated Violations."
The report said the OIG identified a "significant amount of administrative, ethical and policy violations as well as evidence of criminal violations" by Blanton, including that he misused government-issued vehicles, misled and provided false information to investigators and impersonated a police officer.
It said Blanton and his family had repeatedly used government-issued vehicles for personal use, driving around the Washington, D.C. area, West Virginia, South Carolina and Florida, and racking up nearly 30,000 miles—about three times the estimate for his official use. The misuse amounted to more than $13,000 in questioned costs, the report said.
The investigation grew from a hotline complaint on March 7, 2021 "concerning the misuse" of an AOC vehicle, the report said. It said a black Ford Explorer near the Walmart at Tyson's Corner in Vienna, Virginia, was driving "extremely reckless in the parking garage and swerving out of the garage at a high rate of speed, estimated to be about 65 miles per hour in a 30-mph zone."
The complainant said the driver, later identified as Blanton's adult daughter, "made obscene gestures toward them while at the stop sign outside the parking garage." The report also said Blanton's daughter had referred to using the AOC's fuel as "free gas."
"The AOC OIG found overwhelming evidence that Blanton and his family continually misused AOC vehicles intended for home-to-work (HTW) use," the report said.
The report also details an incident where Blanton used an AOC vehicle to pursue a vehicle "involved in a hit-and-run incident that took place in front of his residence" on June 29, 2020. It said that Blanton led police and others to believe he was a police officer throughout the court proceedings.
The report also found "multiple social media posts" that were created by Blanton's wife about tours of the Capitol, including one that said: "All PATRIOTS welcome."
The posts did not specifically violate policy, the report said, but "offering private tours of the U.S. Capitol creates the appearance of impropriety and using a public position for private gain, which is a violation of AOC policy."
Blanton denied the accusations in the inspector general report during a House Administration Committee hearing last week.
"I wholeheartedly reject any assertion that I have engaged in unethical behavior during my service to this country while serving in this particular role," he told the panel, adding that he had only been allowed to see the 10-page summary report released in November, not the 800-page report that lawmakers referenced.
But he came under further fire when he admitted that he was not on the grounds of the Capitol during the January 6 attack.
He said he thought it would not be "prudent" to drive to work that day, and that his official vehicle had served as the agency's "mobile command post," Politico reported.
Newsweek reached out to the Architect of the Capitol's office for comment.
Update 2/14/23, 10:19 a.m. ET: This article has been updated with comment from a White House official.