Why Doesn't Joe Biden Have Secret Service Protection? Calls for Candidates to Have Greater Security After Protesters Rush Stage
Former Vice President Joe Biden's brush with anti-dairy protesters during a Super Tuesday rally in California has raised concerns about the safety of presidential candidates, the women having gotten within feet of Biden before being removed from the stage.
The first woman was bundled off stage quickly but was followed by a second, chanting: "Let dairy die." She was then carried off by Biden campaign aide Symone Sanders, who tweeted that she "broke a nail" in tackling the activist.
Though Biden did not appear to be in danger from the anti-dairy activists—some of whom also interrupted a Sen. Bernie Sanders rally in Nevada last month—their ability to get so close to him raised concerns about the safety of presidential candidates.
Vice presidents are only entitled to Secret Service protection for up to six months after leaving office, USA Today explained. This can be extended by the Department of Homeland Security, but in Biden's case it did not do so.
After Democratic candidate Robert F. Kennedy was assassinated following his victory in the 1968 California primary, Congress authorized Secret Service protection for major presidential and vice-presidential candidates and their spouses within 120 days of the presidential election.
But Tuesday's incident prompted calls for Secret Service protection to be extended to all presidential candidates.
Robert Gibbs, former press secretary under President Barack Obama, said both Sanders and Biden should now get Secret Service protection. "What happened tonight was nothing short of genuinely scary," he told MSNBC.
Larry Sabato, the head of the University of Virginia's Center for Politics, tweeted that top candidates should get Secret Service protection as soon as possible. "The invasion of the stage at the Biden rally could have had a tragic ending. It's happened to Sanders too. In memory of RFK, do it immediately."
CNN contributor Scott Jennings, meanwhile, said it was "past time" that all those running for the White House are protected. "Too damn many crazy people out there who have proven time and again they can get WAY too close to candidates," he wrote.
Jennings added: "President Trump ought to order increased Secret Service for at least Biden and Sanders first thing in the morning. And honestly anyone else who is left. Someone is going to get hurt and we cannot allow that."
"Major" candidates can be offered Secret Service protection under the 1968 legislation, following a consultation by a committee including the secretary of Homeland Security, the House speaker, the House minority leader and majority and minority leaders of the Senate.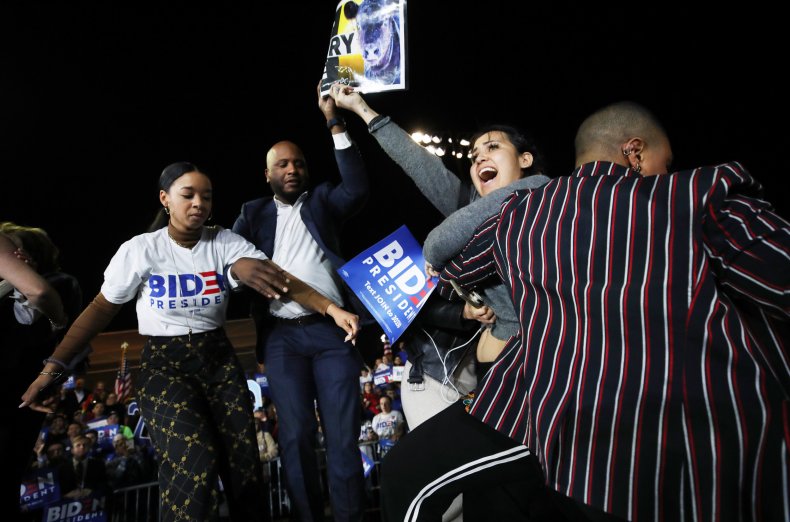 To be designated a "major" candidate, one must have publicly declared; be campaigning nationally and contesting at least 10 state primaries; and represent a qualified party whose presidential candidate won at least 10 percent of the popular vote in the last election, according to the Congressional Research Service.
They must also have qualified for public matching funds of at least $100,000 and raised at least $10 million in additional funds; and by April 1 hit a 5 percent preference threshold in the latest national opinion polls from ABC, CBS, NBC, and CNN, or get 10 percent of votes in two same-day or consecutive primaries or caucuses.
The level of threat to a candidate also plays a role. Barack Obama, for example, was given Secret Service protection almost two years before the election given the historic nature of his campaign.
If a candidate is considered eligible by the advisory committee they are notified and offered protection, though they do not have to accept. The late Sen. John McCain, for example, initially rejected protection during his 2008 presidential run for fear it would create a wall between him and the voters.
Newsweek has contacted Biden's campaign for comment.
Correction: This article originally stated Robert F. Kennedy was the Democratic nominee when he was assassinated in 1968. He was a Democratic candidate.