Why Joe Biden's Stimulus Checks Will Be $1,400 and Not $2,000
Those hoping for another stimulus check may be in luck because President-elect Joe Biden plans on pushing Congress to provide $1,400 direct payments, according to a senior administration official.
Biden's unveiling his proposal for a relief package intended to pump more than $1.9 trillion into an economy still struggling during the coronavirus pandemic. The president-elect campaigned hard on his ability to be a leader during the pandemic, and with the Democrats in control of the House, Senate and White House, he faces pressure to deliver on the promises he made as a candidate.
Included in the package is financial aid for minority communities, increased vaccine distribution, funding to help reopen schools and another round of direct payments. Biden's announcement of the $1,400 stimulus checks may leave some wondering, what happened to the $2,000 payment you were promoting back in December?
Despite support from Biden, Democrats, President Donald Trump and some Republicans for $2,000 payments, legislators were only able to pass a relief package in December that included just $600 payments. Senate Majority Leader Mitch McConnell shot down a Democrat-led attempt in the House to pass a separate bill increasing the payments to $2,000, prompting the Treasury Department to start sending out the $600 payments.
Now that there's a new Congress, legislators can't simply pass a bill to increase the $600 payments, they must pass entirely new legislation. A bill for a third round of payments worth $1,400 would bring the total to $2,000 when factoring in the payments that went out in December.
It may be easier said than done, though, and Biden is expected to face Republican opposition to larger payments when he tries to get his own package passed.
Passing a package in the House shouldn't be a problem for the new president, but Democrats don't have enough of a majority in the Senate to write off Republicans. With Senator Chuck Schumer as majority leader, Democrats will be in a position to bring a stimulus bill to the floor for a vote, but with the chamber split 50-50, they may need at least 10 Republicans to sign on to the measure to avoid a filibuster.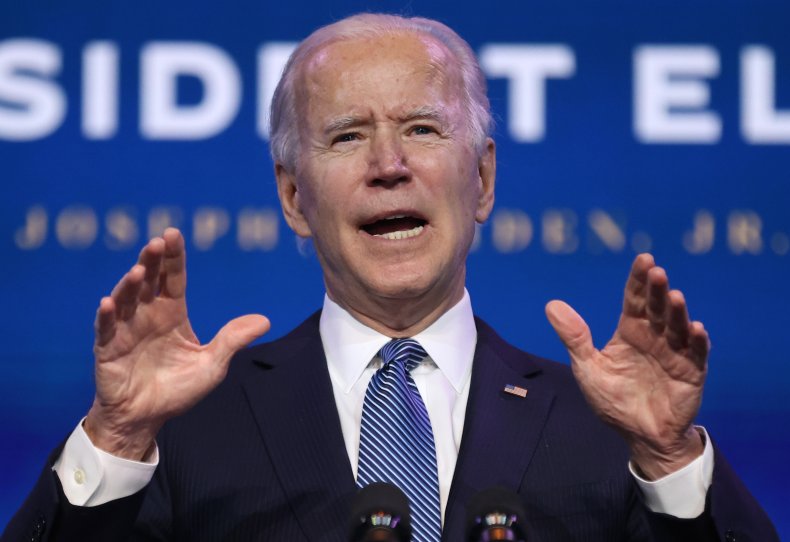 Republicans may not be the only people Biden has to convince of his plan either, as Senator Joe Manchin, a Democrat from West Virginia, seems to be on the fence. He told The Washington Post last week he would "absolutely not" support $2,000 checks, but then tempered his position during a CNN interview two days later.
Asked if he would support another round of checks, Manchin told CNN's Jake Tapper it wasn't a "yes or no question."
"How is the money that we invest now going to help us best to get jobs back and get people employed? And I can't tell you that sending another check out is gonna do that to a person that's already got a check," the senator said.
Ten months into the pandemic, America continues to lead the world in both virus cases and deaths. More than 23 million cases have been identified in the United States and more than 384,000 people have died, according to a Johns Hopkins University tracker. Along with the significant loss of life, the economic fallout from the pandemic has devastated many people nationwide. Over the past week, unemployment rose to 965,000, the highest it's been since late August.
As of October, 8 million people slipped into poverty during the pandemic, according to a Columbia University study, and data from Yelp shows that 60 percent of businesses that closed are expected to never reopen.
While legislators and economists are split on the effectiveness of direct payments, the checks have public support. Nearly 50 percent of voters thought $600 wasn't enough, according to a Morning Consult poll from December.
A Business Insider poll found even greater support. Of the Trump supporters that were surveyed, 70 percent said the stimulus checks should be at least $1,000, and 76 percent of Biden voters said the same.
Biden's looking at expanding eligibility for payments to adult independents who were excluded from the two previous rounds of stimulus checks. Under the CARES Act that passed in March and the most recent relief package, dependents were eligible only if they were under the age of 17, a sticking point for Democrats who sought to expand eligibility.
The additional $1,400 is intended to help "hard-hit households" cover necessary expenses and help stimulate the economy by spending money at local businesses, the Biden campaign said.